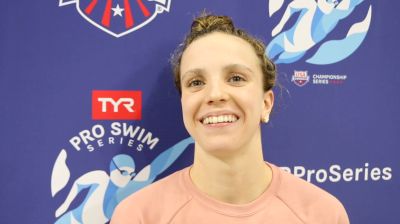 Regan Smith Has 'New Sense Of Focus' After 2017 Summer Success (VIDEO)
Jan 13, 2018
15-year-old Regan Smith took the swimming world by storm this past summer thanks to a top-8 finish in the 200m backstroke at the 2017 FINA World Championships in Budapest.
The high school sophomore hasn't slowed down, either. As a matter of fact, Smith is using her success as a launching point into 2018.
After throwing down a 59.38 for the win in the 100m back Friday night at the 2018 TYR Pro Swim Series in Austin, TX, Smith talked about the performance, how her training has been this fall/winter, and the significance of her summer success.
That 59.38, by the way -- a new Texas pool record. She's 15, folks.