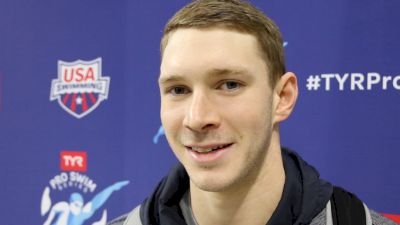 Ryan Murphy Shares Fast 50s Backstroke Set From OTC (VIDEO)
Jan 12, 2018
Ryan Murphy is coming off a 2017 season that was arguably disappointing — by his standards. After winning double gold in the 100/200m backstroke at the 2016 Rio Olympics and breaking Aaron Peirsol's world record in the 100, Murphy wasn't too thrilled with his performances in Budapest, Hungary, at Worlds (bronze in the 100m back, silver in the 200m back).
Well, the backstroke king is back in 2018 and swimming fast coming off a training trip to the Olympic Training Center in Colorado Springs, CO. Murphy edged out his Cal teammate Jacob Pebley to win the 200m back (1:56.11) at the 2018 TYR Pro Swim Series in Austin, Texas, on Thursday night.
Murphy talks about the performance, the OTC training trip, being pushed by the Cal freshmen, and much more in the interview above.