2018 USA Water Polo National Junior Olympics
Girls Brackets Feature Serious Talent At USA Water Polo Jr. Olympics
Girls Brackets Feature Serious Talent At USA Water Polo Jr. Olympics
Over 350 girls club water polo teams have now taken the place of the boys, who completed the first session of the 2018 USA Water Polo National Jr. Olympics.
Jul 26, 2018
by James Smith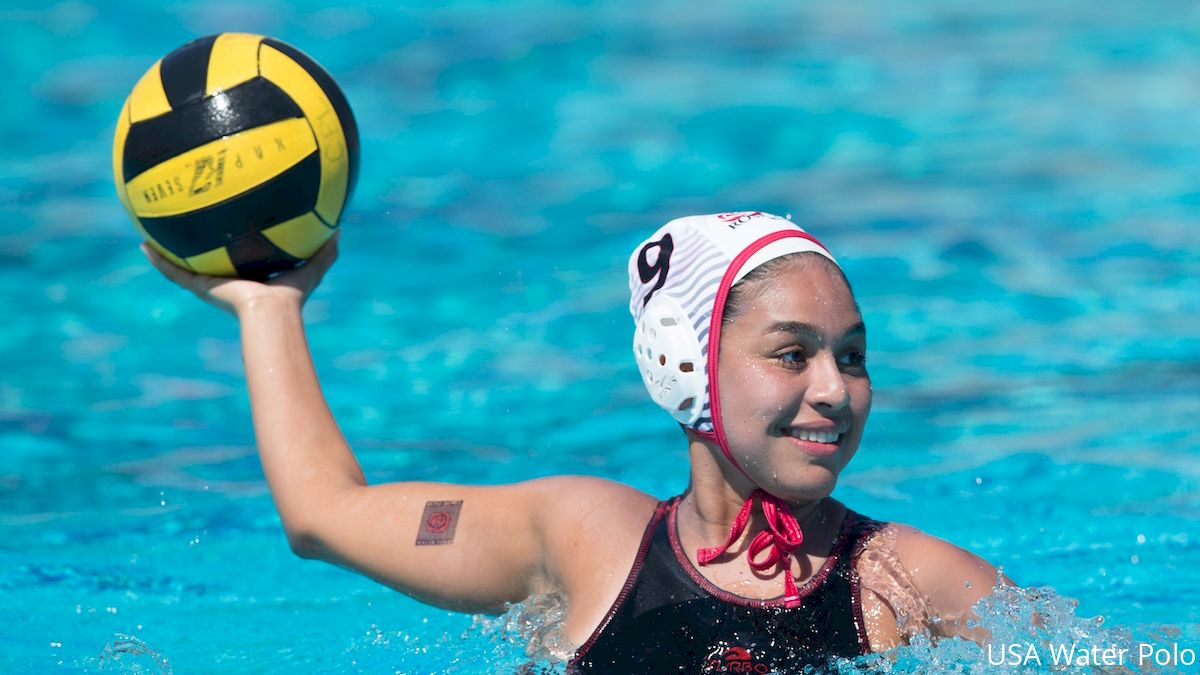 Over 350 girls club water polo teams have now taken the place of the boys, who completed the first session of the 2018 USA Water Polo National Junior Olympics on Tuesday in Stanford, CA. Session two action gets underway on Thursday after the United Cozy Boys took home the 18U boys title after a tight and nervy win over a highly motivated Stanford club in the day's most anticipated championship.
And while the pool deck was littered with college coaches scouting talent for their men's teams, it's likely there will be even more watching the girls' competition. Varsity collegiate water polo has been on the rise overall in the U.S. but the number of women's programs outpaces men's by a dozen or so. And with slightly fewer girls playing high school water polo than boys, based on the most recent data released by the National Federation of High Schools, the scouts are on the prowl for athletes to fill out their collegiate squads.
Session 2: Thursday, July 26 - Sunday, July 29
If the top performers in the boys' 18U Championship bracket were somewhat predictable, they are even more so on the girls' side according to observers. They say the title will go to one of the four top seeds in the flight—680 Drivers, SOCAL, Santa Barbara 805, or SET (Saddleback El Toro). San Diego Shores could make some noise, and SET is so talented its "B" team, featuring some quality athletes visiting from Hungary for the summer, is seeded sixth. But when asked what the chances were that a team outside the top four would win the title, one highly successful coach replied: "none."
And if you happened to wonder how the results played out in 2017, the top-five finishers in the Championship flight were 680, SOCAL, Santa Barbara 805, SET, and San Diego Shores, who won their fifth-place match 23-6. This year's 680 squad features three athletes who have already won three Junior Olympic Championships in the same or younger age groups.
.@SOCALWPF is representing with these #2018JOs shirts! Will your team be rocking custom shirts this year? pic.twitter.com/mdGtxVijG8

— USA Water Polo (@USAWP) July 25, 2018
A quick glance at the USA women's youth team, selected in May, tells the tale. Of the 32 on that roster, a whopping six of them are 680 athletes. Four each come from SET and Santa Barbara 805, and SOCAL sent three.
Four players from those top-four seeds—SET's Bayley Weber, Jewel Roemer of Santa Barbara 805, 680's Ava Johnson, and Valerie Ayala of SOCAL—made the USA senior national team that went on an undefeated romp through Australia and New Zealand beginning in March. There is some big talent throughout the girls' brackets, but there's a serious concentration of it within those top-five teams.
But unlike the boys' side of the competition relatively there's little controversy about the elite programs, no discernible grumbling that the clubs are mercenary or unfairly assembled.
Neither is there the phenomenon that exists on the boys' side, where highly talented 18-year-olds, who happen to not fit in their high schools' plans for the Fall, form their own supergroup and have a tendency to win the whole thing, as United Cozy Boys did on Wednesday. It would be easy to say it's largely because girls high school water polo is played in the Winter. But that's not true in Northern California, where 680 Drivers is based and where both boys and girls their prep water polo in the Fall. SOCAL, SET and 805 are all Southern California clubs whose high schools compete in the winter.
We caught up with Keanna Campbell of Island Water Polo at the #2018JOs Expo to talk about her excitement for the week!

What are you looking forward to for this year's Junior Olympics? pic.twitter.com/XP44BCpnsY

— USA Water Polo (@USAWP) July 25, 2018
According to some, the girls just tend to stay together longer and are less apt to switch clubs. And clearly, there is less of a concern among girls' club coaches that having 18-year-olds who have already graduated on your roster will somehow disadvantage the affiliated high school team during the school year. For fans, the benefit is simply that the girls' competition will be among the best in the U.S. all year.
And while the concentration of top seeds unsurprisingly rests in California, three of the top-24 teams seeded in the Championship bracket come from outside the state. Greenwich (CT) enters the tournament having earned the 13th spot, while Utah's Kearns comes in at 20th and North Texas Thunder 24th. Only Houston's Viper Pigeon made it atop the boys' flight with its 24th seed.
Once again the cameras will be on for all four days of action at Stanford, where as many as five games will be taking place at once, punctuated by an all star-studded final day of competition on Sunday. See for yourself all day Thursday through Sunday via FloSwimming.com's live streams.