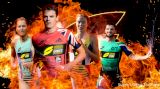 2020 Super League Triathlon Arena Games
Aug 23
The live broadcast runs from 7am-9am EST on August 23rd. The broadcast is available worldwide with the exception of France and Australia.
The women's race first followed immediately by the men.
The first stage will be swim-bike-run. The second stage will be bike-run-swim. The final stage will be run-swim-bike.
The swim legs are 200m, the bike 4km and the run 1km.