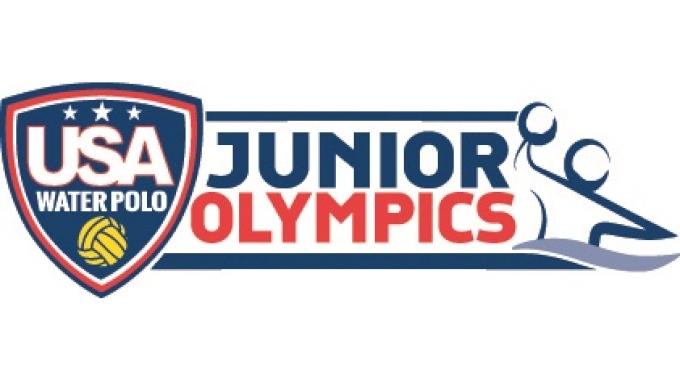 The USA Water Polo Junior Olympic Championships is the largest age group water polo tournament in the nation. Athletes and teams come from across the country to compete on the national stage.
Session 1 (July 21-24)
Session 2 (July 26-29)
Below is the complete schedule of games that will live-stream on FloSwimming from Stanford University's Avery Pool, Baker Pool (Course 1), and Belardi Pool (Course 1).
COMPLETE LIVE-STREAMING SCHEDULE
Session 1 (July 21-24)
Saturday, July 21

Stanford Avery
Stanford Baker 1
Stanford Belardi 1
14B-001 – 7:00 AM-Group


16B-001 – 7:00 AM-Group
14B-005 – 7:50 AM-Group
16B-005 – 7:50 AM-Group
14B-009 – 8:40 AM-Group
18B-014 – 9:00 AM-Group
16B-009 – 8:40 AM-Group
14B-013 – 9:30 AM-Group
18B-019 – 10:00 AM-Group
16B-013 – 9:30 AM-Group

14B-017 – 10:20 AM-Group

18B-024 – 11:00 AM-Group

16B-017 – 10:20 AM-Group

14B-021 – 11:10 AM-Group

18B-029 – 12:00 PM-Group

16B-021 – 11:10 AM-Group

14B-025 – 12:00 PM-Group

18B-034 – 1:00 PM-Group

16B-025 – 12:00 PM-Group

14B-029 – 12:50 PM-Group

18B-039 – 2:00 PM-Group

16B-029 – 12:50 PM-Group

14B-033 – 1:40 PM-Group
18B-044 – 3:00 PM-Group
16B-033 – 1:40 PM-Group
14B-037 – 2:30 PM-Group
18B-048 – 4:00 PM-Group
16B-037 – 2:30 PM-Group
14B-041 – 3:20 PM-Group
– BREAK-
16B-041 – 3:20 PM-Group
14B-045 – 4:10 PM-Group
18B-060 – 6:00 PM-2-3 cross
16B-045 – 4:10 PM-Group
– BREAK-
18B-054 – 7:00 PM-2-3 cross
– BREAK-

14B-049 – 5:50 PM-2-3 cross

18B-059 – 8:00 PM-2-3 cross

16B-049 – 5:50 PM-2-3 cross

14B-053 – 6:40 PM-2-3 cross




16B-053 – 6:40 PM-2-3 cross

14B-057 – 7:30 PM-2-3 cross

16B-057 – 7:30 PM-2-3 cross




Sunday, July 22

Stanford Avery
Stanford Baker 1
Stanford Belardi 1


14B-061 – 7:00 AM-Group
16B-061 – 7:00 AM-Group
18B-065 – 8:00 AM-Group
14B-065 – 7:50 AM-Group
16B-065 – 7:50 AM-Group
18B-070 – 9:00 AM-Group
14B-121 – 9:00 AM-5-8 v 9-12
16B-069 – 8:40 AM-Group

18B-075 – 10:00 AM-Group

14B-125 – 10:00 AM-5-8 v 9-12
16B-073 – 9:30 AM-Group

18B-080 – 11:00 AM-Group

14B-129 – 11:00 AM-5-8 v 9-12

16B-077 – 10:20 AM-Group

18B-085 – 12:00 PM-Group

14B-133 – 12:00 PM-1-2 v 3-4

16B-081 – 11:10 AM-Group

18B-090 – 1:00 PM-Group
14B-137 – 1:00 PM-1-2 v 3-4

16B-085 – 12:00 PM-Group

18B-095 – 2:00 PM-Group
14B-141 – 2:00 PM-5-6 v 7-8

16B-089 – 12:50 PM-Group

18B-100 – 3:00 PM-Group
14B-145 – 3:00 PM-5-6 v 7-8
16B-093 – 1:40 PM-Group
18B-105 – 4:00 PM-Group
14B-149 – 4:00 PM-9-12 semi
16B-097 – 2:30 PM-Group
– BREAK-
14B-153 – 5:00 PM-9-12 semi
16B-101 – 3:20 PM-Group

18B-109 – 6:00 PM-Play-in

14B-157 – 6:00 PM-play to semi
16B-105 – 4:10 PM-Group

18B-113 – 7:00 PM-Play-in

14B-161 – 7:00 PM-play to semi
– BREAK-


– BREAK-

16B-109 – 6:40 PM-Play-in

16B-113 – 7:30 PM-Play-in




Monday, July 23

Stanford Avery
Stanford Baker 1
Stanford Belardi 1

16B-117 – 7:00 AM-5-8 v 9-12






16B-121 – 8:00 AM-5-8 v 9-12

18B-117 – 8:00 AM-pt_5-8 v 9-12

16B-125 – 9:00 AM-5-8 v 9-12

14B-121 – 9:00 AM-pt_5-8 v 9-12

18B-121 – 9:00 AM-pt_5-8 v 9-12

16B-129 – 10:00 AM-5-8 v 9-12

14B-125 – 10:00 AM-pt_5-8 v 9-12

18B-125 – 10:00 AM-pt_5-8 v 9-12

16B-133 – 11:00 AM-1-2 v 3-4

14B-129 – 11:00 AM-pt_5-8 v 9-12

18B-129 – 11:00 AM-pt_5-8 v 9-12

16B-137 – 12:00 PM-1-2 v 3-4

14B-133 – 12:00 PM-pt_1-2 v 3-4

18B-133 – 12:00 PM-pt_1-2 v 3-4

16B-141 – 1:00 PM-5-6 v 7-8

14B-137 – 1:00 PM-pt_1-2 v 3-4

18B-137 – 1:00 PM-pt_1-2 v 3-4

16B-145 – 2:00 PM-5-6 v 7-8

14B-141 – 2:00 PM-pt_5-6 v 7-8

18B-141 – 2:00 PM-pt_5-6 v 7-8

16B-149 – 3:00 PM-9-12 semi

14B-145 – 3:00 PM-pt_5-6 v 7-8

18B-145 – 3:00 PM-pt_5-6 v 7-8

16B-153 – 4:00 PM-9-12 semi

14B-149 – 4:00 PM-pt_9-12 semi

18B-149 – 4:00 PM-pt_9-12 semi

16B-157 – 5:00 PM-play to semi

14B-153 – 5:00 PM-pt_9-12 semi

18B-153 – 5:00 PM-pt_9-12 semi

16B-161 – 6:00 PM-play to semi

14B-157 – 6:00 PM-pt_play to semi

18B-157 – 6:00 PM-pt_qtr final




14B-161 – 7:00 PM-pt_play to semi

18B-161 – 7:00 PM-pt_qtr final




Tuesday, July 24

Stanford Avery
Stanford Baker 1
Stanford Belardi

CHAMP

CHAMP

CHAMP

16B-173 – 7:00 AM-pt_semi

12B-171 - 7:00 AM-au_semi

12B-173 - 7:00 AM-pt_semi

16B-174 – 8:15 AM-pt_semi

12B-172 - 8:00 AM-au_semi

12B-174 - 8:00 AM-pt_semi

18B-173 – 9:30 AM-pt_semi

14B-171 – 9:00 AM-au_semi

14B-173 – 9:00 AM-pt_semi

18B-174 – 10:45 AM-pt_semi

14B-172 – 10:00 AM-au_semi

14B-174 – 10:00 AM-pt_semi

1 HOUR BREAK
12B-189 - 11:00 AM-au_3rd

12B-186 - 11:00 AM-pt_5th

12B-190 - 12:00 PM-au_1st

14B-186 – 12:00 PM-pt_5th

14B-192 – 2:15 PM-pt_1st
14B-189 – 1:00 PM-au_3rd
12B-191 - 1:00 PM-pt_3rd
16B-192 – 3:30 PM-pt_1st
14B-190 – 2:00 PM-au_1st
14B-191 – 2:00 PM-pt_3rd
18B-192 – 4:45 PM-pt_1st


16B-191 – 3:15 PM-pt_3rd


18B-191 – 4:30 PM-pt_3rd
Session 2 (July 26-29)
Thursday, July 26

Stanford Avery

Stanford Baker 1

Stanford Belardi 1

10C-009 – 7:00 AM Group

16G-001 – 7:00 AM Group
18G-005 – 7:00 AM Group
10C-013 – 7:45 AM Group
16G-005 – 7:50 AM Group
18G-010 – 8:00 AM Group
10C-001 – 8:30 AM Group
16G-009 – 8:40 AM Group
18G-015 – 9:00 AM Group
10C-005 – 9:15 AM Group
16G-013 – 9:30 AM Group

18G-020 – 10:00 AM Group

10G-001 – 10:00 AM Preminary RR

16G-017 – 10:20 AM Group

18G-025 – 11:00 AM Group

10C-017 – 10:45 AM Group

16G-021 – 11:10 AM Group

18G-030 – 12:00 PM Group

10C-021 – 11:30 AM Group

16G-025 – 12:00 PM Group
18G-035 – 1:00 PM Group

10C-025 – 12:15 PM Group

16G-029 – 12:50 PM Group
18G-040 – 2:00 PM Group
10C-029 – 1:00 PM Group
16G-033 – 1:40 PM Group
– BREAK

10G-002 – 1:45 PM Preminary RR

16G-037 – 2:30 PM Group

18G-049 – 4:00 PM 2-3 cross

10C-033 – 2:30 PM Group
16G-041 – 3:20 PM Group

18G-050 – 5:00 PM 2-3 cross

10C-037 – 3:15 PM Group
16G-045 – 4:10 PM Group

18G-055 – 6:00 PM 2-3 cross

10C-041 – 4:00 PM Group
– BREAK

18G-060 – 7:00 PM 2-3 cross

10C-045 – 4:45 PM Group
16G-049 – 5:50 PM 2-3 cross

18G-059 – 8:00 PM 2-3 cross

– 5:30 PM BREAK

16G-053 – 6:40 PM 2-3 cross




10C-049 – 6:15 PM 2-3 cross

16G-057 – 7:30 PM 2-3 cross

10C-053 – 7:00 PM 2-3 cross




10C-057 – 7:45 PM 2-3 cross




Friday, July 27

Stanford Avery
Stanford Baker 1
Stanford Belardi 1

14G-061 – 7:00 AM pt_Group

18G-064 – 7:00 AM pt_Group

16G-061 – 7:00 AM pt_Group

14G-065 – 7:50 AM pt_Group

18G-069 – 8:00 AM pt_Group

16G-065 – 7:50 AM pt_Group

14G-069 – 8:40 AM pt_Group

18G-074 – 9:00 AM pt_Group

16G-069 – 8:40 AM pt_Group

14G-073 – 9:30 AM pt_Group

18G-079 – 10:00 AM pt_Group

16G-073 – 9:30 AM pt_Group

14G-077 – 10:20 AM pt_Group

18G-084 – 11:00 AM pt_Group

16G-077 – 10:20 AM pt_Group

14G-081 – 11:10 AM pt_Group

18G-089 – 12:00 PM pt_Group

16G-081 – 11:10 AM pt_Group

14G-085 – 12:00 PM pt_Group

18G-094 – 1:00 PM pt_Group

16G-085 – 12:00 PM pt_Group

14G-089 – 12:50 PM pt_Group

18G-099 – 2:00 PM pt_Group

16G-089 – 12:50 PM pt_Group

14G-093 – 1:40 PM pt_Group

18G-104 – 3:00 PM pt_Group

16G-093 – 1:40 PM pt_Group

14G-097 – 2:30 PM pt_Group

– BREAK

16G-097 – 2:30 PM pt_Group

14G-101 – 3:20 PM pt_Group

– BREAK

16G-101 – 3:20 PM pt_Group

14G-105 – 4:10 PM pt_Group

18G-112 – 6:00 PM pt_Play-in

16G-105 – 4:10 PM pt_Group

– BREAK
18GX-112 – 7:00 PM bz Play-in
– BREAK
– BREAK
18GX-116 – 7:50 PM bz Play-in
– BREAK

14G-109 – 6:40 PM pt_Play-in




16G-109 – 6:40 PM pt_Play-in

14G-113 – 7:30 PM pt_Play-in




16G-113 – 7:30 PM pt_Play-in




Saturday, July 28

Stanford Avery 1

Stanford Baker 1

Stanford Belardi 1







18G-117 – 7:00 AM pt_5-8 v 9-12

16G-117 – 8:00 AM pt_5-8 v 9-12

14G-117 – 8:00 AM pt_5-8 v 9-12

18G-121 – 8:00 AM pt_5-8 v 9-12

16G-121 – 9:00 AM pt_5-8 v 9-12

14G-121 – 9:00 AM pt_5-8 v 9-12

18G-125 – 9:00 AM pt_5-8 v 9-12

16G-125 – 10:00 AM pt_5-8 v 9-12

14G-125 – 10:00 AM pt_5-8 v 9-12

18G-129 – 10:00 AM pt_5-8 v 9-12

16G-129 – 11:00 AM pt_5-8 v 9-12

14G-129 – 11:00 AM pt_5-8 v 9-12

18G-133 – 11:00 AM pt_1-2 v 3-4

16G-133 – 12:00 PM pt_1-2 v 3-4

14G-133 – 12:00 PM pt_1-2 v 3-4

18G-137 – 12:00 PM pt_1-2 v 3-4

16G-137 – 1:00 PM pt_1-2 v 3-4

14G-137 – 1:00 PM pt_1-2 v 3-4

18G-141 – 1:00 PM pt_5-6 v 7-8

16G-141 – 2:00 PM pt_5-6 v 7-8

14G-141 – 2:00 PM pt_5-6 v 7-8

18G-145 – 2:00 PM pt_5-6 v 7-8

16G-145 – 3:00 PM pt_5-6 v 7-8

14G-145 – 3:00 PM pt_5-6 v 7-8

18G-149 – 3:00 PM pt_9-12 semi

16G-149 – 4:00 PM pt_9-12 semi

14G-149 – 4:00 PM pt_9-12 semi

18G-153 – 4:00 PM pt_9-12 semi

16G-153 – 5:00 PM pt_9-12 semi

14G-153 – 5:00 PM pt_9-12 semi

18G-157 – 5:00 PM pt_qtr final

16G-157 – 6:00 PM pt_play to semi

14G-157 – 6:00 PM pt_play to semi

18G-161 – 6:00 PM pt_qtr final

16G-161 – 7:00 PM pt_play to semi

14G-161 – 7:00 PM pt_play to semi






Sunday, July 29




Stanford Avery

Stanford Baker 1

Stanford Belardi 1

CHAMP

CHAMP

CHAMP

12G-132 – 7:00 AM pt_semi

12G-127 – 7:00 AM au_semi

12G-131 – 7:00 AM pt_semi

14G-174 – 8:00 AM pt_semi

12G-130 – 8:00 AM au_semi

14G-173 – 8:00 AM pt_semi

16G-174 – 9:00 PM pt_semi

14G-171 – 9:00 AM au_Semi

16G-173 – 9:00 AM pt_semi

18G-174 – 10:00 AM pt_semi

14G-172 – 10:00 AM au_Semi

18G-173 – 10:00 AM pt_semi

12G-146 – 11:15 AM pt_1st

12G-143 – 11:00 AM au_3rd

12G-145 – 11:15 AM pt_3rd

10C-192 – 12:15 PM pt 1st

12G-144 – 12:00 PM au_1st

12G-141 – 12:15 PM pt_5th

10G-022 – 1:15 PM 1st
14G-189 – 1:00 PM au_3rd
14G-186 – 1:15 PM pt_5th
14G-192 – 2:15 PM pt_1st
14G-190 – 2:00 PM au_1st
14G-191 – 2:15 PM pt_3rd
16G-192 – 3:30 PM pt_1st


16G-191 – 3:15 PM pt_3rd
18G-192 – 4:45 PM pt_1st


18G-191 – 4:30 PM pt_3rd