Completed

,

Nov 30-Dec 2, 2017
Schedule for the 2017 Miami Invitational below.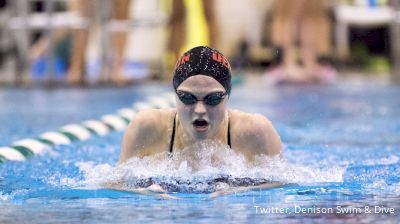 (WATCH) Denison's KT Kustritz Clips D3 100 Breast Record With 1:00.50
Dec 5, 2017
BOOM! Denison's KT Kustritz clipped the DIII NCAA record in the 100 breaststroke with a 1:00.50 at the 2017 Miami Invitational in Oxford, Ohio, on Friday night. The previous record was set in 2006 by Williams' Lindsay Payne with a 1:00.54.
Kustritz didn't run away with this one, though. Miami (Ohio) senior Elise Campbell threw down a 1:00.99 to give Kustritz a run for her money.
RACE RESULTS - Women's 100 Breaststroke
Kt Kustritz (Denison, SO) -- 1:00.50 (NCAA RECORD)
Elise Campbell (Miami, SR) -- 1:00.99
Kate Mesaros (Denison, SO) -- 1:03.00
Holly Schuster (Miami, SR) -- 1:03.07
Anna Justinak (Miami, SO) -- 1:03.19
Ashley Daniels (Emory, JR) -- 1:03.91
Macey Neubauer (Miami, SO) -- 1:04.49
Kristi Larsen (Milwaukee, FR) -- 1:05.07
Check out the race video above and visit the link below to watch the rest of the finals race videos from Oxford.