All FloSwimming highlight videos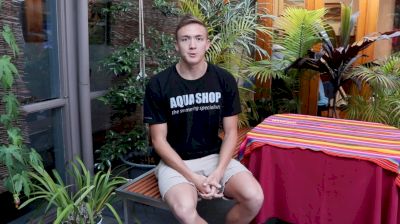 The Comeback Trail | Day No. 23: Travel + Final Prep
Oct 26, 2017
Australian swimmer Bobby Hurley is a former world-record holder in the short course meters (SCM) 50m backstroke and the 2012 world champion in the same event. In 2009, he won a bronze medal as part of Australia's 4x200m freestyle relay at the FINA World Championships in Rome. He has five FINA World Championship medals to his name -- two gold, one silver, and two bronze. Most recently, Hurley coached with Energy Standard Team and led South African swimmers Cameron Van Der Burgh and Chad Le Clos to success at the 2017 FINA World Championships in Budapest, Hungary, in July.
Hurley is making a comeback to competitive swimming with his eyes set on the 2018 Commonwealth Games Trials in April in Gold Coast, Australia. Along with his coach Tim Lane, Hurley is giving us behind-the-scenes access of his training sessions for 30 days. Stay tuned!
Day No. 23
Wednesday PM -- October 25th
Travel to Adelaide
Travel day today. Early start -- woke up at 5:30am to be at the airport early for my 8:30am flight from Sydney to Adelaide. The two hour flight isn't so bad considering all of the traveling I've done this year. I really believe in wearing compression skins when in the air. Today I had my legs and upper body skins on for the flight. I manage to sleep well on flights, even though the seats are quite cramped for me. I was able to catch up on some sleep and a short podcast in the air today.
Once landed, it was a quick trip to the shopping center for groceries. I am staying at a local Air BnB so I am going to cook my own meals this week.
Today my focus in the water was to just get used to this particular pool. I like to practice my turns at both ends, to make sure the "T" is in a familiar place for me, and get some starts under my belt. As my training pool in Sydney doesn't have official Omega blocks or the backstroke wedge, I literally haven't done a proper backstroke start since December last year. Crazy to think it's been that long. So just familiarized myself with that again at the end of my swim.
Thursday's 50m backstroke is a timed final in the morning as the meet doesn't run finals for off-stroke 50m events. Can't wait to race again!
500 fins mix -- Warmup
10x50 – 1x kick/3x drill/1x swim
{1-5 w Fins+Paddles}
100 scull
100 back pull DPS
8x backstroke starts
{Did 1 as max 15m UW into breakout}
1,500m TOTAL