2017 Music City Invitational
Maddy Banic, Not On UT Roster, Entered In Music City Invite
Maddy Banic, Not On UT Roster, Entered In Music City Invite
The top swimmers to watch at the 2017 Music City Invite hosted by Nashville Aquatic Club in Nashville, Tennessee.
Nov 28, 2017
by Maclin Simpson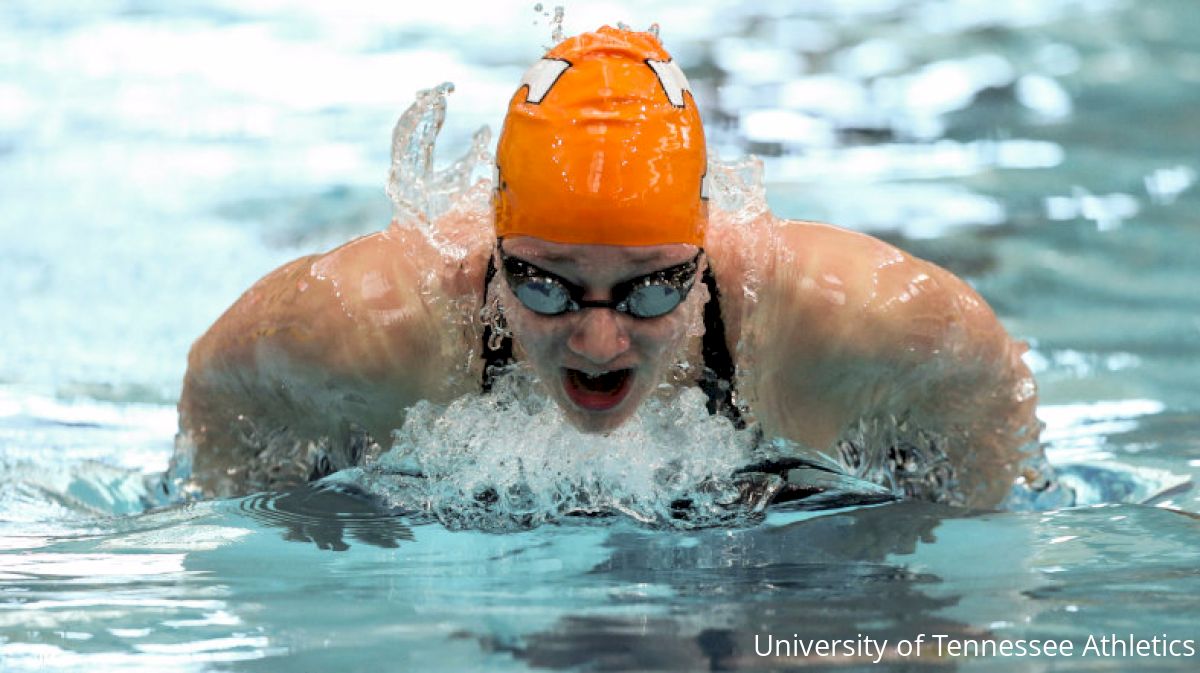 The 2017 Music City Invite, hosted by Nashville Aquatic Club, kicks off Friday, Dec. 1, and features the Southeast's premier teams.
Check out the top five swimmers to watch below — including Maddy Banic, the 2017 SEC champion in the 50 freestyle who has been missing from Tennessee's roster all season.
2017 Music City Invitational
December 1-3
Nashville, TN
Centennial Sportsplex
Short Course Yards (SCY)
1.) Allie Raab (Nashville Aquatic Club)
As mentioned in a previous preview article, NAC's Allie Raab is the real deal. The future Stanford Cardinal is a 1:00.02/2:09 breaststroker and 1:58 200 IMer. She has a light weekend ahead, only entered in the 200 IM and 100 breast.
2.) Maddy Banic (Unattached)
Banic has been a bit of a mystery this season. She would be a junior for Tennessee; however, she has not competed for the Vols this season and is no longer listed on the roster. The 2017 SEC champion in the 50 freestyle is a world-class swimmer with best times of 21.54 in the 50 free, 48.70 in the 100 free, and 51.19 in the 100 fly. The reasoning behind her absence is unknown, but she seems excited to compete this weekend based on a recent post on her Twitter account.
3.) Jackson Mussler (Lakeside Swim Team)
The 14-year-old from Lakeside is a classic Mike DeBoor product with strengths in the 200 back (1:55.68), 400 IM (4:12.40), and 200 fly (1:57.60). He is also entered in the 200 IM, 100 back, 100 fly, and a slew of relays for the Seahawks.
4.) Gretchen Walsh (Nashville Aquatic Club)
At 13 years old, Gretchen Walsh was the youngest swimmer to compete in the 2016 U.S. Olympic Trials in Omaha, Nebraska. That should be enough on its own to keep any eye on her, right? Well, Walsh hasn't slowed down since Trials. Now 14, Walsh has best times in the 50 free (22.77), 100 free (49.48), and 200 free (1:47.88). It's rare for a 14-year-old to have developed that sort of speed, but it's evident Walsh is special.
5.) Holden Smith (Race Pace Club)
Holden Smith is a Louisville, KY, native and seeded first or second in all six of the events he is entered in this weekend for the 13-14 age group. The interesting thing about Smith is that he follows Ultra Short Race Pace Training (USRPT) and represents the Race Pace Club. What has become synonymous with Michael Andrew, USRPT seems to be paying off for Smith as well. The 14-year-old has best times in the 200 free (1:45.81), 50 free (22.00), 200 IM (1:58.56), 100 back (53.21), 100 free (48.37), and 100 fly (52.68).