Olivia Smoliga's Thoughts On New Training Partner Missy Franklin (VIDEO)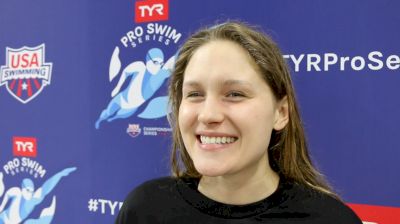 23-year-old Olivia Smoliga is a mainstay on the U.S. National Team, specializing in the 100m backstroke. Saturday night at the 2018 TYR Pro Swim Series in Austin, TX, Smoliga swam down to the 50 in a shootout with 15-year-old sensation Regan Smith.
Smith ended up getting the win in 27.85, but Smoliga went a lifetime best for second in 27.89. For the sake of perspective, both of those times would have semifinaled at last summer's World Championships. Not too shabby for January.
After the race, Smoliga chatted about her swim, winter training in Athens, and the news about gaining a new training partner in Missy Franklin.