Grothe: American Distance Swimming Is 'Dog Eat Dog Kind Of Thing' (VIDEO)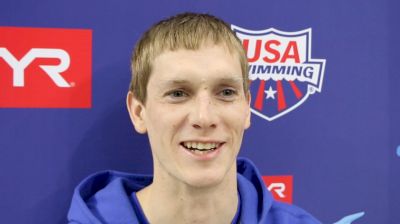 Zane Grothe has been ON FIRE recently. After picking up a pair of American records in the 500-yard free and 1650-yard free at Winter Nats in December, Grothe kept on rolling in the first meet of 2018 at the TYR Pro Swim Series in Austin, TX.
He won the 200m free Thursday night (1:48.18) and the 800m free Friday night (7:56.69). After his 800, Grothe talked about the Indiana training camp at Arizona State where Bob Bowman was writing workouts for the distance group, his confidence in his increased training volume, and much more.