Chase Kalisz On Jay Litherland: 'He Sniffs Blood In The Water. He'll Run Down Anyone'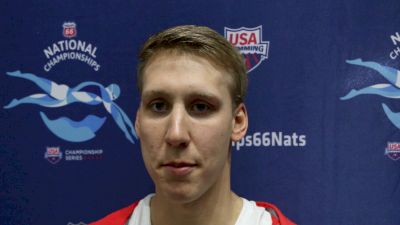 2017 U.S. National Championships & Worlds Trials
June 27 - July 1, 2017
Indianapolis, Indiana
IUPUI Natatorium

MEET INFORMATION
PSYCH SHEET
LIVE RESULTS
​Chase Kalisz
​ knows a thing or two about swimming the 400 IM.​ After a speedy 4:06.99 -- the fastest time in the world this year -- Thursday night to qualify for his fourth consecutive major international team, Kalisz talked about the race, his teammate
​Jay Litherland
​, and looked ahead to stiff international competition at the World Championships.
​

Here is a little rundown of how the race went... Spoiler alert: Kalisz isn't the only Georgia Bulldog who is good at the 400 IM.

Another Georgia Bulldog 1-2-3 sweep in the 400m IM led by
Chase Kalisz
in 4:06.99 -- just 0.24 off his silver medal-winning time in Rio. At the 200 meter mark, Kalisz and
​Jay Litherland
were neck and neck -- touching in 1:59.31 and 1:59.66, respectively. But as he traditionally does, Kalisz took off on the breaststroke leg with a massive 1:08.66 split. Litherland made a strong push on the freestyle leg, but it was too little too late to catch his teammate; he touched second in 4:09.31 -- his first time under 4:10. The third Bulldog,
​Gunnar Bentz
, had a blazing freestyle leg as well -- making up some ground and touching third in 4:11.66.

1.) Chase Kalisz -- 4:06.99 (Qualified)
2.) Jay Litherland -- 4:09.31 (Qualified)
3.) Gunnar Bentz -- 4:11.66
4.) Jonathan Roberts -- 4:15.40
5.) Sean Grieshop -- 4:17.49
6.) Kieran Smith -- 4:18.82
7.) Charlie Swanson -- 4:19.26
8.) Curtis Ogren -- 4:21.88
---
​

The best swimming coverage. Straight to your inbox.
Don't miss breaking news, feature stories, event updates, and more. Sign up for the FloSwimming mailing list today.