Men's NCAA Champs: 100 Freestyle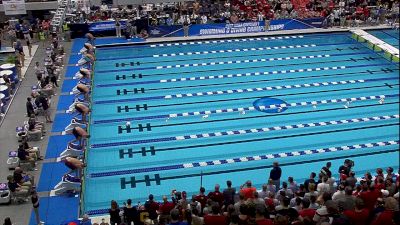 Unlock this video, live events, and more with a subscription!
Get Started
Already a subscriber? Log In
FloPRO Subscribers gain access to a massive library of archived video content, including every race from the NCAA Swimming and Diving Championships, live streamed swim meets, exclusive documentaries, and more.


100 FREESTYLE
NCAA Record: 40.46 (Caeleb Dressel - Florida, 2016) 40.00 (Caeleb Dressel - Florida, 2017)
Meet Record: 40.46 (Caeleb Dressel - Florida, 2016) 40.00 (Caeleb Dressel - Florida, 2017)
American Record: 40.46 (Caeleb Dressel - Florida, 2016) 40.00 (Caeleb Dressel - Florida, 2017)
U.S. Open Record: 40.46 (Caeleb Dressel - Florida, 2016) 40.00 (Caeleb Dressel - Florida, 2017)

CAELEB DRESSEL!? What on earth just happened? Dressel just unloaded a 40.00 100 freestyle. Think about that for a second. Let it sink in. Now, appreciate it and look forward to the day he unloads a 39. Dressel rocketed out at the 50, popping a 19.01 to the feet and came home in an unbelievably fast 20.99. This guy is on another planet -- there is no doubt about it. Michael Chadwick of Missouri had a phenomenal swim to drop a 40.95 and Ryan Held of NC State grabbed the bronze with a 41.21. What a race.

1.) Caeleb Dressel (Florida): 40.00 (NCAA, American, & US Open Record)
2.) Michael Chadwick (Mizzou): 40.95
3.) Ryan Held (NC State): 41.21
4.) Dylan Carter (USC): 41.76
5.) Santo Condorelli (USC): 41.77
5.) Brett Ringgold (Texas): 41.77
7.) Sam Perry (Stanford): 41.80
8.) Blake Pieroni (Indiana): 41.85