Texas Swimming & Diving Is One Of The Greatest NCAA Division I Dynasties
Texas Swimming & Diving Is One Of The Greatest NCAA Division I Dynasties
Texas Swimming & Diving is one of the greatest current NCAA sports dynasties. Check out how the Longhorns stack up against some of the others.
Jul 9, 2020
by FloSwimming Staff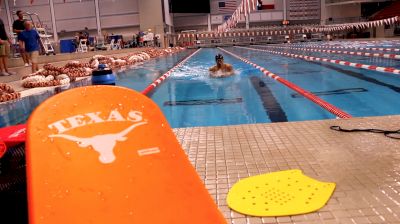 Eddie Reese, head coach of swimming and diving at the University of Texas, is a walking legend.
Reese first took the job in Austin in 1979, and ever since that time he's been rolling through the competition to the tune of 14 total national titles, 11 runner-up finishes, and seven third-place finishes. And this may be the craziest stat of all: during his tenure, the Longhorns have never placed worse than seventh at the national tournament.
Although the Horns didn't quite pull off the national championship in 2019 — that honor went to the California Golden Bears — Reese and his swimmers have notched a runner-up finish. Reese's team was poised to regain the title in 2020 after going undefeated and winning their 24th-straight (!) Big 12 crown, but the event was canceled due to the coronavirus pandemic.
Just a couple of days ago, FloWrestling's JD Rader published a look at some of the top dynasties right now in NCAA Division I sports. We at FloSwimming are obviously pretty well-versed in the success that Texas has seen, but here's a snapshot of some of the other great dynasties that are currently owning the competition across the college sports landscape.
JD Rader of FloWrestling brings you the rest of the dynasties:
Penn State Wrestling
Head Coach: Cael Sanderson
Years: 10
National Titles: 8
Conference Titles: 6
Dual Record: 135-10-1
Notes: As if eight of nine team titles wasn't enough to convince you of Cael's greatness let's take a look at some of the individual honors he's coached:
23 individual national championships
55 All-Americans
5 Hodge Trophies
5 NCAA Championship OWs
4 Gorriaran Awards
Penn State is going on an incredible run that is putting them up there with the best NCAA dynasties of all time. Cael has cemented himself at least the second greatest NCAA wrestling coach of all time.
Maryland Women's LaCrosse
Head Coach: Cathy Reese
Years: 10
National Titles: 5
Final Fours: 10
Record: 215-14
Notes: A former Maryland standout herself, Cathy Reese has developed quite the standard at her alma mater as the head coach. From 2010-19 the Terps have never not made the Final Four, made it to nine of 10 national championship games, and won it all five times. Incredibly impressive for a team sport where one game determines the national champion. Over the same period of time, Reese has produced 51 All-Americans and eight Tewaaraton Awards.
UConn Women's Basketball
Head Coach: Geno Auriemma
Years: 26
National Titles: 11*
Final Fours: 22*
Record: 899-61
Notes: It took Geno Auriemma 10 years to win his first national championship after being hired as the head coach. Since then, however, the Huskies have won 10 titles, 22 eight Final Four appearances, and never failed to at least make the Sweet 16.
UConn WBB holds records for the following:
Most consecutive WBB NCAA Championships (4, 2013–2016)
Most consecutive NCAA Final Fours, men's or women's (12, 2008–)
Most consecutive NCAA Elite Eights, men's or women's (14, 2006–)
Most consecutive NCAA WBB tournament wins (28, 2013–2017)
Most consecutive NCAA wins, men's or women's (111, 2014–2017)
Most consecutive NCAA regular-season wins, men's or women's (126, 2014–2019)
Prior to the 2020 Women's Basketball National Tournament getting canceled, UConn was 29-3 and had just won both the ACC regular-season title and tournament title.
Alabama Football
Head Coach: Nick Saban
Years: 11
National Titles: 5
Conference Championships: 6
Record: 138-15
Notes: Probably the most famous dynasty on this list to the common sports fan. Whereas it took Auriemma 10 years to win his first title at UConn, it only took Nick Saban two years. And boy has it been a good a decade to be a Tide fan. Since 2008, one year before Saban won his first title at Bama, every single one of his teams has spent all or at least a portion of each season ranked #1. Outside of this past season, the Tide have been in every single College Football Playoff since its conception in 2014. In those games, they are an impressive 6-3. Despite not making the CFP in 2019, Saban and co. still went 11-2 with close losses to national champion LSU and rival Auburn and a dominant win over Michigan in the Citrus Bowl.
Runs like this rarely occur in Div. I college football where many schools have top-notch money, facilities, and other resources that go towards the sport. Similar to lacrosse, in a system where one game determines the national champion, it is almost unprecedented to win 50% of the title games across a 10-year span. The Tide even won three-of-four from 2009-2012.
Similar to Cael, Saban has masterfully recruited. From 2011-2017 Alabama had the #1 ranked recruiting class every year. Also similar to Penn State, they aren't showing signs of slowing down anytime soon, bringing in the #2 ranked recruiting class of 2020. Roll Tide, y'all.