3 Olympic Swimming Flashbacks Featuring Phelps, Ledecky & Hyman
3 Olympic Swimming Flashbacks Featuring Phelps, Ledecky & Hyman
While the 2020 Tokyo Olympics may be officially postponed, there's no reason to stop watching swimming.
Apr 29, 2020
by FloSwimming Staff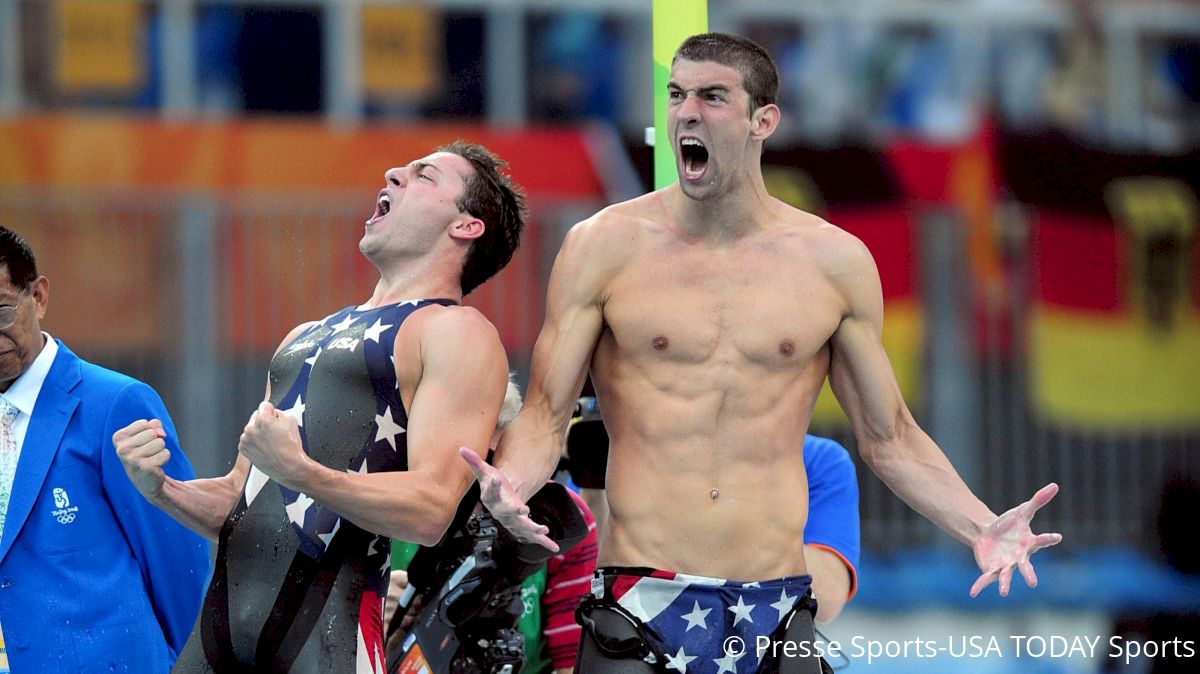 While the 2020 Tokyo Olympics may be officially postponed, there's no reason to stop watching swimming. To tide you over before next summer's festivities in Tokyo, we've gathered some of our favorite memories from the past 20 years of Olympics to help you stay in the mood for international competition.
1. Beijing 2008: USA's insane comeback in the men's 4x100 freestyle
If Michael Phelps wanted to achieve his dream of eight Olympic gold medals, he knew that he'd need a herculean effort from the men's 4x100 team. For that race Phelps partnered with Garrett Weber-Gale, Cullen Jones, and anchor Jason Lezak. In the end, the Americans needed a crazy come-from-behind leg from Lezak to catch Alaine Bernard and the French.
Catch the shocking final seconds of the race here:
Chills. Every. Single. Time. ? pic.twitter.com/KscCnOl7Nq

— USA Swimming (@USASwimming) April 21, 2020
The race was part of Phelps' record-breaking haul. He collected eight gold medals total in the following events in addition to the 4x100 freestyle: 200m freestyle, 100m butterfly, 200m butterfly, 200m medley, 400m medley, 4x200 freestyle, and 4x100 medley. Seven out of eight of those wins were world records, and the other was an Olympic record. We'll never see another like him.
2. Rio 2016: The Katie Ledecky show in the women's 800 freestyle
Katie Ledecky became the first woman since 1968 to complete the freestyle cycle of winning the individual 200m, 400m, and 800m — and the latter two races were world records.
There are so many impressive elements to Ledecky's 800m. First, she set the world record . . . that's kind of a big deal. Second, she completed the freestyle cycle. Third, by the time she was peaking her head out of the water to check her time, there was hardly another swimmer in sight! And fourth, maybe craziest of all, she didn't even look winded. Absolutely stunning.
#TBT: Watching @katieledecky always leaves us speechless. Incredible. ?

✔️ New Olympic record
✔️ New world record
✔️ Gold medal No. 4 in Rio#OlympicsWeekNBCSN pic.twitter.com/02XLVA0IP2

— USA Swimming (@USASwimming) April 16, 2020
3. Sydney 2000: Misty Hyman dethrones Australia's Susie O'Neill
Australian swimming legend Susie O'Neill won eight Olympic medals throughout her career, a feat that puts her in fine company with the likes of Ian Thorpe and Leisel Jones. O'Neill entered the 2000 Olympics on her home turf with the hopes of defending her 1996 200m butterfly crown.
Misty Hyman had other ideas, though. The former Stanford swimmer barely missed the cut on making the 1996 swimming team, and although she never won another medal or made another Olympics, this 200m butterfly stands out as a truly special race, as Hyman came back from sixth position to secure the gold.
Everyone loves a good upset. CHILLS. ?@mistyhyman's gold at #Sydney2000 brings back all the memories. pic.twitter.com/7yHcGFErxW

— USA Swimming (@USASwimming) April 14, 2020
We hope you enjoyed the blast from the past and that it gave you a little bit more to look forward to as we keep waiting for the world to return to normal!