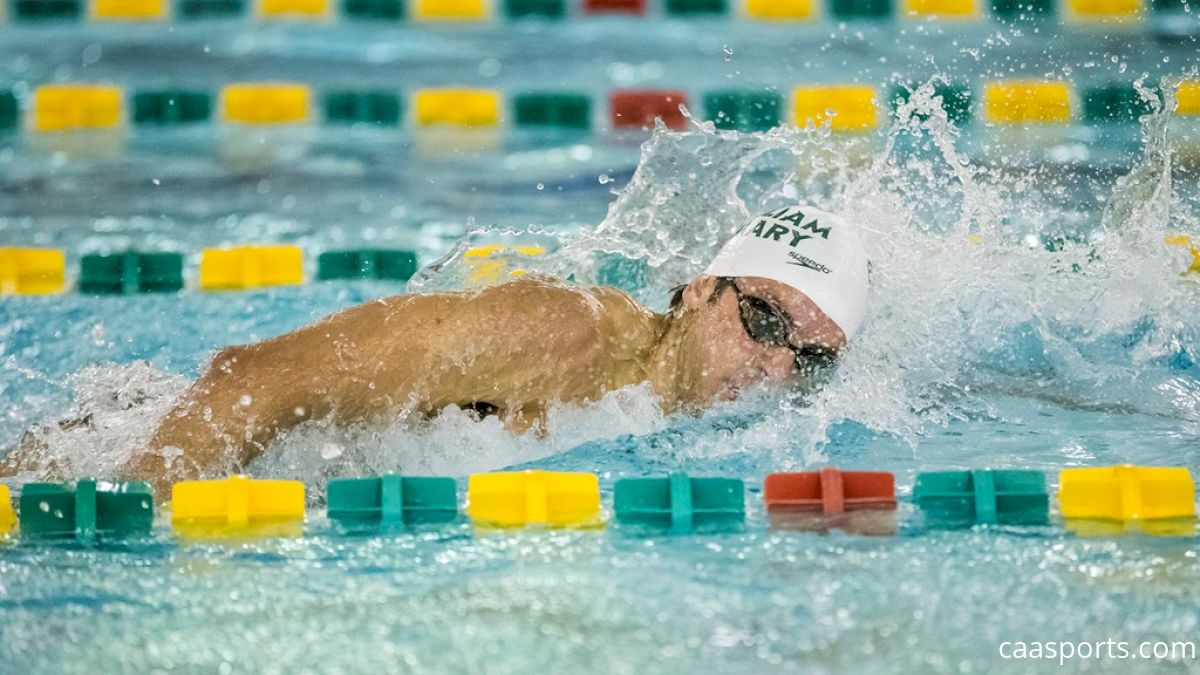 CAA Swimming & Diving Championships get underway today where the William & Mary men's swimming team comes into the Championships looking for its sixth consecutive CAA title and where the James Madison women's swimming team is looking for its third straight CAA title. Here is our preview for the upcoming competition:
Men's Sprints:
In the men's sprint freestyle events, the conference will be returning the top three from last season who all cracked the 20-second barrier. Colin Wright of William & Mary and his teammate Doherty look to make an impact not only in the 50 and 100 but in the relays as well. William & Mary's sprint core is going to be hard to beat. Men's Sprinters to keep an eye on can be seen below.
Colin Wright - William & Mary

Matthew Essing - Towson

John Doherty - William & Mary

William Countie - UNCW

Gianmichel D'Alessandro - UNCW
Women's Sprints:
Bonnie Zhang and Megan Clark are my head to head matchup of the meet. Not just on the women's side of things but for the entire meet. With the pairing going 48.38 and 48.55 respectively in the 100 freestyle last year, that race is set to seek national attention this year. Megan Clarks mid-season 48.46 and 22.34 were a nice warning shot to the sprinters in the CAA and I'd like to think there's more left in the tank. Zhang will have her hands full on the flip-side of things (pun intended) for the 100 backstroke as well going up against Alexa Kutch who dropped a 53.34 mid-season.
Megan Clark - Northeastern

Bonnie Zhang - James Madison

Alexa Kutch - Drexel

Megan Cowan - Towson

Morgan Whaley - James Madison
Men's Mid-Distance & Distance:
The men's mid-distance and distance events are deep and we could see anyone rise to the occasion this year. On the freestyle side of things, I'm giving Chris Baldo of William & Mary the nod after a couple of solid mid-season swims in the 1650 and 500. The 200 breast is wide open and literally anyone could get their hand on the wall first. Unless I'm mistaken, this event's podium could come down to a good finish or pull out. Jason Arthur of Drexel has a shot at a clean sweep of the IM event to compliment his likely victory in the 200 back.
Chris Baldo - William & Mary

Jason Arthur - Drexel

Josh Rigsbee - UNCW

Paris Raptis - Drexel
Women's Mid-Distance & Distance:
James Madison's Julianna Jones is the standout in the mid-distance and distance side of the meet for the women. Her dominant performance in last year's 1650 should solidify her as a favorite in the event and I'd expect a great race between her and Megan Bull in the 500 as well. As mentioned earlier, Alexa Kutch is a strong favorite in the women's 200 backstroke for Drexel, and Megan Cowan could come home with a couple of golds as well for Towson if she can keep her electric season alive.
Megan Bull - William & Mary

Julianna Jones - James Madison

Alexa Kutch - Drexel

Megan Cowan - Towson
Winning Team Predictions:
Men - William & Mary

Women - Towson
If you want to watch a close championship team race, the CAA is going to have just that. The women's team prediction basically came down to a coin flip for me and while the men were a bit easier to predict… Drexel and UNCW could come away with it.
On top of an exciting team race, this meet won't have any shortage of top tier talent as well. No doubt in my mind we'll see a handful of swimmers continue their season by qualifying for the NCAA Championship. Here is a quick link to the psych sheet: 2020 CAA Swimming and Diving Championship