2020 Mountain West Swimming and Diving Championship
2020 Mountain West Championships Preview
2020 Mountain West Championships Preview
The 2020 Mountain West Swimming and Diving Championships kicks off this Thursday, Feb. 19 - Feb. 22 at the University of Minnesota campus in Minneapolis.
Feb 17, 2020
by Jeremy Mauss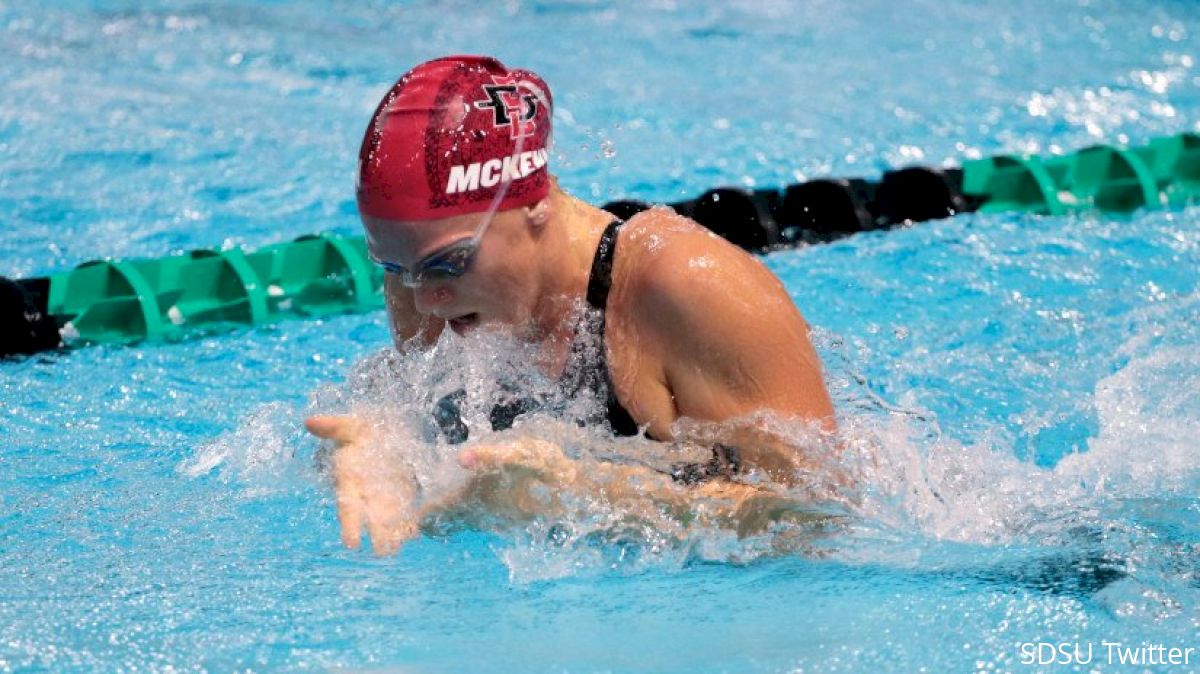 The 2020 Mountain West Swimming and Diving Championships kicks off this Thursday, Feb. 19 - Feb. 22 at the University of Minnesota campus in Minneapolis.
Mountain West fanatics and followers of college swimming should know that all four days will be live-streamed right here on FloSwimming. Since the Mountain West Conference realignment in 2011, only three teams have won the conference title, with the San Diego State Aztecs and the Boise State Broncos winning four apiece and the Nevada Wolf Pack claiming their lone title in 2016. The Aztecs are looking to repeat as conference champions in 2020.
This year it looks to be a two-team battle between San Diego State and Nevada. The Wolf Pack went 4-0 in Mountain West dual meets this year, while the Aztecs had a great showing in the 2019 Chick-Fil-A Invitational where they finished second only to the national powerhouse Cal Bears. The only official time the two teams have previously met was at an early-season relay meet which also included Idaho and Washington State. Nevada finished in first place and won seven events while San Diego State came in second and won three relays. The two schools did have a Jan. 7 scrimmage but no results were posted. Nevada and San Diego State each had three different athletes named the Mountain West Swimmer of the Week, most notably Andressa Cholodovskis (Nevada) who was recognized for the 5th time in her collegiate career.
San Diego State will have an especially strong showing this year, with senior Morganne McKennan and junior Klara Thormalm ready to dominate. Each athlete has a chance to qualify for the NCAA Championships in the 100-yard breaststroke, which has a 2020 Projected cut time of 59.96. McKennan earned a "B" time of 59.83 and is close to automatically qualifying but Thormalm (who has a seed time of 1:00.24) will have to make a strong showing this week to be included. The Wolf Pack's Wiktoria Samula and Donna Depolo will surely come ready to compete, with the hopes of spoiling the Aztecs' podium hopes.
Diving teams could also play a decisive role in breaking up any tiebreakers between San Diego State and Nevada. 2019 Mountain West Diver of the Year, Ximena Lechuga González, who has been recognized by the conference five times during her short career will be ready to compete in her second MW Championship event. Nevada's Laura Isabel Vazquez Lopez (three-time MW Diver of the Week) will have to bring her A-game to compete with Gonzalez and the other strong divers from Wyoming, Boise State, Colorado State, and Air Force.
After reviewing the psych sheet, San Diego State is clearly favored to win every relay and has the top times in six of the 13 events. Boise State, Fresno State, and New Mexico will also come ready to challenge the favorites, as each school has at least one top-seeded athlete swimming. However, all signs point to San Diego State winning its fifth Mountain West Conference swimming title.
Coverage begins on FloSwimming at 11:30 a.m. CT on Feb. 19 and then each day at 11 a.m. CT from Feb. 20-22 for prelims, and finals begin each night at 6:30 p.m. CT.