Qualify Now or Later: A College Swimming Dilemma
Qualify Now or Later: A College Swimming Dilemma
Each year coaches have the decision to make: "Do we full taper in November or wait until February?"
Dec 10, 2018
by Ben Colin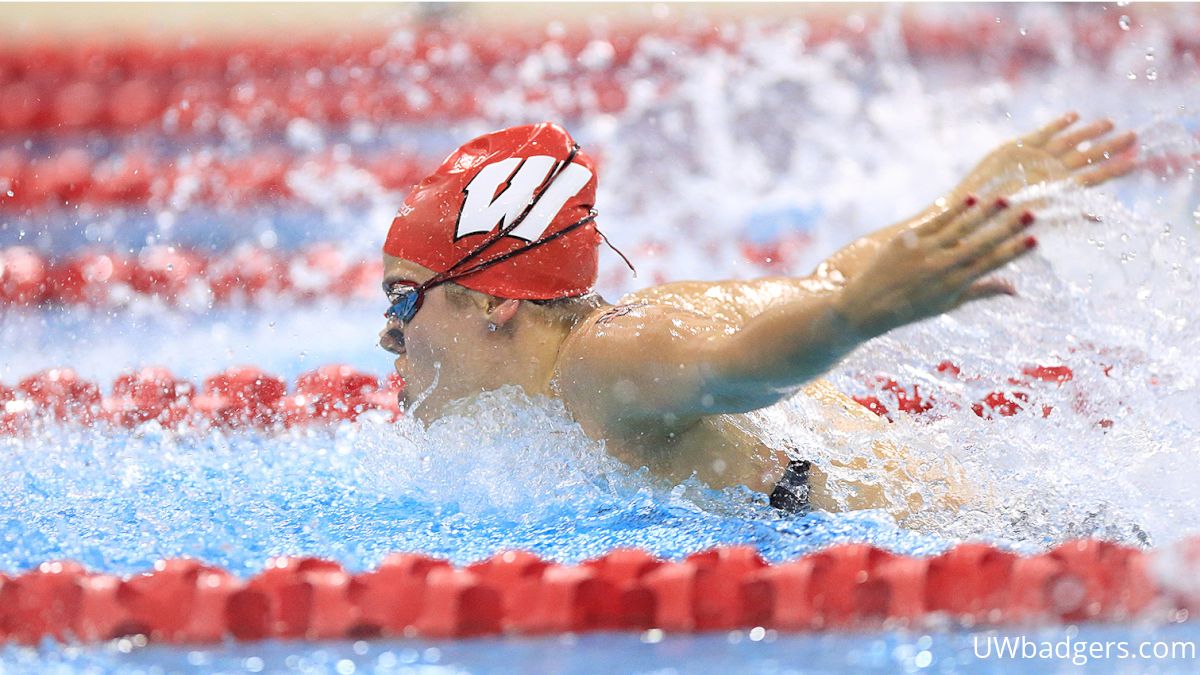 Iowa City - The Texas Hall of Fame Invitational caught swimming attention as Wisconsin's Beata Nelson lowered an already quick American Record in the 100-yard backstroke. Of the mid-season meets, few garner more attention than the Longhorns annual meet, comprised this year of Southern California, Arizona, Wisconsin, and Stanford's men among others.
High caliber swim programs generally welcome three to six teams, frequently of differing levels to their facilities for a championship style invitational, often mimicking the conference championship format at seasons end. Schools such as Georgia, Indiana, and Georgia Tech all hosted attractive mid-season meets this fall.
For many teams nationwide, these mid-season invitationals are a benchmark. A measurement of performance, giving both swimmers and coaches a clarifying idea of where the team stands among its competitors and within itself. Times are often compared to the previous years swims or even one's personal best. It is ultimately just another meet in the overall process.
That stands true for almost every team. There are unique situations scattered throughout college swimming that open a debate into how teams should treat these championship caliber meets.
Each year coaches have the decision to make: "Do we full taper in November or wait until February?"
Uniquely, certain teams tend to place a much larger focus on the fall invitations, typically in an effort to produce swims fast enough to qualify for the NCAA Championships in March. As seen when results trickle in, outrageously fast swims are positioning individuals under the projected cut line and meeting the automatic qualifying standard for relays. A variety of factors play into when the focus meet takes place.
Most notably is conference competitiveness, or a lack thereof. Teams that won't face comparable competition at their conference championship have the ability to place themselves in a meet against teams to bring out their best. Many top mid-major programs are faced with this task in order to secure a spot at NCAAs.
For example, Western Athletic Conference member Grand Canyon University attended the Hawkeye Invitational to be matched with Iowa, Minnesota, and Purdue. Two Antelope swimmers, Daniil Antipov and Mark Nikolaev, swam under last year's invited time in their respective events.
A lack of conference competition isn't limited to the mid-majors. Following major conference realignment, Big 12 swimming was left in shambles. Thankfully, for the sake of saving swimming, TCU and West Virginia joined the league. It still left Texas, a perennial powerhouse and recent men's national champion, with little close competition.
At their own invitational, the Longhorns men and women posted more 'A' cut swims than any other school with nine. In a meet featuring four other schools posting 'A' cut swims, this was the best opportunity for Texas to swim elite teams until the national championships.
Confidence heading towards the championship season also plays into the mid-season strategy. Outside of an 'A' cut swim, no one is a lock for the championships until the last conference meet is complete. Major conference teams, more often those with a few championship caliber swimmers, will give a full focus on mid-season to ensure they are best positioned to qualify.
Other coaches, setting aside championship contention, solely look to create an elite simulation of a championship meet. Similar to the confidence of qualifying, taking a run through at the final plan gives swimmers a chance to plan out their routine and strategy for later in the season.
Picking a mid-season strategy is based exclusively on a team to team basis. For most, waiting until the conference championship to fully taper is the most ideal situation. In the unique situation, the mid-season championships are the only way to set up for a successful end of the year.