2018 Alabama vs Ohio State | Big Ten Men's Swim and Dive
Preview | Alabama and Ohio State Meet in Early Season Dual
Preview | Alabama and Ohio State Meet in Early Season Dual
Alabama and Ohio State Meet in a High Profile Early Dual on September 27, 2018 live on FloSwimming.om
Sep 24, 2018
by Ben Colin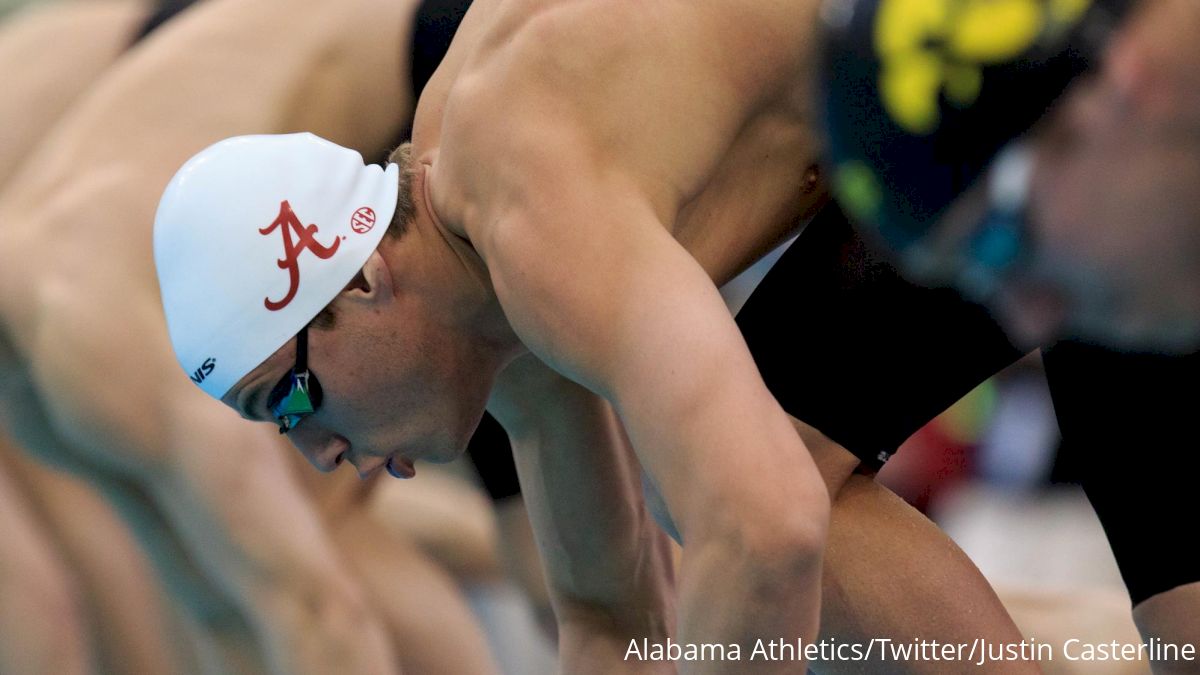 Preseason collegiate swimming rankings aren't even posted yet. That doesn't mean two top-25 programs can't take to the pool to kick off the year. The Alabama Crimson Tide travel north to Columbus, Ohio to take on Big Ten opponent Ohio State.
The two alternated finishes at the NCAA Championships in March. On the men's side, Alabama finished 13th with Ohio State taking 28th. For the women, the Buckeyes were 13th and Alabama 30th. Both finished ranked in the top-25 of the final CSCAA Poll.
Dual meets take a different approach than a championship meet. Every swimmer or diver can make an impact on the points. Ohio State and Alabama both bring a handful of swimmers that will likely make a significant impact this weekend.
For the men, three NCAA scoring swimmers return. For Alabama, A-finalist Robert Howard will lead the way in the sprints. Senior Zane Waddell enters as the meets leading backstroker. Additionally, Ohio State sophomore Paul Delakis adds versatility with swims in the 200 freestyle and 200 individual medley.
Ohio State also has strong depth, adding to a tough dual-meet roster. Noah Lense in the butterfly and Matt Abeysinghe in the sprints support the Buckeyes being the favorites to win Thursday on the men's side.
Alabama, with star swimmers such as Howard, will make the relays very exciting. In the first major meet of the year, this is the first chance to see how both schools will line up in the 200 medley and 400 freestyles relays. Battling for points in the meet and spots on the team will both be taking place.
On the women's side, Ohio State must overcome graduating star sprinter Zhesi Li, who collected a bronze at the NCAA Championships. Without her, the Buckeyes are still favored on the women's side as they return three NCAA scorers.
Freya Rayner, Kristen Romano, and Molly Kowel lead the way for Ohio State in the freestyle events. The three a projected to claim all five freestyle events in the dual.
Alabama has the edge in the breaststroke events with returning NCAA finalist Justine Macfarlane. Ohio State's Hannah Gresser, whose best time is the same, will contribute to potentially the race of the meet in the women's 100 breaststroke.
Alabama and Ohio State take to the pool Thursday at 6pm (EST) in Columbus. Coverage can be seen on FloSwimming.com.