Why Hasn't The U.S. Ever Hosted The FINA World Championships?
Why Hasn't The U.S. Ever Hosted The FINA World Championships?
Why doesn't FINA award the world's most decorated nation with its marquee championship? Simply put, it isn't necessarily all up to FINA.
Jun 13, 2018
by Ben Colin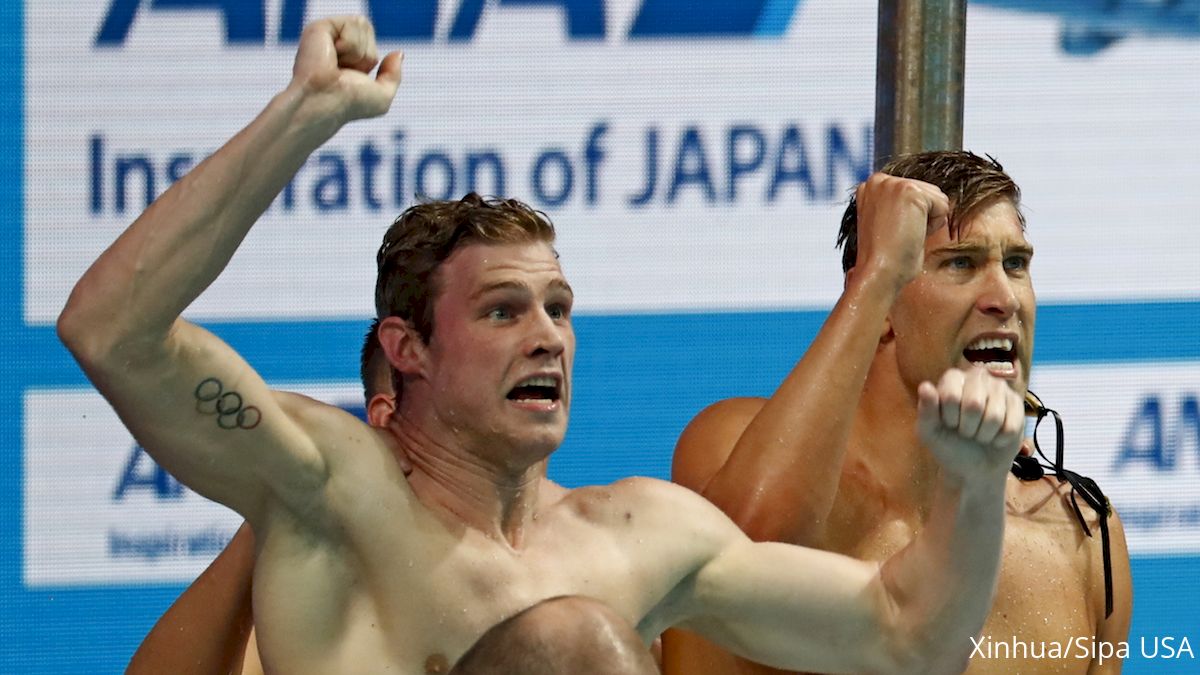 Briefly glance at the FINA World Championships medal table sometime. The results speak for themselves. The United States has over 100 more gold medal performances than the next closest nation. Few would disagree the U.S. is the strongest swimming country around. Yet, it has never hosted FINA's namesake event.
The six-discipline aquatic World Championships have been or are planned to be hosted on every continent, except obviously Antarctica. Six of the next seven countries in the medal table have hosted at some point. During the time since North America last hosted—2005 in Montreal—Europe has hosted four times, Australia has hosted once, Africa will have hosted once, and Asia will have hosted a total of three times, including the 2019 World Championships in Gwangju, South Korea.
Why doesn't FINA award the world's most decorated nation with its marquee championship?
Simply put, it isn't necessarily all up to FINA.
The amount of approval needed for a city to come forward with a bid is much more substantial than many would imagine. The first step is getting the city itself on board to spend millions of dollars. That itself isn't a simple task, as many cities have struggled to secure public support for sporting events of this magnitude.
FINA World Championships

YEAR
HOST CITY, COUNTRY
MEDAL TABLE: 1st
2nd
3rd

1973
1975
1978
1982
1986
1991
1994
1998
2001
2003
2005
2007
2009
2011
2013
2015
2017
2019
2021
2023

Belgrade, Yugoslavia
Cali, Colombia
West Berlin, West Germany
Guayaquil, Ecuador
Madrid, Spain
Perth, Australia
Rome, Italy
Perth, Australia
Fukuoka, Japan
Barcelona, Spain
Montreal, Canada
Melbourne, Australia
Rome, Italy
Shanghai, China
Barcelona, Spain
Kazan, Russia
Budapest, Hungary
Gwangju, South Korea
Fukuoka, Japan
Doha, Qatar

United States
United States
United States
United States
East Germany
United States
China
United States
Australia
United States
United States
United States
United States
United States
United States
China
United States




East Germany
East Germany
Soviet Union
East Germany
United States
China
United States
Russia
China
Russia
Australia
Russia
China
China
China
United States
China




Italy
Hungary
Canada
Soviet Union
Canada
Hungary
Russia
Australia
United States
Australia
China
Australia
Russia
Russia
Russia
Russia
Russia




In the past, the United States set its focus on other multi-sport, international competitions. From 1984-1996, four such events called the states home. The 1996 Atlanta Olympics comprised of 26 sports, significantly outweighing the six-event aquatic championships. Even the 1993 Universiade in Buffalo, New York, boasted 12 sports.
Multi-sport events attract remarkably more attention than one limited to a single discipline or similar. It isn't that fans wouldn't come, because American swim fans would undoubtedly fill the stands at every venue. The issue remains pre-bidding approval. Would the public get behind an exclusively aquatic event?
It takes the city, plus the national government, to get a bid on the voting ballot. FINA Vice President Dale Neuburger thinks it would be beneficial to the sport to host a World Championships, but even he had reservations.
"A FINA World Championships is not inexpensive," Neuburger told FloSwimming in an email. "It is hard to make the budget without significant governmental support."
Prior to last year's championships held in Budapest, Hungary, the Budapest Beacon reported the city would likely spend $454 million to put on the event. Facility costs often pay a massive role on the final price. Footing the bill is the biggest drawback for communities, especially those needing major construction to host.
To gain government support and secure that kind of money, the voters' voices need to be heard.
Concord, California, tried and was awarded the 1982 World Championships only to discover its host facility's pool was too shallow. Instead of digging for added depth, the city forfeited the hosting rights. The cost to adjust in order to host outweighed the benefits it would bring and voters likely wouldn't respond well to spending on pool depth.
Finding a city that could host in the United States largely depends on the existing facilities that meet FINA requirements.
Two potential host cities that meet those requirements are Los Angeles—not a big surprise since it is hosting the 2028 Olympic Games—and San Antonio. Southern California boasts numerous outdoor aquatic venues capable of erecting portable seating for water polo, synchronized swimming, and diving. The main swimming pool could call any number of stadiums home.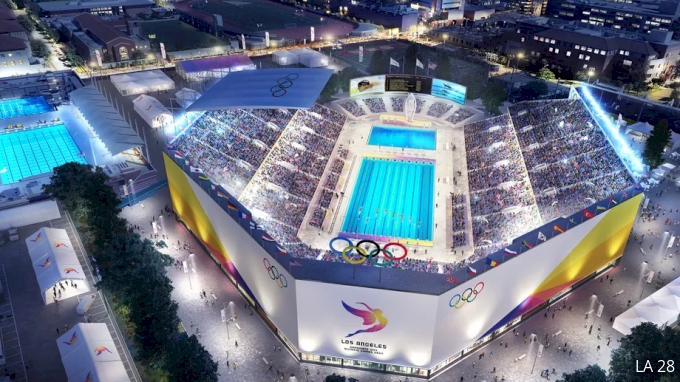 The University of Southern Cal's baseball stadium, Dedeaux Field, will be modified to host swimming, synchronized swimming, and diving events at the 2028 Olympic Games. (Artist rendering by LA28.org)
Southern California tried to bring the World Championships to the U.S. once before. Long Beach was ready to use the same facility plan as the 2004 Olympic Trials when bidding for the 2005 World Championships. The California beach town lost to Montreal by a single vote.
San Antonio has fewer venues than Los Angeles but it does have a limitedly used indoor stadium. The Alamodome has enough space to hold the main competition pool, training pool, and potentially a tank for water polo. Diving and water polo could also be hosted at the Northside ISD Aquatic Center, home to the 2015 Phillips 66 National Championships.
In those cities, very few permanent structures would need to be constructed. Portable pools would allow for lower costs. That could open the door for other cities to join the conversation.
Needless to say, there are numerous factors taken into consideration before a city even asks the national federation for assistance. Unique to multi-sport event, there are many different federations that must approve.
The overarching United States Aquatic Sports federation must be involved along with its unique governing bodies for each sport. USA Swimming, Diving, Water Polo, and Synchronized Swimming must come together and be on board. The Olympic Committee would give approval for good measure.
This is when government support is needed. Before the government helps financially, it needs to approve to host. A love for sports isn't the only reason a leader of a country is so heavily involved in the bidding process. That is the reason President Donald Trump was deeply interested in talks leading up to the United States' successful bid for 2026 FIFA World Cup.
Here is the exciting part. Once there is government approval, the formal bid can be submitted to FINA. At that point, the decision to select a city as a host is in its hands. A city is still able to back out of a bid at any point, as long as an alternative can be found.
Neuburger laid out the process from FINA's end.
"The bids are reviewed, site visits made, and a marketing/broadcasting analysis is completed," he said. "Then, a final vote by the FINA Bureau."
⏲️ Just over one year to go before the @fina1908 WC in Gwangju! ?
We were glad to have FINA's representatives coming to visit #Gwangju2019 and make sure everything was on track for an amazing event! ??‍♂️#diveintopeace pic.twitter.com/Ua9Rz4Lg0p

— Gwangju2019 (@Gwangju2019_) June 11, 2018
Any potential errors in those steps have been ironed out before FINA arrives. Plans are in place for how to handle broadcasting. When the Bureau shows up, the event organizers are ready to present on why they should host the World Championships. Unfortunately, the United States is rarely in a position to make this pitch to FINA.
FINA has announced the hosts of its sponsored events through 2024, leaving the 21st FINA World Championships in 2025 as the next available event. Bids won't start coming in for months and a decision isn't likely to be made until FINA is together for its congress next July in South Korea.
"It is likely that some national federations have begun consideration of a bid," Neuburger said. "But given the need for strong support across several sectors, there is a big difference between 'looking into' and bidding."
Currently, he isn't aware of any federations with bidding intent since the bid is still so far in the distance. As for the United States, unlike FIFA, there isn't much happening at this point.
"I am not aware of an American city that has expressed interest," he said.
The possibility of using the FINA World Championships as a test run for the Olympic Games hasn't been brought to the table. Despite the swimming successes, the United States will continue to hit the road every other summer to race.
For the time being, swimming fans are going to have to just settle for the Los Angeles Olympics in 2028.