Weekend Roundup | Blake Pieroni Unloads 1:33.88 200 Free vs. Michigan
Weekend Roundup | Blake Pieroni Unloads 1:33.88 200 Free vs. Michigan
Highlights, scores, and results from NCAA swimming & diving meets on January 11th and January 13th. Teams competing include Indiana and Michigan.
Jan 14, 2018
by Maclin Simpson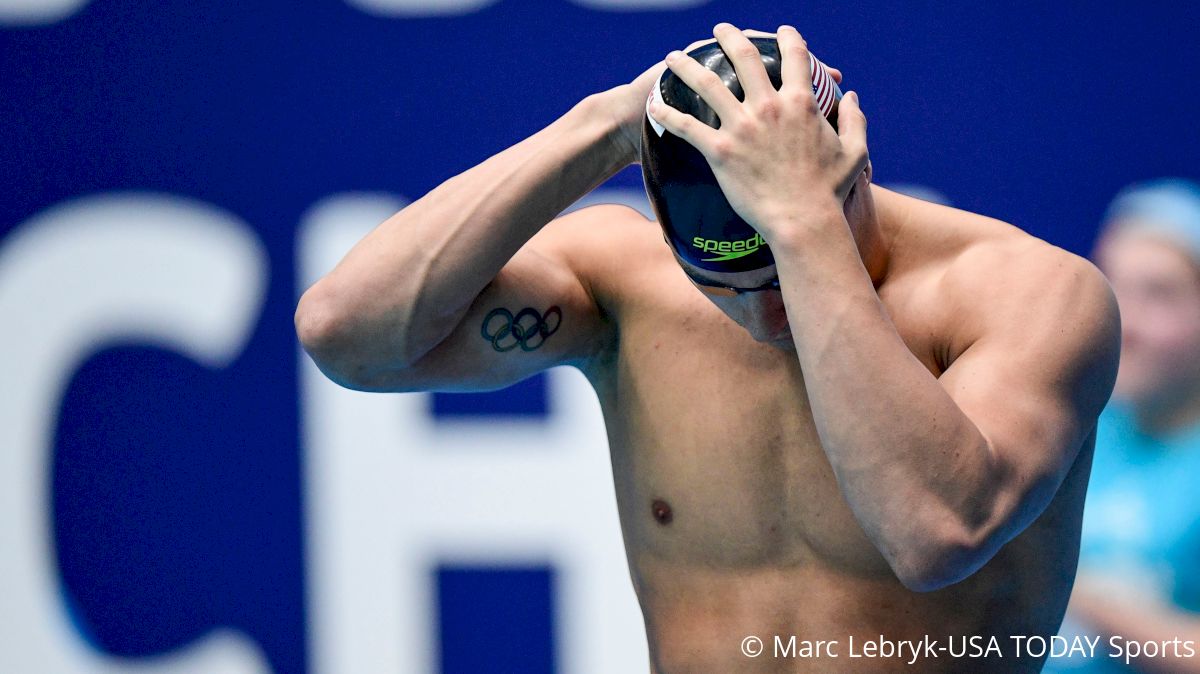 While the TYR Pro Swim Series was going on in Austin, Texas, this past weekend, many NCAA swimmers were making their first appearance in competition after winter training. With most teams still 4-6 weeks out of their conference championship, many swimmers are in the hole. That didn't stop some of the best from putting up nationally ranked swims, though.
Most notably, Indiana's Blake Pieroni put up an impressive triple against Michigan on Saturday with a 19.60 in the 50 free, 42.94 in the 100 free, and 1:33.88 in the 200 free.
Texas' Townley Haas is the two-time defending NCAA champion in the 200 free, but Pieroni has been looking dangerous all season. Don't be surprised if those two push each other to the first sub-1:30 in history.
Check out the highlights, scores, and results below.
Michigan vs. Indiana
Saturday, Jan. 13
Ann Arbor, MI
Scores
Women — Michigan (180) def. Indiana (120)
Men — Indiana (170.5) def. Michigan (129.5)
Top 5 Performances (Women)
Lilly King (Indiana), 100 Breast — 59.55
Lilly King (Indiana), 200 Breast — 2:10.95
Clara Smiddy (Michigan), 200 Back — 1:55.20
Ali Rockett (Indiana), 100 Back — 53.16
Clara Smiddy (Michigan), 200 IM — 1:59.57
Top 5 Performances (Men)
Blake Pieroni (Indiana), 200 Free — 1:33.88
Ian Finnerty (Indiana), 100 Breast — 52.83
Evan White (Michigan), 100 Fly — 46.47
Vini Lanza (Indiana), 200 Fly — 1:43.85
Blake Pieroni (Indiana), 100 Free — 42.94
Virginia Tech vs. Virginia
Friday, Jan. 12 - Saturday, Jan. 13
Christiansburg, VA
Scores
Women — Virginia (189.5) def. Virginia Tech (163.5)
Men — Virginia Tech (218) def. Virginia (133)
Top 5 Performances (Women)
Caitlin Cooper (Virginia), 50 Free — 22.54
Jen Marrkand (Virginia), 200 Fly — 1:57.67
Klaudia Nazieblo (Virginia Tech), 200 Fly — 1:58.07
Reka Gyorgy (Virginia Tech), 200 IM — 2:00.72
Jen Marrkand (Virginia), 200 IM — 2:01.02
Top 5 Performances (Men)
Lane Stone (Virginia Tech), 1000 Free — 9:12.79
Norbert Szabo (Virginia Tech), 200 IM — 1:48.23
Norbert Szabo (Virginia Tech), 200 Free — 1:38.78
Ian Ho (Virginia Tech), 50 Free — 19.89
Ted Schubert (Virginia), 400 IM — 3:53.97
Georgia vs. LSU
Saturday, Jan. 13
Athens, GA
Scores
Women — Georgia (186) def. LSU (108)
Men — Georgia (170) def. LSU (122)
Top 5 Performances (Women)
Courtney Harnish (Georgia), 1000 Free — 9:48.86
Kylie Stewart (Georgia), 100 Back — 53.14
Megan Kingsley (Georgia), 200 Fly — 1:57.88
Chelsea Britt (Georgia), 100 Fly — 53.82
Meryn McCann (Georgia), 200 Back — 1:58.99
Top 5 Performances (Men)
Greg Reed (Georgia), 1000 Free — 9:04.48
James Guest (Georgia), 100 Breast — 54.29
Javier Acevedo (Georgia), 200 Back — 1:45.49
Javier Acevedo (Georgia), 100 Back — 48.03
Mick Litherland (Georgia), 200 Fly — 1:47.92
Florida State vs. Alabama, Miami (FL)
Friday, Jan. 12
Tallahassee, FL
Scores
Women —Alabama (153) def. Florida State (143); Alabama (209) def. Miami (81); Florida State (231) def. Miami (68)
Men — Alabama (156.5) def. Florida State (143.5)
Top 5 Performances (Women)
Flora Molnar (Alabama), 50 Free — 22.44
Flora Molnar (Alabama), 100 Fly — 52.67
Natalie Pierce (Florida State), 200 Breast — 2:12.67
Mia Nonnenberg (Alabama), 400 IM — 4:16.00
Justine Macfarlane (Alabama), 200 Breast — 2:13.80
Top 5 Performances (Men)
Robert Howard (Alabama), 200 Free — 1:37.14
Laurent Bams (Alabama), 100 Breast — 53.97
Zane Waddell (Alabama), 100 Free — 43.82
Zane Waddell (Alabama), 50 Free — 20.00
Kanoa Kaleoaloha (Florida State), 100 Fly — 47.94