2018 TYR Pro Swim Series At Austin
Day 3 PSS Austin Prelims | Michael Andrew Pops Off 22.04 In 50m Free
Day 3 PSS Austin Prelims | Michael Andrew Pops Off 22.04 In 50m Free
Highlights and results from day three prelims at the 2018 TYR Pro Swim Series at Austin at the Lee and Joe Jamail Texas Swimming Center.
Jan 13, 2018
by Maclin Simpson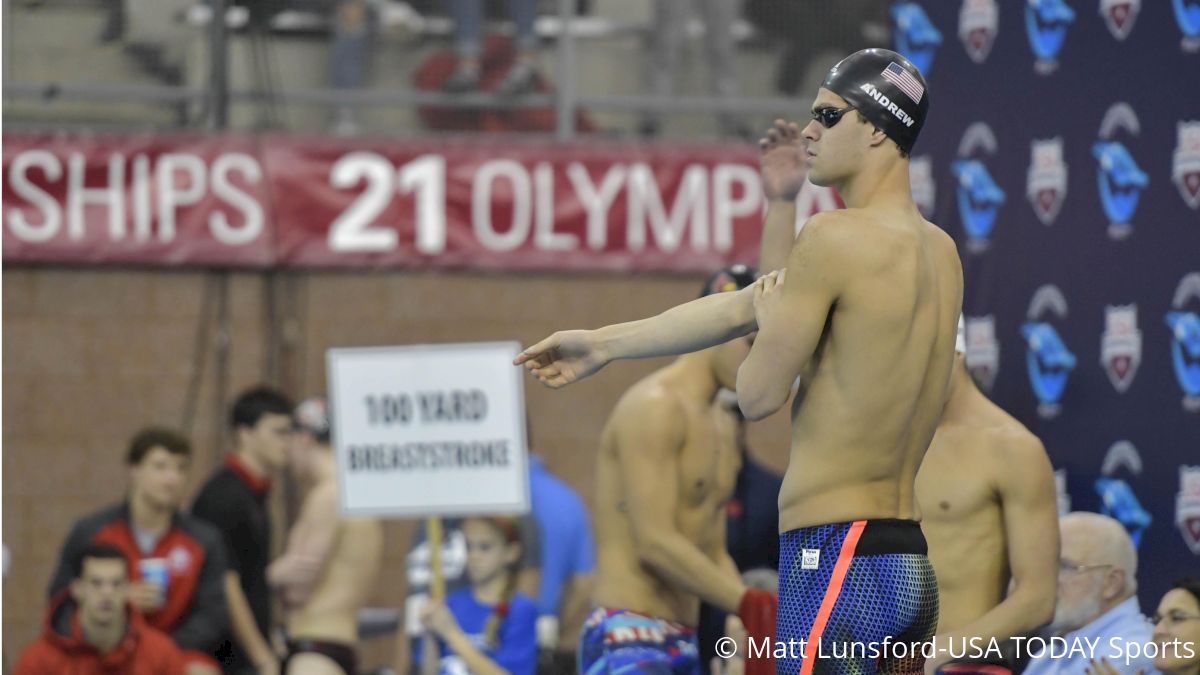 Speed, speed, speed! Oh yeah, and a couple of 400m freestyles. But, speed was the name of the game at the 2018 TYR Pro Swim Series in Austin, Texas, on Saturday morning with the preliminaries of each 50m of stroke. The top eight in each prelim move on to Saturday night's shootout, which will be whittled down to four and then two by round.
The star of this show, of course, was Michael Andrew. The 18-year-old rattled off a 22.04 in the 50m freestyle and 23.55 in the 50m butterfly, taking the top in the 50m free over Nathan Adrian (22.62) and top seed in the 50m fly over Jack Conger (23.99).
Margo Geer also impressed by rattling off another lifetime best with a 24.83 in the 50m freestyle to take the top seed over Taylor Ruck (25.03). Molly Hannis and Katie Meili also popped off a pair of sub-30 50m breaststrokes with a 30.55 and 30.98, respectively.
2018 TYR Pro Swim Series - Austin
January 11-14
Austin, Texas
Long Course Meters (LCM)
Series Schedule
Austin, Texas - Jan. 11-14
Atlanta, GA - March 1-4
Mesa, AZ - April 12-15
Indianapolis, IN - May 17-20
Santa Clara, CA - June 14-17
Columbus, Ohio - July 6-8
Check out the prelims results below.
Men's 400m Freestyle
==================================================================
        World: W 3:40.07  7/26/2009 Paul Biedermann
     American: A 3:42.78  8/10/2008 Larsen Jensen
         Meet: M 3:43.55  2016      Sun Yang
         Pool: P 3:45.21            Peter Vanderkaay
    Name            Age Team                 Seed    Prelims              
==================================================================
                      === Preliminaries ===                       
 
  1 Takeda, Shogo    22 JAPN-ZZ           3:45.46    3:53.22        
             27.47        57.05 (29.58)
        1:26.87 (29.82)     1:56.83 (29.96)
        2:26.94 (30.11)     2:55.64 (28.70)
        3:24.79 (29.15)     3:53.22 (28.43)
  2 Ipsen, Anton Oe  23 NC State Univers  3:47.95    3:53.38        
             26.89        56.19 (29.30)
        1:25.71 (29.52)     1:55.26 (29.55)
        2:25.30 (30.04)     2:55.02 (29.72)
        3:24.84 (29.82)     3:53.38 (28.54)
  3 Grothe, Zane     25 Una Mvn-CA        3:44.43    3:53.53        
             26.73        55.80 (29.07)
        1:25.39 (29.59)     1:55.20 (29.81)
        2:24.89 (29.69)     2:54.71 (29.82)
        3:24.47 (29.76)     3:53.53 (29.06)
  4 Smith, Clark     22 Longhorn Aquatic  3:45.74    3:54.50        
             26.89        56.05 (29.16)
        1:25.68 (29.63)     1:55.58 (29.90)
        2:25.72 (30.14)     2:55.52 (29.80)
        3:25.70 (30.18)     3:54.50 (28.80)
  5 Bagshaw, Jeremy  25 Island Swimming-  3:48.82    3:54.76        
             27.52        56.90 (29.38)
        1:26.70 (29.80)     1:56.53 (29.83)
        2:26.28 (29.75)     2:56.07 (29.79)
        3:25.93 (29.86)     3:54.76 (28.83)
  6 Acosta, Marcelo  21 Univ Louisville-  3:48.82    3:56.11        
             27.27        56.56 (29.29)
        1:26.50 (29.94)     1:56.47 (29.97)
        2:26.92 (30.45)     2:57.26 (30.34)
        3:27.18 (29.92)     3:56.11 (28.93)
  7 Freeman, Trey    17 Baylor Swim Club  3:50.14    3:57.25        
             27.16        56.62 (29.46)
        1:26.55 (29.93)     1:56.71 (30.16)
        2:27.07 (30.36)     2:57.28 (30.21)
        3:27.63 (30.35)     3:57.25 (29.62)
  8 Yamamoto, Kohei  26 JAPN-ZZ           3:53.24    3:57.37        
             27.15        56.96 (29.81)
        1:26.71 (29.75)     1:56.84 (30.13)
        2:26.90 (30.06)     2:57.28 (30.38)
        3:27.59 (30.31)     3:57.37 (29.78)
Women's 50m Freestyle
==================================================================
        World: W 23.67  7/29/2017 Sarah Sjostrom
     American: A 23.97  7/30/2017 Simone Manuel
         Meet: M 24.17  2016      Sarah Sjostrom
         Pool: P 24.17            Sarah Sjostrom
    Name            Age Team                 Seed    Prelims              
==================================================================
                      === Preliminaries ===                       
 
  1 Geer, Margo      25 Una Mvn-CA          25.58      24.83        
  2 Ruck, Taylor     17 HPCO-ZZ             25.83      25.03        
  3 Zhang, Yufei     19 CHINA-ZZ            25.50      25.38        
  4 Vanderpool-Wall  27 Wolfpack Elite-N    24.60      25.50        
  5 Kendall, Amanda  26 Una Mvn-CA          25.47      25.52        
  6 Millard, Rebecc  22 Univ of Texas-ST    25.39      25.65        
  7 Perry, Ky-lee    19 NC State Univers    25.38      25.67        
  8 Sanchez, Kayla   16 HPCO-ZZ             25.33      25.71        
Men's 50m Freestyle
==================================================================
        World: W 20.91  12/18/2009Cesar Cielo
     American: A 21.15  7/29/2017 Caeleb Dressel
         Meet: M 21.56  2015      Nathan Adrian
         Pool: P 21.44            Fred Bousquet
    Name            Age Team                 Seed    Prelims              
==================================================================
                      === Preliminaries ===                       
 
  1 Andrew, Michael  18 Race Pace Club-M    21.75      22.04        
  2 Adrian, Nathan   29 California Aquat    21.47      22.62        
  3 Held, Ryan       22 NC State Univers    22.16      22.78        
  4 Ress, Justin     20 NC State Univers    22.55      22.87        
  5 Barna, Andrej    19 Univ Louisville-    22.51      22.89        
  6 Loginov, Oleksa  25 Swim Ontario-ZZ     22.24      23.02        
  7 Koski, Matias    23 Athens Bulldog S    22.74      23.04        
  8 Robrock, Kyle    24 Unattached-CO       22.52      23.08        
Women's 50m Backstroke
==================================================================
        World: W 27.06  7/30/2009 Jing Zhao
     American: A 27.48  7/26/2017 Kathleen Baker
         Meet: M 27.51  2015      Natalie Coughlin
    Name            Age Team                 Seed    Prelims              
==================================================================
                      === Preliminaries ===                       
 
  1 Smith, Regan     15 Riptide Swim Tea    58.95      28.32        
  2 Sanchez, Kayla   16 HPCO-ZZ           1:00.92      28.39        
  3 Smoliga, Olivia  23 Athens Bulldog S    58.77      28.49        
  4 Hannah, Jade     15 Island Swimming-    59.62      28.93        
  5 Ruck, Taylor     17 HPCO-ZZ             59.23      28.99        
  6 Adams, Claire    19 Univ of Texas-ST  1:00.42      29.00        
  7 Stadden, Isabel  15 Aquajets Swim Te  1:01.23      29.08        
  8 Smith, Rebecca   17 HPCO-ZZ           1:03.11      29.10        
  8 Peng, Xuwei      14 CHINA-ZZ          1:01.50      29.10        
Men's 50m Backstroke
==================================================================
        World: W 24.04  8/2/2009  Liam Tancock
     American: A 24.33  12/5/2008 Randall Bal
         Meet: M 24.74  2015      Junya Koga
    Name            Age Team                 Seed    Prelims              
==================================================================
                      === Preliminaries ===                       
 
  1 Ress, Justin     20 NC State Univers    53.27      25.42        
  2 Grevers, Matt    32 Tucson Ford Deal    52.26      25.61        
  3 Pyle, Nicholas   17 GBR-ZZ              54.95      25.79        
  4 Dale, Taylor     23 Athens Bulldog S    54.00      25.80        
  5 Bohman, Bryce    27 Longhorn Aquatic    55.55      25.86        
  6 Pebley, Jacob    24 California Aquat    52.95      25.98        
  7 Stuart, Henness  22 NC State Univers    54.66      26.28        
  8 Castelli, Xavie  27 Swim Wales-ZZ       54.47      26.32        
Women's 400m Freestyle
==================================================================
        World: W 3:56.46  8/7/2016  Katie Ledecky
     American: A 3:56.46  8/7/2016  Katie Ledecky
         Meet: M 3:59.54  2016      Katie Ledecky
         Pool: P 3:59.54            Katie Ledecky
    Name            Age Team                 Seed    Prelims              
==================================================================
                      === Preliminaries ===                       
 
  1 Li, Bingjie      15 CHINA-ZZ          4:06.00    4:13.38        
             29.50      1:01.29 (31.79)
        1:33.05 (31.76)     2:05.24 (32.19)
        2:37.19 (31.95)     3:09.22 (32.03)
        3:41.32 (32.10)     4:13.38 (32.06)
  2 Moore, Hannah    21 NC State Univers  4:09.35    4:14.16        
             29.57      1:01.09 (31.52)
        1:33.26 (32.17)     2:05.47 (32.21)
        2:37.76 (32.29)     3:10.16 (32.40)
        3:42.52 (32.36)     4:14.16 (31.64)
  3 Cattermole, Sop  20 Univ Louisville-  4:20.92    4:15.43        
             30.19      1:02.51 (32.32)
        1:35.10 (32.59)     2:07.62 (32.52)
        2:40.36 (32.74)     3:12.68 (32.32)
        3:44.33 (31.65)     4:15.43 (31.10)
  4 Kobrich, Kriste  32 CHI-ZZ            4:14.52    4:16.33        
             30.55      1:02.32 (31.77)
        1:34.60 (32.28)     2:06.79 (32.19)
        2:39.49 (32.70)     3:11.84 (32.35)
        3:44.48 (32.64)     4:16.33 (31.85)
  5 Evans, Joanna    20 Univ of Texas-ST  4:07.60    4:16.67        
             29.59      1:01.37 (31.78)
        1:33.49 (32.12)     2:05.94 (32.45)
        2:38.06 (32.12)     3:11.12 (33.06)
        3:44.86 (33.74)     4:16.67 (31.81)
  6 Neidigh, Ashley  21 Una Mvn-CA        4:11.63    4:16.98        
             29.71      1:01.60 (31.89)
        1:34.06 (32.46)     2:06.50 (32.44)
        2:38.71 (32.21)     3:11.39 (32.68)
        3:44.36 (32.97)     4:16.98 (32.62)
  7 Holub, Tamila H  18 NC State Univers  4:14.67    4:17.29        
             30.52      1:02.36 (31.84)
        1:35.03 (32.67)     2:07.33 (32.30)
        2:40.26 (32.93)     3:12.83 (32.57)
        3:45.72 (32.89)     4:17.29 (31.57)
  8 Sims, Kaitlynn   17 Magnolia Aquatic  4:17.83    4:17.36        
             30.02      1:01.80 (31.78)
        1:33.96 (32.16)     2:06.58 (32.62)
        2:39.05 (32.47)     3:11.91 (32.86)
        3:44.90 (32.99)     4:17.36 (32.46)
Women 50m Breaststroke
==================================================================
        World: W 29.40  7/30/2017 Lilly King
     American: A 29.40  7/30/2017 Lilly King
         Meet: M 30.35  2016      Lilly King
    Name            Age Team                 Seed    Prelims              
==================================================================
                      === Preliminaries ===                       
 
  1 Hannis, Molly    25 Una Tnaq-SE       1:06.47      30.55        
  2 Meili, Katie     26 New York Athleti  1:05.03      30.98        
  3 Larson, Breeja   25 New York Athleti  1:07.17      31.48        
  4 Nicol, Rachel    24 UCSC-ZZ           1:06.68      31.50        
  5 Lohman, Kennedy  19 Univ of Texas-ST  1:09.50      31.82        
  6 Knelson, Faith   16 Island Swimming-  1:07.47      31.84        
  7 Kondis, Peyton   19 Univ of Houston-  1:11.51      31.86        
  8 Margalis, Melan  26 Saint Petersburg  1:07.26      31.95        
Men's 50m Breaststroke
==================================================================
        World: W 25.95  7/25/2017 Adam Peaty
     American: A 26.76  8/4/2015  Kevin Cordes
         Meet: M 27.39  2016      Cody Miller
    Name            Age Team                 Seed    Prelims              
==================================================================
                      === Preliminaries ===                       
 
  1 Yan, Zibei       22 CHINA-ZZ            59.80      27.81        
  2 Fink, Nic        24 Athens Bulldog S    59.40      28.19        
  2 Wilson, Andrew   24 Longhorn Aquatic    59.51      28.19        
  4 Milanovich, Ale  15 Etobicoke Swim C  1:04.31      28.67        
  5 Zito, Nick       23 West Swim Club-I  1:02.50      28.74        
  6 Mastromatteo, G  15 Swim Ontario-ZZ   1:01.64      28.79        
  7 Foster, Jake     17 Mason Manta Rays  1:02.38      28.90        
  8 Claverie, Carlo  21 Univ Louisville-  1:00.82      28.91        
Women's 50m Butterfly
==================================================================
        World: W 24.43  7/5/2014  Sarah Sjostrom
     American: A 25.48  7/29/2017 Kelsi Worrell
         Meet: M 25.80  2012      Dana Vollmer
    Name            Age Team                 Seed    Prelims              
==================================================================
                      === Preliminaries ===                       
 
  1 Kendall, Amanda  26 Una Mvn-CA          57.87      26.49        
  2 Zhang, Yufei     19 CHINA-ZZ            58.00      26.62        
  3 Moffitt, Hellen  22 Una TE-NC           58.24      26.67        
  4 Smith, Rebecca   17 HPCO-ZZ             58.07      26.91        
  5 Yamane, Yui      23 JAPN-ZZ             26.96      26.97        
  6 Vanderpool-Wall  27 Wolfpack Elite-N    59.79      27.07        
  7 Govejsek, Nastj  20 Univ Louisville-  1:00.25      27.11        
  8 Carlton, Emma    17 Bellingham Bay S  1:00.84      27.21        
Men's 50m Butterfly
==================================================================
        World: W 22.43  4/5/2009  Rafael Munoz
     American: A 22.76  7/23/2017 Caeleb Dressel
         Meet: M 23.11  2012      Matt Targett
    Name            Age Team                 Seed    Prelims              
==================================================================
                      === Preliminaries ===                       
 
  1 Andrew, Michael  18 Race Pace Club-M    53.18      23.55        
  2 Conger, Jack     23 Nation's Capital    51.26      23.99        
  3 Phillips, Tim    27 Una TE-NC           51.28      24.25        
  4 Fraser, Lewis    17 Swim Wales-ZZ       53.87      24.30        
  5 Held, Ryan       22 NC State Univers    53.49      24.34        
  6 Le, Paul         25 Missouri State U    54.85      24.52        
  7 Peters, Jacob    17 GBR-ZZ              53.32      24.63        
  8 Cooper, Tripp    24 Longhorn Aquatic    52.13      24.69