2018 TYR Pro Swim Series At Austin
Day 2 PSS Austin Prelims | Margo Geer Blazes 100m Free Best In 53.76
Day 2 PSS Austin Prelims | Margo Geer Blazes 100m Free Best In 53.76
Highlights and results from day two prelims at the 2018 TYR Pro Swim Series at Austin at the Lee and Joe Jamail Texas Swimming Center.
Jan 12, 2018
by Maclin Simpson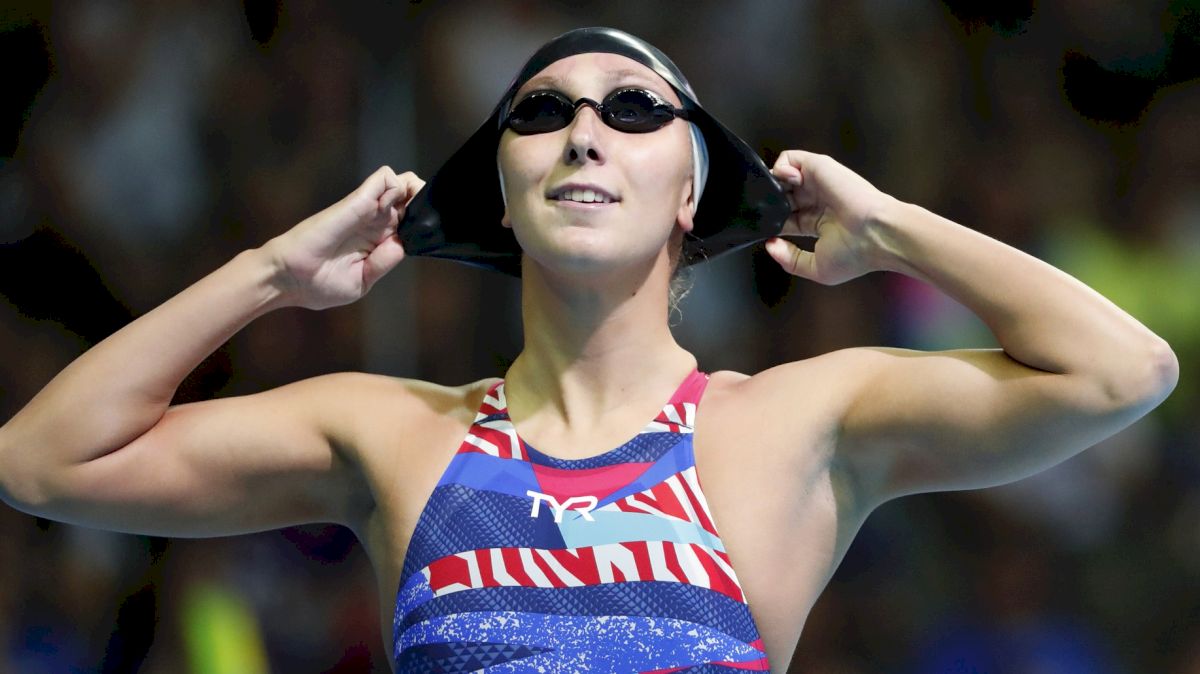 The swim of the morning Friday in Austin was undoubtedly Margo Geer's 53.76 in the 100m freestyle — a lifetime best. But what does that mean in the big picture?
Coming into the 2016 Olympic Trials, Geer was a favorite to make the U.S. 4x100m freestyle relay in Rio and potentially earn an individual swim as well. After all, she had the second-fastest U.S. split at the 2015 World Championships (53.37) behind only Simone Manuel.
But, 2016 proved to be a different story. Geer failed to make it out of the semifinals at Trials, finishing 15th and leaving her swimming career in jeopardy. After taking some time away from training, Geer is now with Coley Stickels in Bloomington, IN, and swimming best times. Pretty cool.
2018 TYR Pro Swim Series - Austin
January 11-14
Austin, Texas
Long Course Meters (LCM)
Series Schedule
Austin, Texas - Jan. 11-14
Atlanta, GA - March 1-4
Mesa, AZ - April 12-15
Indianapolis, IN - May 17-20
Santa Clara, CA - June 14-17
Columbus, Ohio - July 6-8
Check out the prelims results below.
Women's 100m Backstroke
==================================================================
        World: W 58.10  7/25/2017 Kylie Masse
     American: A 58.33  7/30/2012 Missy Franklin
         Meet: M 58.96  2016      Emily Seebohm
         Pool: P 59.42            Kirsty Coventry
    Name            Age Team                 Seed    Prelims              
==================================================================
                      === Preliminaries ===                       
 
  1 Smith, Regan     15 Riptide Swim Tea    58.95    1:00.26        
             29.40      1:00.26 (30.86)
  2 Ruck, Taylor     17 HPCO-ZZ             59.23    1:00.48        
             29.53      1:00.48 (30.95)
  3 Smoliga, Olivia  23 Athens Bulldog S    58.77    1:01.12        
             29.62      1:01.12 (31.50)
  4 Hannah, Jade     15 Island Swimming-    59.62    1:01.17        
             29.61      1:01.17 (31.56)
  5 Sanchez, Kayla   16 HPCO-ZZ           1:00.92    1:01.27        
             30.30      1:01.27 (30.97)
  6 Stadden, Isabel  15 Aquajets Swim Te  1:01.23    1:01.29        
             30.04      1:01.29 (31.25)
  7 Bratton, Lisa    21 Texas A & M Univ  1:00.50    1:01.44        
             30.33      1:01.44 (31.11)
  8 Peng, Xuwei      14 CHINA-ZZ          1:01.50    1:01.46        
             30.06      1:01.46 (31.40)
Men's 100m Backstroke
==================================================================
        World: W 51.85  8/13/2016 Ryan Murphy
     American: A 51.85  8/13/2016 Ryan Murphy
         Meet: M 52.40  2016      David Plummer
         Pool: P 53.05            Matt Grevers
    Name            Age Team                 Seed    Prelims              
==================================================================
                      === Preliminaries ===                       
 
  1 Ress, Justin     20 NC State Univers    53.27      54.98        
             27.06        54.98 (27.92)
  2 Murphy, Ryan     22 California Aquat    51.85      55.05        
             26.94        55.05 (28.11)
  3 Pebley, Jacob    24 California Aquat    52.95      55.07        
             27.01        55.07 (28.06)
  4 Grevers, Matt    32 Tucson Ford Deal    52.26      55.12        
             26.83        55.12 (28.29)
  5 Greenbank, Luke  20 GBR-ZZ              54.75      55.57        
             27.38        55.57 (28.19)
  6 Dale, Taylor     23 Athens Bulldog S    54.00      55.61        
             27.23        55.61 (28.38)
  7 Pyle, Nicholas   17 GBR-ZZ              54.95      55.67        
             27.24        55.67 (28.43)
  8 Cross, Daniel    20 GBR-ZZ              54.71      55.90        
             27.16        55.90 (28.74)
Women's 200m Butterfly
==================================================================
        World: W 2:01.81  10/21/2009Zige Liu
     American: A 2:04.14  7/30/2009 Mary DeScenza
         Meet: M 2:06.76  2012      Cammile Adams
         Pool: P 2:06.76            Cammile Adams
    Name            Age Team                 Seed    Prelims              
==================================================================
                      === Preliminaries ===                       
 
  1 Flickinger, Hal  23 Athens Bulldog S  2:06.67    2:10.55        
             30.62      1:02.56 (31.94)
        1:36.71 (34.15)     2:10.55 (33.84)
  2 Thomas, Alys     27 Swim Wales-ZZ     2:07.87    2:10.81        
             29.77      1:02.95 (33.18)
        1:37.32 (34.37)     2:10.81 (33.49)
  3 Smith, Regan     15 Riptide Swim Tea  2:12.90    2:12.10        
                            1:03.11 ( )
        1:37.58 (34.47)     2:12.10 (34.52)
  4 Schlosshan, Cia  16 GBR-ZZ            2:10.48    2:12.35        
             29.72      1:03.78 (34.06)
        1:38.09 (34.31)     2:12.35 (34.26)
  5 Luther, Dakota   18 Austin Swim Club  2:08.71    2:13.15        
             29.68      1:03.11 (33.43)
        1:37.53 (34.42)     2:13.15 (35.62)
  6 Zhang, Yufei     19 CHINA-ZZ          2:08.00    2:13.26        
             29.19      1:03.28 (34.09)
        1:38.60 (35.32)     2:13.26 (34.66)
  7 Gibson, Sarah    22 Una TE-NC         2:08.75    2:13.92        
             29.85      1:04.10 (34.25)
        1:38.92 (34.82)     2:13.92 (35.00)
  8 Jones, Harriet   20 Swim Wales-ZZ     2:13.01    2:14.05        
             31.27      1:04.86 (33.59)
        1:39.73 (34.87)     2:14.05 (34.32)
Men's 200m Butterfly
==================================================================
        World: W 1:51.51  7/29/2009 Michael Phelps
     American: A 1:51.51  7/29/2009 Michael Phelps
         Meet: M 1:55.29  2017      Li Zhuhao
         Pool: P 1:54.79            Michael Phelps
    Name            Age Team                 Seed    Prelims              
==================================================================
                      === Preliminaries ===                       
 
  1 Umemoto, Masayu  24 RQ-ZZ             1:55.45    1:59.23        
             26.25        56.16 (29.91)
        1:27.99 (31.83)     1:59.23 (31.24)
  2 Kalisz, Chase    23 Athens Bulldog S  1:54.79    2:00.35        
             26.76        57.53 (30.77)
        1:29.33 (31.80)     2:00.35 (31.02)
  3 Conger, Jack     23 Nation's Capital  1:54.47    2:00.45        
             26.47        57.14 (30.67)
        1:29.45 (32.31)     2:00.45 (31.00)
  4 Pomajevich, Sam  19 Univ of Texas-ST  1:57.62    2:00.70        
             26.83        58.33 (31.50)
        1:30.02 (31.69)     2:00.70 (30.68)
  5 Albiero, Nicola  18 Univ Louisville-  1:58.17    2:01.39        
             26.87        57.77 (30.90)
        1:29.59 (31.82)     2:01.39 (31.80)
  6 Darragh, Mack    24 Swim Ontario-ZZ   1:56.87    2:01.92        
             27.93        59.29 (31.36)
        1:31.15 (31.86)     2:01.92 (30.77)
  7 Harting, Zach    20 Univ Louisville-  1:56.65    2:02.00        
             27.28        58.00 (30.72)
        1:29.50 (31.50)     2:02.00 (32.50)
  8 Peters, Jacob    17 GBR-ZZ            1:58.40    2:02.43        
             26.71        57.65 (30.94)
        1:30.21 (32.56)     2:02.43 (32.22)
Women's 100m Breaststroke
==================================================================
        World: W 1:04.13  7/25/2017 Lilly King
     American: A 1:04.13  7/25/2017 Lilly King
         Meet: M 1:05.57  2011      Rebecca Soni
         Pool: P 1:06.43            Rebecca Soni
    Name            Age Team                 Seed    Prelims              
==================================================================
                      === Preliminaries ===                       
 
  1 Meili, Katie     26 New York Athleti  1:05.03    1:06.86        
             31.83      1:06.86 (35.03)
  2 Nicol, Rachel    24 UCSC-ZZ           1:06.68    1:07.66        
             32.20      1:07.66 (35.46)
  3 Hannis, Molly    25 Una Tnaq-SE/TNAQ  1:06.47    1:08.44        
             32.41      1:08.44 (36.03)
  4 Margalis, Melan  26 Saint Petersburg  1:07.26    1:08.74        
             32.96      1:08.74 (35.78)
  5 Larson, Breeja   25 New York Athleti  1:07.17    1:08.76        
             32.63      1:08.76 (36.13)
  6 Caneta, Jorie    21 Texas A & M Univ  1:08.27    1:09.36        
             33.13      1:09.36 (36.23)
  7 Cox, Madisyn     22 Longhorn Aquatic  1:08.95    1:09.47        
             32.78      1:09.47 (36.69)
  8 Belousova, Anna  21 Texas A & M Univ  1:09.19    1:09.53        
             32.75      1:09.53 (36.78)
Men's 100m Breaststroke
==================================================================
        World: W 57.13  8/7/2016  Adam Peaty
     American: A 58.64  7/23/2017 Kevin Cordes
         Meet: M 58.86  2017      Adam Peaty
         Pool: P 59.61            Brendan Hansen
    Name            Age Team                 Seed    Prelims              
==================================================================
                      === Preliminaries ===                       
 
  1 Yan, Zibei       22 CHINA-ZZ            59.80    1:00.67        
             28.54      1:00.67 (32.13)
  2 Wilson, Andrew   24 Longhorn Aquatic    59.51    1:01.07        
             28.70      1:01.07 (32.37)
  3 Fink, Nic        24 Athens Bulldog S    59.40    1:01.81        
             29.09      1:01.81 (32.72)
  4 Licon, Will      23 Longhorn Aquatic  1:00.30    1:02.17        
             29.24      1:02.17 (32.93)
  5 Prenot, Joshua   24 California Aquat    59.60    1:02.19        
             29.52      1:02.19 (32.67)
  5 Claverie, Carlo  21 Univ Louisville-  1:00.82    1:02.19        
             29.32      1:02.19 (32.87)
  7 Whitley, Reece   18 Penn Charter Aqu  1:00.08    1:02.64        
             29.92      1:02.64 (32.72)
  8 Zito, Nick       23 West Swim Club-I  1:02.50    1:03.13        
             29.42      1:03.13 (33.71)
Women's 100m Freestyle
==================================================================
        World: W 51.71  7/23/2017 Sarah Sjostrom
     American: A 52.27  7/28/2017 Simone Manuel
         Meet: M 53.12  2016      Sarah Sjostrom
         Pool: P 53.12            Sarah Sjostrom
    Name            Age Team                 Seed    Prelims              
==================================================================
                      === Preliminaries ===                       
 
  1 Geer, Margo      25 Una Mvn-CA          55.32      53.76        
             25.57        53.76 (28.19)
  2 Ruck, Taylor     17 HPCO-ZZ             53.63      53.97        
             26.17        53.97 (27.80)
  3 Vanderpool-Wall  27 Wolfpack Elite-N    54.18      54.92        
             26.42        54.92 (28.50)
  4 Sanchez, Kayla   16 HPCO-ZZ             54.44      54.95        
             26.75        54.95 (28.20)
  5 Kendall, Amanda  26 Una Mvn-CA          55.14      55.36        
             26.72        55.36 (28.64)
  6 Rasmus, Claire   21 Texas A & M Univ    55.10      55.48        
             27.26        55.48 (28.22)
  7 Zevnik, Alexia   23 Wolfpack Elite-N    54.53      55.59        
             27.16        55.59 (28.43)
  8 Smith, Rebecca   17 HPCO-ZZ             54.63      55.63        
             26.94        55.63 (28.69)
Men's 100m Freestyle
==================================================================
        World: W 46.91  7/30/2009 Cesar Cielo
     American: A 47.17  7/27/2017 Caeleb Dressel
         Meet: M 48.00  2016      Nathan Adrian
         Pool: P 48.26            Nathan Adrian
    Name            Age Team                 Seed    Prelims              
==================================================================
                      === Preliminaries ===                       
 
  1 Adrian, Nathan   29 California Aquat    47.72      49.58        
             23.65        49.58 (25.93)
  2 Krueger, Daniel  18 McFarland Sparta    49.35      49.80        
             24.23        49.80 (25.57)
  3 Held, Ryan       22 NC State Univers    48.26      50.02        
             24.21        50.02 (25.81)
  4 Koski, Matias    23 Athens Bulldog S    49.53      50.12        
             24.00        50.12 (26.12)
  5 Ress, Justin     20 NC State Univers    49.15      50.24        
             24.24        50.24 (26.00)
  6 Barna, Andrej    19 Univ Louisville-    49.75      50.78        
             24.38        50.78 (26.40)
  7 Sancov, Alexei   18 Terrapins Swim T    49.01      51.01        
             24.59        51.01 (26.42)
  8 Murphy, Ryan     22 California Aquat    48.88      51.11        
             24.75        51.11 (26.36)
Women's 200m IM
==================================================================
        World: W 2:06.12  8/3/2015  Katinka Hosszu
     American: A 2:06.15  7/27/2009 Ariana Kukors
         Meet: M 2:08.66  2015      Katinka Hosszu
         Pool: P 2:10.34            Ariana Kukors
    Name            Age Team                 Seed    Prelims              
==================================================================
                      === Preliminaries ===                       
 
  1 Pickrem, Sydney  20 Texas A & M Univ  2:09.17    2:13.53        
             29.26      1:03.44 (34.18)
        1:41.29 (37.85)     2:13.53 (32.24)
  2 Margalis, Melan  26 Saint Petersburg  2:08.70    2:14.72        
             29.42      1:03.87 (34.45)
        1:42.53 (38.66)     2:14.72 (32.19)
  3 Pfeifer, Evie    18 Univ of Texas-ST  2:14.47    2:15.28        
             29.38      1:03.06 (33.68)
        1:43.31 (40.25)     2:15.28 (31.97)
  4 Cox, Madisyn     22 Longhorn Aquatic  2:09.69    2:15.85        
             29.78      1:04.87 (35.09)
        1:44.54 (39.67)     2:15.85 (31.31)
  5 Flickinger, Hal  23 Athens Bulldog S  2:18.20    2:16.34        
             29.30      1:03.86 (34.56)
        1:45.02 (41.16)     2:16.34 (31.32)
  6 Bradford-Feldma  20 Univ Louisville-  2:13.97    2:17.30        
             29.88      1:06.58 (36.70)
        1:45.32 (38.74)     2:17.30 (31.98)
  7 Gonzalez-Hermos  22 Texas A & M Univ  2:14.40    2:17.50        
             30.00      1:06.10 (36.10)
        1:45.31 (39.21)     2:17.50 (32.19)
  7 Galat, Bethany   22 Texas A & M Univ  2:12.29    2:17.50        
             29.08      1:06.35 (37.27)
        1:44.55 (38.20)     2:17.50 (32.95)
Men's 200m IM
==================================================================
        World: W 1:54.00  7/28/2011 Ryan Lochte
     American: A 1:54.00  7/28/2011 Ryan Lochte
         Meet: M 1:56.32  2012      Michael Phelps
         Pool: P 1:57.39            Michael Phelps
    Name            Age Team                 Seed    Prelims              
==================================================================
                      === Preliminaries ===                       
 
  1 Vazaios, Andrea  23 NC State Univers  1:57.98    2:02.96        
             26.65        57.17 (30.52)
        1:33.14 (35.97)     2:02.96 (29.82)
  2 Sos, Daniel      19 Univ Louisville-  2:00.64    2:03.24        
             26.73        58.14 (31.41)
        1:34.01 (35.87)     2:03.24 (29.23)
  3 Foster, Carson   16 Mason Manta Rays  2:01.97    2:03.52        
             27.03        58.49 (31.46)
        1:35.24 (36.75)     2:03.52 (28.28)
  4 Kalisz, Chase    23 Athens Bulldog S  1:55.56    2:03.74        
             26.41        57.41 (31.00)
        1:32.07 (34.66)     2:03.74 (31.67)
  5 Foster, Jake     17 Mason Manta Rays  2:02.88    2:04.50        
             26.52        59.37 (32.85)
        1:34.60 (35.23)     2:04.50 (29.90)
  6 Licon, Will      23 Longhorn Aquatic  1:58.54    2:04.55        
             27.27        59.64 (32.37)
        1:34.88 (35.24)     2:04.55 (29.67)
  7 Hill, Robert     21 UOFC-ZZ           2:01.96    2:04.80        
             26.91        58.18 (31.27)
        1:34.00 (35.82)     2:04.80 (30.80)
  8 Claverie, Carlo  21 Univ Louisville-  2:03.69    2:04.94        
             27.60      1:00.60 (33.00)
        1:34.50 (33.90)     2:04.94 (30.44)
  8 Prenot, Joshua   24 California Aquat  1:57.14    2:04.94        
             26.34        59.18 (32.84)
        1:34.29 (35.11)     2:04.94 (30.65)