2018 TYR Pro Swim Series At Austin
Day 1 PSS Austin Prelims | 14 Y/O Xuwei Peng Blazes 2:09.36 200m Back
Day 1 PSS Austin Prelims | 14 Y/O Xuwei Peng Blazes 2:09.36 200m Back
Highlights and results from day one prelims at the 2018 TYR Pro Swim Series at Austin at the Lee and Joe Jamail Texas Swimming Center.
Jan 11, 2018
by Maclin Simpson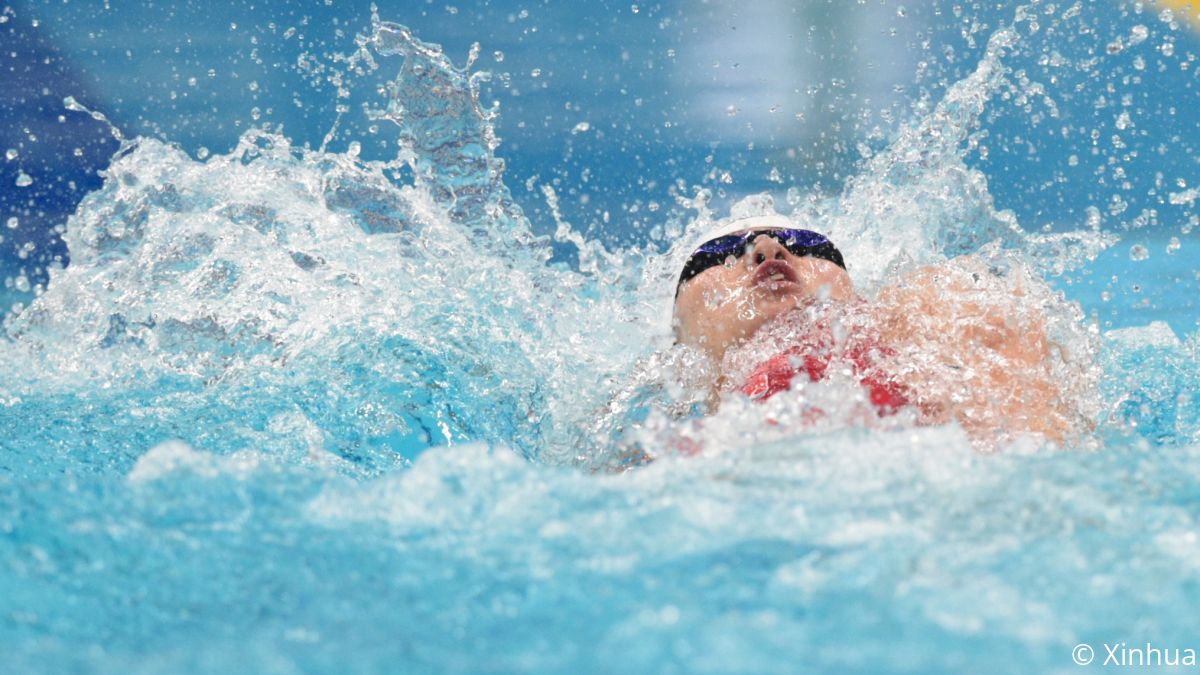 The swim of the morning Thursday in Austin, Texas, came from 14-year-old Chinese swimmer Xuwei Peng. Xuwei unloaded a 2:09.36 in the 200m backstroke to take the top seed ahead of Regan Smith (2:10.18) and Taylor Ruck (2:10.46).
For the sake of perspective, that time by Xuwei is only 0.20 slower than Missy Franklin's 13-14 National Age Group record of 2:09.16 set back in 2009. Of course Xuwei cannot claim that record, but sheesh it's still impressive.
2018 TYR Pro Swim Series - Austin
January 11-14
Austin, Texas
Long Course Meters (LCM)
Series Schedule
Austin, Texas - Jan. 11-14
Atlanta, GA - March 1-4
Mesa, AZ - April 12-15
Indianapolis, IN - May 17-20
Santa Clara, CA - June 14-17
Columbus, Ohio - July 6-8
Check out the prelims results below.
Women's 400m IM
==================================================================
        World: W 4:26.36  8/6/2016  Katinka Hosszu
     American: A 4:31.12  6/29/2008 Katie Hoff
         Meet: M 4:31.07  2015      Katinka Hosszu
         Pool: P 4:34.25            Kirsty Coventry
    Name            Age Team                 Seed    Prelims              
==================================================================
                      === Preliminaries ===                       
 
  1 Pickrem, Sydney  20 Texas A & M Univ  4:32.88    4:44.74        
             30.81      1:05.54 (34.73)
        1:41.38 (35.84)     2:17.74 (36.36)
        2:56.90 (39.16)     3:37.76 (40.86)
        4:11.57 (33.81)     4:44.74 (33.17)
  2 Margalis, Melan  26 Saint Petersburg  4:40.47    4:45.49        
             30.23      1:04.50 (34.27)
        1:41.83 (37.33)     2:18.84 (37.01)
        2:58.96 (40.12)     3:38.56 (39.60)
        4:12.25 (33.69)     4:45.49 (33.24)
  3 Pfeifer, Evie    18 Univ of Texas-ST  4:47.41    4:48.60        
             31.15      1:06.17 (35.02)
        1:43.29 (37.12)     2:19.21 (35.92)
        3:01.09 (41.88)     3:43.31 (42.22)
        4:16.67 (33.36)     4:48.60 (31.93)
  4 Gonzalez-Hermos  22 Texas A & M Univ  4:48.00    4:48.61        
             30.46      1:05.45 (34.99)
        1:43.24 (37.79)     2:20.54 (37.30)
        3:01.46 (40.92)     3:42.77 (41.31)
        4:16.16 (33.39)     4:48.61 (32.45)
  5 Moore, Hannah    21 NC State Univers  4:45.01    4:49.21        
             31.39      1:06.13 (34.74)
        1:42.92 (36.79)     2:19.17 (36.25)
        3:02.00 (42.83)     3:45.08 (43.08)
        4:17.87 (32.79)     4:49.21 (31.34)
  5 Galat, Bethany   22 Texas A & M Univ  4:37.69    4:49.21        
             29.87      1:03.67 (33.80)
        1:43.71 (40.04)     2:22.33 (38.62)
        3:01.84 (39.51)     3:42.12 (40.28)
        4:16.70 (34.58)     4:49.21 (32.51)
  7 Cox, Madisyn     22 Longhorn Aquatic  4:38.85    4:49.44        
             30.33      1:05.63 (35.30)
        1:42.76 (37.13)     2:19.62 (36.86)
        3:00.00 (40.38)     3:41.70 (41.70)
        4:15.45 (33.75)     4:49.44 (33.99)
  8 Cattermole, Sop  20 Univ Louisville-  4:17.63Y   4:51.42        
             31.13      1:06.40 (35.27)
        1:45.09 (38.69)     2:22.72 (37.63)
        3:04.41 (41.69)     3:46.43 (42.02)
        4:19.37 (32.94)     4:51.42 (32.05)
Men's 400m IM
==================================================================
        World: W 4:03.84  8/10/2008 Michael Phelps
     American: A 4:03.84  8/10/2008 Michael Phelps
         Meet: M 4:09.43  2017      Chase Kalisz
         Pool: P 4:14.19            Erik Vendt
    Name            Age Team                 Seed    Prelims              
==================================================================
                      === Preliminaries ===                       
 
  1 Kalisz, Chase    23 Athens Bulldog S  4:05.90    4:19.07        
             27.01        57.68 (30.67)
        1:31.01 (33.33)     2:03.55 (32.54)
        2:40.09 (36.54)     3:15.96 (35.87)
        3:47.81 (31.85)     4:19.07 (31.26)
  2 Ipsen, Anton Oe  23 NC State Univers  4:20.74    4:21.87        
             27.83        59.77 (31.94)
        1:33.74 (33.97)     2:06.85 (33.11)
        2:44.01 (37.16)     3:22.22 (38.21)
        3:52.69 (30.47)     4:21.87 (29.18)
  3 Sos, Daniel      19 Univ Louisville-  4:20.92    4:22.97        
             28.01      1:00.10 (32.09)
        1:32.91 (32.81)     2:05.19 (32.28)
        2:42.03 (36.84)     3:20.04 (38.01)
        3:52.07 (32.03)     4:22.97 (30.90)
  4 Cote, Tristan    22 UOFC-ZZ           4:17.40    4:24.40        
             27.86        59.92 (32.06)
        1:34.52 (34.60)     2:08.08 (33.56)
        2:45.49 (37.41)     3:23.32 (37.83)
        3:54.40 (31.08)     4:24.40 (30.00)
  5 Foster, Jake     17 Mason Manta Rays  4:19.40    4:25.00        
             28.18      1:00.36 (32.18)
        1:35.38 (35.02)     2:10.37 (34.99)
        2:46.02 (35.65)     3:23.23 (37.21)
        3:54.50 (31.27)     4:25.00 (30.50)
  6 Knowles, Eric    18 NC State Univers  4:22.53    4:29.55        
             28.19      1:00.97 (32.78)
        1:35.99 (35.02)     2:10.87 (34.88)
        2:50.06 (39.19)     3:30.04 (39.98)
        4:00.77 (30.73)     4:29.55 (28.78)
  7 Jones, Jarrett   20 Univ Louisville-  4:23.15    4:29.94        
             28.23      1:00.96 (32.73)
        1:35.14 (34.18)     2:10.03 (34.89)
        2:48.73 (38.70)     3:28.04 (39.31)
        3:59.70 (31.66)     4:29.94 (30.24)
  8 Gurevich, Etay   22 Univ Louisville-  4:17.56    4:30.94        
             26.94        58.87 (31.93)
        1:34.05 (35.18)     2:09.80 (35.75)
        2:47.82 (38.02)     3:27.53 (39.71)
        3:59.59 (32.06)     4:30.94 (31.35)
Women's 100m Butterfly
==================================================================
        World: W 55.48  8/7/2016  Sarah Sjostrom
     American: A 55.98  7/29/2012 Dana Vollmer
         Meet: M 56.38  2016      Sarah Sjostrom
         Pool: P 58.02            Dana Vollmer
    Name            Age Team                 Seed    Prelims              
==================================================================
  1 Kendall, Amanda  26 Una Mvn-CA          57.87      58.42        
             27.28        58.42 (31.14)
  2 Zhang, Yufei     19 CHINA-ZZ            58.00      58.80        
             27.31        58.80 (31.49)
  3 Gibson, Sarah    22 Una TE-NC           57.96      58.92        
             27.77        58.92 (31.15)
  4 Smith, Regan     15 Riptide Swim Tea    59.03      59.06        
             27.84        59.06 (31.22)
  5 Smith, Rebecca   17 HPCO-ZZ             58.07      59.13        
             27.25        59.13 (31.88)
  6 Moffitt, Hellen  22 Una TE-NC           58.24      59.54        
             28.10        59.54 (31.44)
  6 Case, Lauren     19 Univ of Texas-ST    59.21      59.54        
             27.96        59.54 (31.58)
  8 Thomas, Alys     27 Swim Wales-ZZ       57.85      59.60        
Men's 100m Butterfly
==================================================================
        World: W 49.82  8/1/2009  Michael Phelps
     American: A 49.82  8/1/2009  Michael Phelps
         Meet: M 51.34  2017      Li Zhuhao
         Pool: P 51.32            Ian Crocker
    Name            Age Team                 Seed    Prelims              
==================================================================
  1 Conger, Jack     23 Nation's Capital    51.26      52.58        
             24.58        52.58 (28.00)
  2 Umemoto, Masayu  24 RQ-ZZ               52.58      53.22        
             24.75        53.22 (28.47)
  3 Bohman, Bryce    27 Longhorn Aquatic    53.08      53.61        
             25.46        53.61 (28.15)
  4 Cooper, Tripp    24 Longhorn Aquatic    52.13      53.64        
             24.98        53.64 (28.66)
  5 Andrew, Michael  18 Race Pace Club-M    53.18      54.09        
             25.04        54.09 (29.05)
  6 Le, Paul         25 Missouri State U    54.85      54.15        
             25.41        54.15 (28.74)
  7 Held, Ryan       22 NC State Univers    53.49      54.20        
             24.85        54.20 (29.35)
  8 Peters, Jacob    17 GBR-ZZ              53.32      54.35        
             25.04        54.35 (29.31)
Women's 200m Backstroke
==================================================================
        World: W 2:04.06  8/3/2012  Missy Franklin
     American: A 2:04.06  8/3/2012  Missy Franklin
         Meet: M 2:07.16  2011      Meagen Nay
         Pool: P 2:07.31            Missy Franklin
    Name            Age Team                 Seed    Prelims              
==================================================================
                      === Preliminaries ===                       
 
  1 Peng, Xuwei      14 CHINA-ZZ          2:11.00    2:09.36        
             30.37      1:03.10 (32.73)
        1:36.41 (33.31)     2:09.36 (32.95)
  2 Smith, Regan     15 Riptide Swim Tea  2:07.19    2:10.18        
             31.13      1:04.24 (33.11)
        1:37.57 (33.33)     2:10.18 (32.61)
  3 Ruck, Taylor     17 HPCO-ZZ           2:07.62    2:10.46        
             30.25      1:03.27 (33.02)
        1:36.61 (33.34)     2:10.46 (33.85)
  4 Carrozza, Quinn  21 Univ of Texas-ST  2:10.93    2:12.49        
             31.11      1:04.24 (33.13)
        1:38.08 (33.84)     2:12.49 (34.41)
  5 Stadden, Isabel  15 Aquajets Swim Te  2:13.79    2:12.69        
             31.51      1:05.89 (34.38)
        1:39.94 (34.05)     2:12.69 (32.75)
  6 Bratton, Lisa    21 Texas A & M Univ  2:08.20    2:12.87        
             31.70      1:05.62 (33.92)
        1:39.49 (33.87)     2:12.87 (33.38)
  7 Flickinger, Hal  23 Athens Bulldog S  2:10.21    2:12.98        
             32.03      1:05.77 (33.74)
        1:39.85 (34.08)     2:12.98 (33.13)
  8 Nordmann, Lucie  17 Magnolia Aquatic  2:09.40    2:13.15        
             31.06      1:04.60 (33.54)
        1:38.81 (34.21)     2:13.15 (34.34)
Men's 200m Backstroke
==================================================================
        World: W 1:51.92  7/31/2009 Aaron Peirsol
     American: A 1:51.92  7/31/2009 Aaron Perisol
         Meet: M 1:55.04  2017      Xu Jiayu
         Pool: P 1:55.46            Aaron Piersol
    Name            Age Team                 Seed    Prelims              
==================================================================
                      === Preliminaries ===                       
 
  1 Murphy, Ryan     22 California Aquat  1:53.62    1:59.75        
             28.78        59.85 (31.07)
        1:30.62 (30.77)     1:59.75 (29.13)
  2 Pebley, Jacob    24 California Aquat  1:54.77    2:00.05        
             28.57        59.30 (30.73)
        1:30.33 (31.03)     2:00.05 (29.72)
  3 Greenbank, Luke  20 GBR               1:57.67    2:00.51        
             28.12        58.63 (30.51)
        1:29.71 (31.08)     2:00.51 (30.80)
  4 Foster, Carson   16 Mason Manta Rays  1:57.87    2:01.61        
             28.52        59.70 (31.18)
        1:30.96 (31.26)     2:01.61 (30.65)
  5 Stuart, Henness  22 NC State Univers  1:58.20    2:01.66        
             28.20        59.05 (30.85)
        1:30.56 (31.51)     2:01.66 (31.10)
  5 Castelli, Xavie  27 Swim Wales        1:58.47    2:01.66        
             28.50        59.42 (30.92)
        1:30.56 (31.14)     2:01.66 (31.10)
  7 Hill, Robert     21 UOFC              2:00.12    2:01.91        
             28.87      1:00.18 (31.31)
        1:31.26 (31.08)     2:01.91 (30.65)
  8 Pyle, Nicholas   17 GBR               2:02.41    2:02.17        
             28.37        59.51 (31.14)
        1:31.00 (31.49)     2:02.17 (31.17)
Women's 200m Breaststroke
==================================================================
        World: W 2:19.11  8/1/2013  Rikke Moeller-Pedersen
     American: A 2:19.59  8/2/2012  Rebecca Soni
         Meet: M 2:21.41  2016      Yuliya Efimova
         Pool: P 2:22.73            Rebecca Soni
    Name            Age Team                 Seed    Prelims              
==================================================================
                      === Preliminaries ===                       
 
  1 Escobedo, Emily  22 Condors Swim Clu  2:23.88    2:28.20        
             34.54      1:12.05 (37.51)
        1:50.10 (38.05)     2:28.20 (38.10)
  2 Pickrem, Sydney  20 Texas A & M Univ  2:26.80    2:28.37        
             34.73      1:12.31 (37.58)
        1:50.59 (38.28)     2:28.37 (37.78)
  3 Tutton, Chloe    21 Swim Wales        2:22.34    2:28.67        
             34.18      1:11.74 (37.56)
        1:50.30 (38.56)     2:28.67 (38.37)
  4 Hannis, Molly    25 Una Tnaq/TNAQ     2:28.20    2:28.88        
             33.21      1:11.71 (38.50)
        1:49.72 (38.01)     2:28.88 (39.16)
  5 Nicol, Rachel    24 UCSC              2:27.04    2:29.22        
             33.78      1:12.13 (38.35)
        1:51.25 (39.12)     2:29.22 (37.97)
  6 Cox, Madisyn     22 Longhorn Aquatic  2:25.62    2:29.23        
             34.63      1:12.36 (37.73)
        1:50.99 (38.63)     2:29.23 (38.24)
  7 Galat, Bethany   22 Texas A & M Univ  2:21.77    2:30.32        
             36.35      1:14.41 (38.06)
        1:52.44 (38.03)     2:30.32 (37.88)
  8 Larson, Breeja   25 New York Athleti  2:25.70    2:30.73        
             34.64      1:12.95 (38.31)
        1:51.49 (38.54)     2:30.73 (39.24)
Men's 200m Breaststroke
==================================================================
        World: W 2:06.67  1/27/2017 Ippei Watanabe
     American: A 2:07.17  6/30/2016 Josh Prenot
         Meet: M 2:09.30  2015      Josh Prenot
         Pool: P 2:09.97            Eric Shanteau
    Name            Age Team                 Seed    Prelims              
==================================================================
                      === Preliminaries ===                       
 
  1 Zibei, Yan       22 CHINA             2:12.00    2:12.35        
             29.94      1:03.40 (33.46)
        1:37.86 (34.46)     2:12.35 (34.49)
  2 Kalisz, Chase    23 Athens Bulldog S  2:10.74    2:12.77        
             30.26      1:03.97 (33.71)
        1:38.11 (34.14)     2:12.77 (34.66)
  3 Licon, Will      23 Longhorn Aquatic  2:08.14    2:14.29        
             30.82      1:04.98 (34.16)
        1:39.64 (34.66)     2:14.29 (34.65)
  4 Fink, Nic        24 Athens Bulldog S  2:08.56    2:14.39        
             30.53      1:04.92 (34.39)
        1:40.32 (35.40)     2:14.39 (34.07)
  5 Prenot, Joshua   24 California Aquat  2:07.17    2:14.64        
             30.57      1:04.98 (34.41)
        1:40.10 (35.12)     2:14.64 (34.54)
  6 Claverie, Carlo  21 Univ Louisville   2:10.35    2:14.65        
             30.60      1:05.17 (34.57)
        1:39.47 (34.30)     2:14.65 (35.18)
  7 Wilson, Andrew   24 Longhorn Aquatic  2:08.37    2:15.11        
             29.93      1:04.11 (34.18)
        1:39.52 (35.41)     2:15.11 (35.59)
  8 Whitley, Reece   18 Penn Charter Aqu  2:10.82    2:15.73        
             31.21      1:05.69 (34.48)
        1:40.84 (35.15)     2:15.73 (34.89)
Women's 200m Freestyle
==================================================================
        World: W 1:52.98  7/29/2009 Federica Pellegrini
     American: A 1:53.61  7/31/2012 Allison Schmitt
         Meet: M 1:54.43  2016      Katie Ledecky
         Pool: P 1:54.43            Katie Ledecky
    Name            Age Team                 Seed    Prelims              
==================================================================
                      === Preliminaries ===                       
 
  1 Margalis, Melan  26 Saint Petersburg  1:56.58    1:59.06        
             28.82        59.25 (30.43)
        1:29.17 (29.92)     1:59.06 (29.89)
  2 Li, Bingjie      15 CHINA             2:00.00    1:59.45        
             28.38        58.76 (30.38)
        1:29.30 (30.54)     1:59.45 (30.15)
  3 Ruck, Taylor     17 HPCO              1:57.08    2:00.43        
             27.75        58.34 (30.59)
        1:29.34 (31.00)     2:00.43 (31.09)
  4 Rasmus, Claire   21 Texas A & M Univ  1:57.92    2:00.65        
             29.34      1:00.12 (30.78)
        1:30.80 (30.68)     2:00.65 (29.85)
  5 Sanchez, Kayla   16 HPCO              1:58.28    2:00.85        
             28.65        59.55 (30.90)
        1:30.36 (30.81)     2:00.85 (30.49)
  6 Smith, Rebecca   17 HPCO              1:58.59    2:01.02        
             27.65        58.07 (30.42)
        1:29.20 (31.13)     2:01.02 (31.82)
  7 Portz, Katie     19 Texas A & M Univ  2:00.51    2:01.32        
             29.25      1:00.11 (30.86)
        1:31.18 (31.07)     2:01.32 (30.14)
  8 Shen, Duo        20 CHINA             1:56.50    2:01.37        
             28.89        59.88 (30.99)
        1:31.03 (31.15)     2:01.37 (30.34)
Men's 200m Freestyle
==================================================================
        World: W 1:42.00  7/28/2009 Paul Biedermann
     American: A 1:42.96  8/12/2008 Michael Phelps
         Meet: M 1:44.82  2016      Sun Yang
         Pool: P 1:45.76            Yannick Agnel
    Name            Age Team                 Seed    Prelims              
==================================================================
                      === Preliminaries ===                       
 
  1 Smith, Clark     22 Longhorn Aquatic  1:47.10    1:49.04        
             25.79        53.54 (27.75)
        1:21.89 (28.35)     1:49.04 (27.15)
  2 Grothe, Zane     25 Una Mvn           1:46.39    1:49.11        
             25.80        53.61 (27.81)
        1:21.65 (28.04)     1:49.11 (27.46)
  3 Conger, Jack     23 Nation's Capital  1:45.77    1:49.30        
             25.67        53.39 (27.72)
        1:21.74 (28.35)     1:49.30 (27.56)
  4 Freeman, Trey    17 Baylor Swim Club  1:47.79    1:49.94        
             25.98        53.74 (27.76)
        1:21.83 (28.09)     1:49.94 (28.11)
  5 Vazaios, Andrea  23 NC State Univers  1:47.48    1:50.54        
             26.20        54.23 (28.03)
        1:22.57 (28.34)     1:50.54 (27.97)
  6 Bagshaw, Jeremy  25 Island Swimming   1:48.20    1:50.71        
             26.29        54.13 (27.84)
        1:22.64 (28.51)     1:50.71 (28.07)
  7 Ipsen, Anton Oe  23 NC State Univers  1:49.61    1:51.07        
             26.18        54.57 (28.39)
        1:23.12 (28.55)     1:51.07 (27.95)
  8 Koski, Matias    23 Athens Bulldog S  1:46.98    1:51.47        
             25.86        54.05 (28.19)
        1:22.90 (28.85)     1:51.47 (28.57)