Weekend Roundup | Dressel & Co. Prep Gator Men For Another SEC Title Run
Weekend Roundup | Dressel & Co. Prep Gator Men For Another SEC Title Run
Highlights, scores, and results from NCAA swimming & diving meets on January 5th and January 6th. Teams competing include Florida and Texas A&M.
Jan 7, 2018
by Maclin Simpson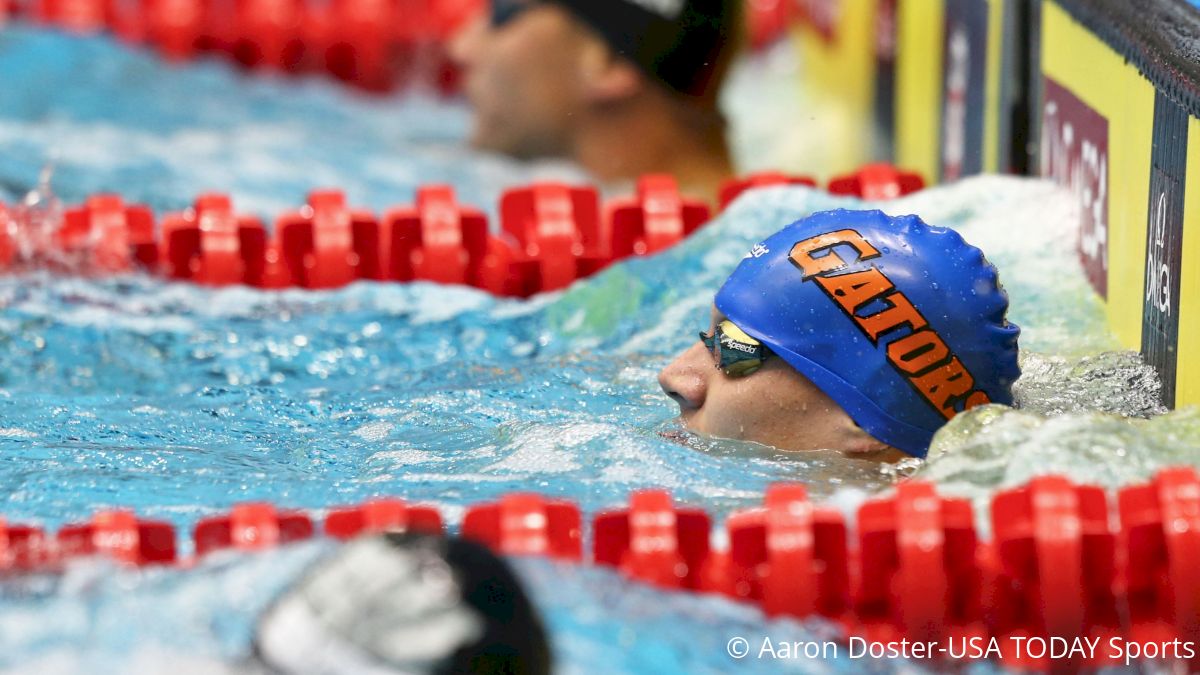 Aaaand... college swimming is back. A handful of the nation's top teams were in action this past weekend to kick off 2018 and shake off the cobwebs from winter training.
All in all, 16 top 25 teams (men's and women's combined) were racing — including the No. 1 Texas A&M women and the No. 6 Florida men.
Check out the highlights, scores, and results below.
Tennessee vs. Virginia
Friday, Jan. 5
Knoxville, TN
Scores
Women — Virginia (177) def. Tennessee (123)
Men — Tennessee (198) def. Virginia (100)
Top 5 Performances (Women)
Caitlin Cooper (UVA), 50 Free — 22.35
Jennifer Marrkand (UVA), 200 Fly — 1:57.61
Erika Brown (UT), 50 Free — 22.71
Meghan Small (UT), 200 IM — 2:00.34
Morgan Hill (UVA), 100 Free — 49.15
Top 5 Performances (Men)
David Heron (UT), 1650 Free — 15:02.63
Taylor Abbott (UT), 1650 Free — 15:05.71
Kyle Decoursey (UT), 200 Free — 1:36.20
Peter Stevens (UT), 100 Breast — 54.02
Sam McHugh (UT), 200 IM — 1:47.99
Florida vs. Florida State
Friday, Jan. 5
Gainesville, FL
Scores
Women — Florida (184) def. Florida State (116)
Men — Florida (209) def. Florida State (91)
Top 5 Performances (Women)
Taylor Ault (UF), 1000 Free — 9:51.26
Hannah Burns (UF), 200 IM — 2:01.43
Kelly Fertel (UF), 200 Breast — 2:14.51
Hannah Burns (UF), 200 Fly — 1:59.96
Natalie Pierce (FSU), 200 Breast — 2:15.14
Top 5 Performances (Men)
Khader Baqlah (UF), 200 Free — 1:34.95
Blake Manganiello (UF), 1000 Free — 9:02.44
Ben Lawless (UF), 1000 Free — 9:02.98
Maxime Rooney (UF), 200 Free — 1:35.52
Caeleb Dressel (UF), 50 Free — 19.40
Texas A&M vs. Missouri
Saturday, Jan. 6
College Station, Texas
Scores
Women — Texas A&M (169) def. Missouri (118)
Men — Texas A&M (168) def. Missouri (131)
Top 5 Performances (Women)
Jorie Caneta (TAMU), 200 Breast — 2:12.11
Jing Wen Quah (TAMU), 200 Fly — 1:57.98
Jorie Caneta (TAMU), 100 Breast — 1:00.94
Monika Gonzalez-Hermosillo (TAMU), 400 IM — 4:16.69
Lisa Bratton (TAMU), 100 Back — 54.11
Top 5 Performances (Men)
Giovanny Lima (UM), 200 Free — 1:37.01
Mauro Castillo Luna (TAMU), 100 Breast — 54.45
Caleb Hicks (UM), 100 Breast — 54.53
Anthony Kim (TAMU), 200 Back — 1:44.78
Benjamin Walker (TAMU), 400 IM — 3:54.30
Arizona State vs. Harvard (Men Only)
Saturday, Jan. 6
Tempe, AZ
Scores
Men — Harvard (155) def. Arizona State (143)
Top 5 Performances (Men)
Brennan Novak (Harvard), 1000 Free — 9:03.25
Dean Farris (Harvard), 200 Free — 1:36.72
Grant House (ASU), 200 IM — 1:47.97
Steven Tan (Harvard), 100 Fly — 47.64
Cameron Craig (ASU), 200 Free — 1:38.32
Kentucky vs. Ohio State, Toledo
Friday, Jan. 5 - Saturday, Jan. 6
Lexington, KY
Scores
Women — Ohio State (204) def. Kentucky (185); Kentucky (321) def. Toledo (61); Ohio State (331) def. Toledo (54)
Men — Ohio State (210.5) def. Kentucky (178.5)
Top 5 Performances (Women)
Asia Seidt (UK), 200 IM — 1:58.34
Ali Galyer (UK), 200 Back — 1:54.44
Zhesi Li (OSU), 50 Free — 22.45
Bailey Bonnett (UK), 200 Breast — 2:11.94
Asia Seidt (UK), 100 Back — 53.34
Top 5 Performances (Men)
Isaac Jones (UK), 500 Free — 4:22.96
Nick Hogsed (OSU), 500 Free — 4:23.78
Isaac Jones (UK), 1650 Free — 15:16.04
Isaac Jones (UK), 200 Free — 1:37.81
Glen Brown (UK), 200 IM — 1:48.35
Navy vs. Princeton (Men Only)
Saturday, Jan. 6
Annapolis, MD
Scores
Men — Princeton (151.5) def. Navy (148.5)
Top 5 Performances (Men)
Ryan Waters (Navy), 1000 Free — 9:23.52
Murphy McQuet (Princeton), 200 Free — 1:39.39
Ryan Waters (Navy), 500 Free — 4:34.27
Cole Buese (Princeton), 200 IM — 1:50.62
Corey Okubo (Princeton), 200 Fly — 1:48.42