WATCH: Nathan Adrian vs. Michael Andrew Battle In 50 Free
WATCH: Nathan Adrian vs. Michael Andrew Battle In 50 Free
Watch race video of Nathan Adrian and Michael Andrew in the 50-yard freestyle at the 2017 USA Swimming Winter Nationals in Columbus, Ohio.
Dec 4, 2017
by Maclin Simpson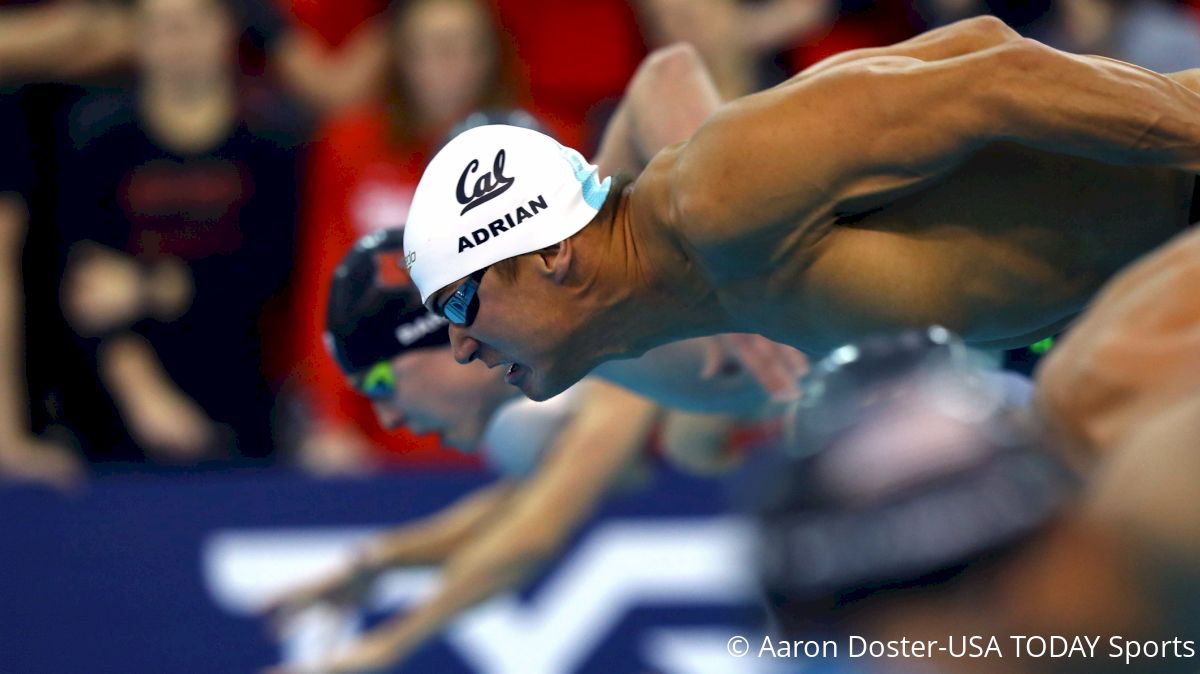 Is anyone more consistent than Nathan Adrian? Answer: don't bet on it.
Adrian popped off an 18.77 in the 50 freestyle for yet another national title at the 2017 USA Swimming Winter Nationals in Columbus, Ohio, on Friday night.
Even more impressive? That was Adrian's 19th time under the 19-second barrier. Sheesh. More specifically, that was the sixth-fastest performance of his career and just a hair off his lifetime best of 18.66.
Adrian is a seasoned veteran at 28 years old, and he had to fight off a hard-charging Michael Andrew — 10 years his junior — for the win. Andrew touched for silver in 19.17, his lifetime best by 0.06 of a second and his 25th time under the 20-second barrier.
While, yes, these times in the short course yards pool are impressive, it's the long course meters times that count.
Andrew went off this summer in the LC 50m free — posting a 21.75 at the FINA World Junior Championships in Indianapolis.
While Adrian has a best of 21.37, his fastest performance of the summer was 21.83.
One thing is for certain: the old and the new guard will be clashing in 2020 with Adrian, Andrew, Caeleb Dressel, and a slew of other American sprinting greats for the right to represent the United States in Tokyo.
Check out the aforementioned race video plus results from Nationals last weekend below.
Men 50 Freestyle
Nathan Adrian -- 18.77
Michael Andrew -- 19.17
Andrej Barna -- 19.44
Matias Koski -- 19.62*
Kasey Foley -- 19.62*
Michael Chadwick -- 19.68
Josh Fleagle -- 19.77
Corey Main -- 19.81