Texas Invite | Conger Drops 1:39 200 Fly In Battle With Wright & Schooling
Texas Invite | Conger Drops 1:39 200 Fly In Battle With Wright & Schooling
Results, highlights, & team scores from the 2017 Texas Invitational In Austin, Texas.
Dec 3, 2017
by Maclin Simpson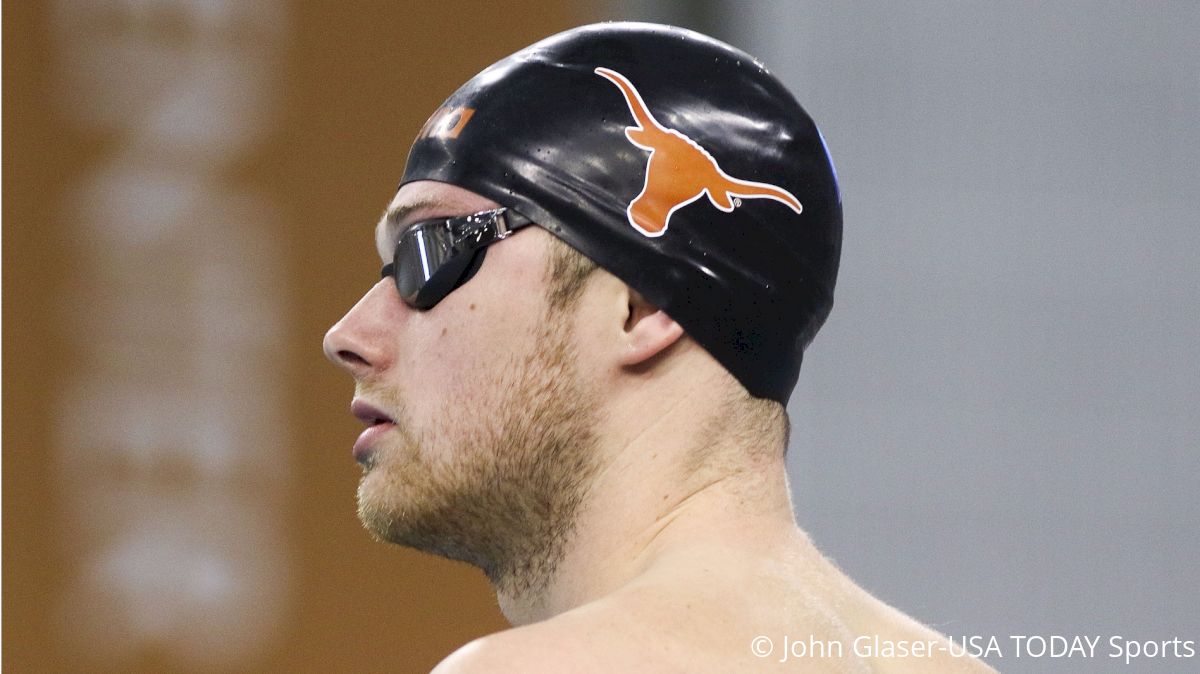 That's a wrap for the 2017 version of the Texas Invitational -- another quick meet that saw plenty of top-tier swimmers snag times good enough to qualify for NCAA's.
On the final session Saturday night, the premier race came in the men's 200 butterfly between Jack Conger, Justin Wright, Joseph Schooling, and Sam Pomajevich.
Conger -- now a postgrad and still the NCAA/American Record holder -- threw down an unshaved 1:39.56 with some great splitting (22/25/25/25). Zona's Wright, who time trialed the event Wednesday night in 1:41.31, snagged the silver in 1:40.57 -- just ahead of the Texas duo of Schooling (1:40.72) and freshman Pomajevich (1:40.82).
There were plenty of other great races Saturday night, though. Check out the full results below.
2017 Texas Invite
November 29 - December 2
Austin, Texas
Short Course Yards (SCY)
Women 1650 Freestyle
Joanna Evans (Texas) -- 15:51.74 (A)
Hannah Cox (Arizona) -- 16:04.28
Kirsten Jacobsen (Arizona) -- 16:07.28
Men 1650 Freestyle
Grant Shoults (Stanford) -- 14:39.59 (A)
True Sweetser (Stanford) -- 14:41.48
Brad Gonzales (UNLV) -- 14:46.31
Women 200 Backstroke
Beata Nelson (Wisconsin) -- 1:51.21
Quinn Carrozza (Texas) -- 1:53.24
Cameron McHugh (Arizona) -- 1:54.28
Men 200 Backstroke
Austin Katz (Texas) -- 1:38.49 (A)
Patrick Mulcare (USC) -- 1:39.18 (A)
Ryan Harty (Texas) -- 1:39.23 (A)
Women 100 Freestyle
Anika Apostalon (Trojan) -- 47.49
Clare Adams (Texas) -- 47.81
Rebecca Millard (Texas) -- 48.14
Men 100 Freestyle
Santo Condorelli (USC) -- 42.10 (A)
Brett Ringgold (Texas) -- 42.11
Matt Grevers (Unattached) -- 42.19
Women 200 Breaststroke
Madisyn Cox (Unattached) -- 2:06.17
Maggie Aroesty (USC) -- 2:07.31
Riley Scott (USC) -- 2:08.22
Men 200 Breaststroke
Will Licon (Unattached) -- 1:51.99
Christian Lorenz (Arizona State) -- 1:53.34
Andrew Wilson (Unattached) -- 1:53.73
Women 200 Butterfly
Louise Hansson (USC) -- 1:52.26 (A)
Madison Wright (USC) -- 1:54.05
Remedy Rule (Texas) -- 1:55.25
Men 200 Butterfly
Jack Conger (Unattached) -- 1:39.56
Justin Wright (Arizona) -- 1:40.57 (A)
Joseph Schooling (Texas) -- 1:40.72 (A)
Women 400 Freestyle Relay
Texas -- 3:12.84 (A)
Wisconsin -- 3:15.38 (A)
USC -- 3:15.40 (A)
Men 400 Freestyle Relay
Texas -- 2:49.80 (A)
USC -- 2:50.64 (A)
Stanford -- 2:51.00 (A)