Art Adamson Invite | Ledecky Drops 15:03, Clips American Record
Art Adamson Invite | Ledecky Drops 15:03, Clips American Record
Live results from the 2017 Art Adamson Invitational in College Station, Texas.
Nov 18, 2017
by Maclin Simpson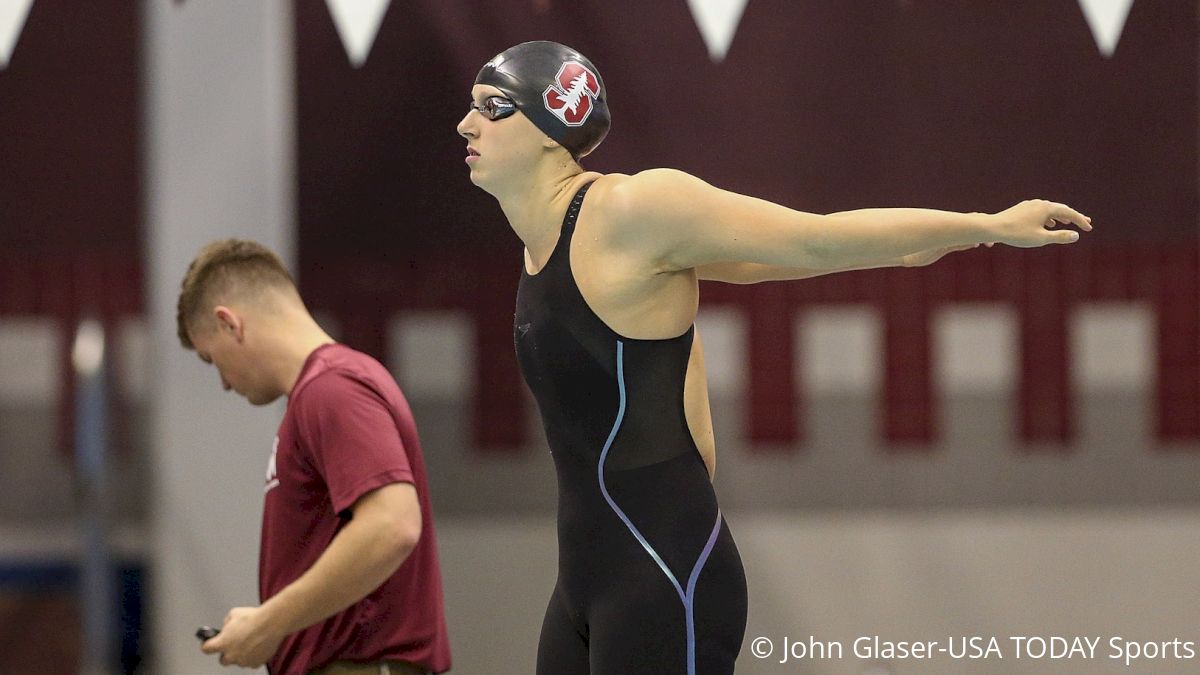 It seemed like just a matter of time before Katie Ledecky would take down another record. Tonight at the Art Adamson Invitational College Station, Texas it was her own 1650 Freestyle American record. Her previous best swim came just under a year ago at the Ohio State Invitational.
Ledecky's record time of 15:03.31 was just six-tenths of a second faster than last years swim. It shouldn't be surprising but her time is 50 seconds under the A-standard time.
She held just above record pace for the first 1000 of the race, landing 0.4 above at the 1000 mark. After that she made the record push. It wasn't until the 1350 point that Ledecky went beneath the record split and didn't look back for the final 300 yards. Ledecky's final 50 split was also three-tenths faster than a year ago, getting home in a 25.67.
As far as racing in concerned, Ledecky won the women's mile by 54 seconds over Hawaii's Phoebe Hines. She also beat the top male swimmer, Texas A&M's Jake Gibbons, by 15 seconds.
Ledecky wasn't able to get under the record in March at the NCAA Championships as talk of her being the first female to break the 15:00 barrier built. Each year he keeps inching closer to the monumental swim.
Check out results, including splits, below.
2017 Art Adamson Invitational
November 16-18, 2017
Texas A&M Natatorium
College Station, Texas
Short Course Yards (SCY)
Scores
Women -- Texas A&M (1273.5), Stanford (1053), Arizona State (375), Arkansas (281), Hawaii (262), Utah (255), LSU (224), Boise State (209), SMU (86.5), Incarnate Word (11)
Men -- Texas A&M (1338), Utah (898), LSU (569.5), Air Force (423), Hawaii (417), Incarnate Word (183), SMU (114.5), Stanford (84)*
* Diving Only
Top 5 Performances (Women) -- Finals
Katie Ledecky (Stanford), 1650 Free -- 15:03.31
Sydney Pickrem (Texas A&M), 200 Breast -- 2:05.96
Katie Drabot (Stanford), 200 Fly -- 1:51.74
Lisa Bratton (Texas A&M), 200 Back -- 1:50.10
Ella Eastin (Stanford), 200 Fly -- 1:52.03
Top 5 Performances (Men) -- Finals
Jose Martinez (Texas A&M), 200 Fly -- 1:42.08
Brock Bonetti (Texas A&M), 200 Fly -- 1:42.17
Brock Bonetti (Texas A&M), 200 Back -- 1:40.56
Mauro Castillo Luna (Texas A&M), 200 Breast -- 1:54.14
Metin Aydin (Hawaii), 200 Back -- 1:41.63
By Ben Colin