With the NCAA season rapidly approaching, we decided to come up with our own preseason NCAA Division I Top 25 rankings. First up, we released the men's rankings -- five teams per day which you can see below. Next, we will release the women's rankings -- five teams per day.
Flo 25: NCAA DI Men's Preseason Rankings
#25-21
,
20-16
,
15-11
,
10-6
,
5-1
So how did we create with the rankings?
The Formula
First, we compiled a rankings list of all returning swims in each event from last season. Next, we added the best times from each incoming freshman to the event lists to complete the preseason time projections for each race. From there, the events are scored two different ways: First is a top 50 points system to analyze depth -- starting with the top-ranked team receiving 50 points and descending to one point. Second is the NCAA's top 16 scoring system. Relays are included into this as well. Combining those factors, we found the average of each team to create the final top 25 preseason rankings.
20.) Florida State
2017 NCAA Finish: 28th
Head coach
Neal Studd
is making some great strides in his second year leading the Seminoles program. It's a challenge to enter as a first-year coach and get upper-class swimmers to transition immediately, but whatever he did in 2016-17 seemed to work. Florida State has senior
Natalie Pierce
returning third in the 100 breaststroke and
Tayla Lovemore
coming back ninth in the 100 butterfly. The Seminoles' top recruit --
​Maddy Cohen
​ -- is a solid sprint freestyler and backstroker who has potential to contribute to relays early on this season.
19.) Ohio State
2017 NCAA Finish: 19th
Buckeyes sprinter
Zhesi Li
returns second in the 50 freestyle behind Stanford's
Simone Manuel
. She is also projected top eight in the 100 free and the 100 butterfly. Realistically, she is not the favorite to win the 50, but she will rack up a huge chunk of points for Ohio State regardless. Fifth-ranked recruit
Kristen Romano
will be joining the Buckeyes in Columbus -- a huge snag for
​coach ​Bill Dorenkott

​.
The New Yorker is a versatile ace who already ranks right at the NCAA cutoff in the 200 backstroke (1:53.98). Aside from the backstrokes, Romano can throw down in the 50-100-200-500 freestyle events, 200/400 IM, and 100 fly. The question for Dorenkott will be where to place her -- not a bad problem to have, if you can even call it that.
18.) Wisconsin
2017 NCAA Finish: 15th
Wisconsin mid-distance/distance freestyler
Cierra Runge
leads the team with potential scoring swims. She is ranked among the nation's best in three freestyle events -- the 200, 500, and 1650. The 500 has the most potential for Runge, who returns fourth. Her teammate
Beata Nelson
is also projected in the top 16 in the 200 backstroke, along with a 100 back that isn't far off either. The Badgers' relays will be just fine this year and could move up, despite losing a 22 flat and 48 low freestyler in
Chase Kinney.
Wisconsin's top recruit
​Alex Reddington
​ is a solid 100/200 butterflier who can also throw down a 200 free -- making her a strong relay addition.
​
​
​
​
​
​
​
​
​
​
17.) Auburn
2017 NCAA Finish: 18th
Similar to the typical theme at Auburn, the Tigers women's team has a plethora of sprinters. Three are ranked in the top 50 returners for the 50 freestyle, led
​Aly Tetzloff.
It isn't all sprint freestyle though as senior
​Haley Black
​
is projected to finish in the "A" final at NCAAs in the 100 butterfly. Breaststroker
Breanna Roman
is also ranked near the scoring spots in the top returning times -- with a 59 in the 100 and 2:11 in the 200 to her name already. The Tigers also picked up top 50 recruit in
Carly Cummings
​

​-- a breaststroke/IM specialist poised to make in impact her freshman year.
​​Workout Wednesday: 2016-17 Auburn Tigers
16.) Missouri
2017 NCAA Finish: 13th
The Tigers are led by world championship semifinalist
Hannah Stevens
in the backstroke events this year. She returns with the fourth-fastest 100 back and the 10th-fastest 200 back from a year ago. The difficult task will be replacing breaststroker
Katharine Ross
on the medley relays. If Mizzou wants to see success at NCAAs, finding a breaststroke leg for their medley relays will need to be a major priority. Incoming freshman
​Devan Sweeney
​ is a strong IMer and butterflier looking to step up in year one.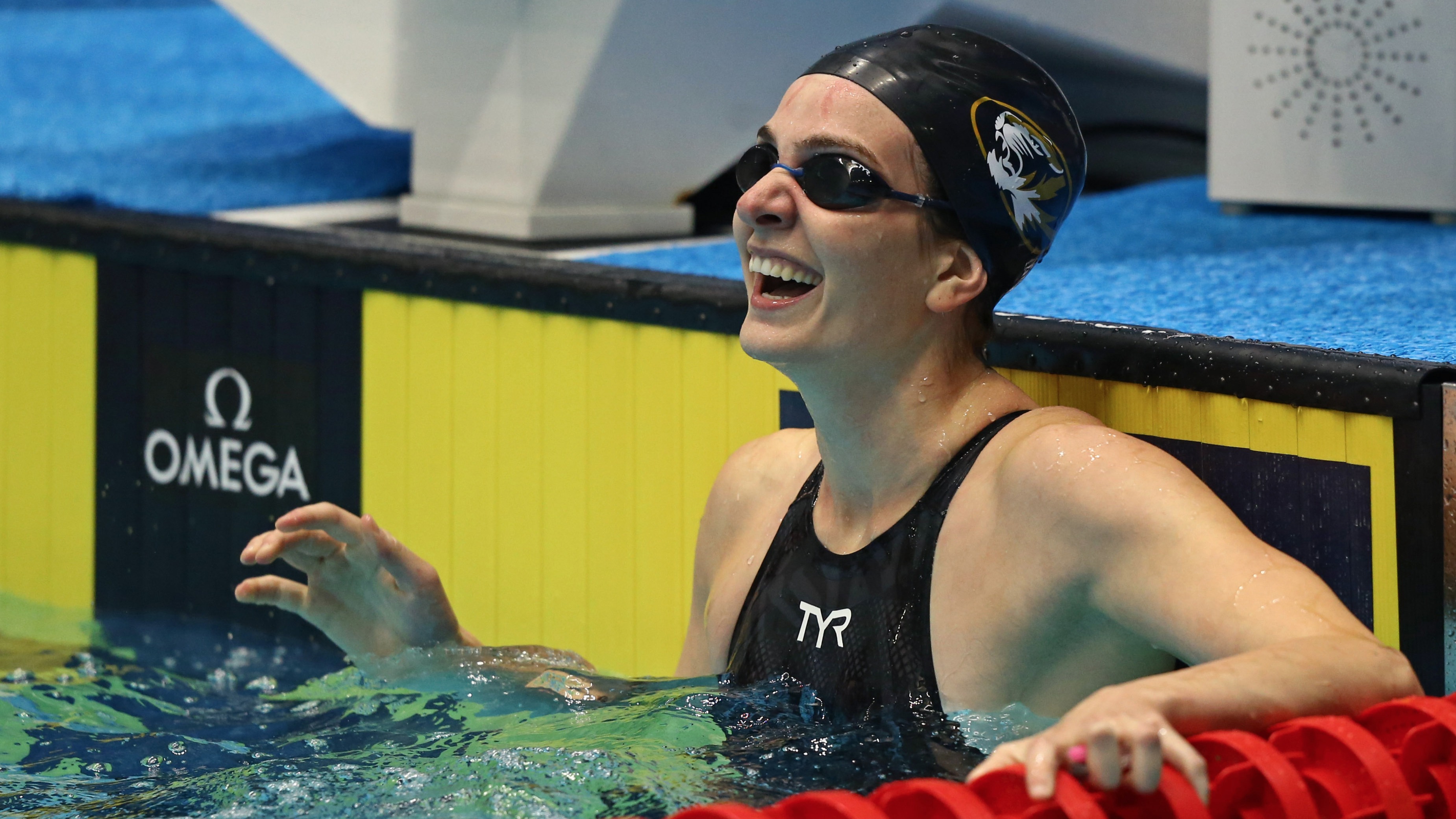 ---
The best swimming coverage. Straight to your inbox.
Don't miss breaking news, feature stories, event updates, and more. Sign up for the FloSwimming mailing list today.