Michael Andrew Hits WJR Trifecta In 50's At World Juniors
Michael Andrew Hits WJR Trifecta In 50's At World Juniors
Recap and highlights from day four finals Saturday night at the 6th FINA World Junior Swimming Championships in Indianapolis, Indiana at the IUPUI Natatorium.
Aug 27, 2017
by Maclin Simpson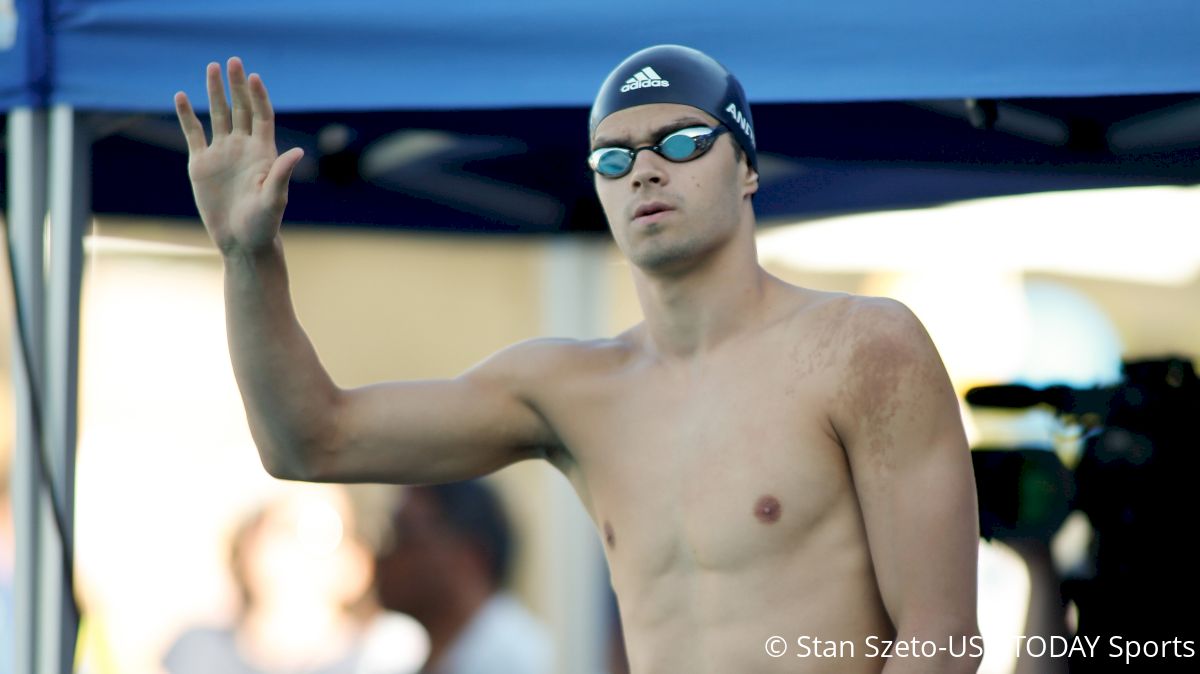 6th FINA World Junior Swimming Championships
August 23 - 28, 2017Indianapolis, IndianaIUPUI Natatorium
LIVE RESULTS
EVENT HUB
Forget
​Floyd Mayweather
​ and ​Conor McGregor​ -- ​Michael ​​Andrew ​was the star on Saturday night, breaking (or tying) three World Junior Records in Indianapolis at the 6th FINA World Junior Swimming Championships.​

There were a lot of impressive races and moments at the IUPUI Natatorium, but here are our top five.

1.) Michael Andrew, Michael Andrew, & Michael Andrew
​Michael Andrew
​ has dominated the junior scene for years now, but we have been waiting for the 17 year-old to truly breakthrough and put himself in a position to make major international teams -- World Championships, Olympics, etc. It seems like he may have done just that thanks to three wildly impressive swims in the same session Saturday night. First up, he blasted a 24.63 in the 50m backstroke -- tying his World Junior Record and posting his third 24.6 in two days. Next up, he popped off a 23.27 in semifinals of the 50m butterfly -- breaking his WJR. In the finale, he unleashed a 21.75 in the 50m freestyle -- tying his WJR and posting his third 21.7 in two days. Talk about consistency. While all three performances are great, it's the 50m free that has to give him the most confidence as that is the only event of the three that is currently an Olympic event. Of note, the 50m back is the 8th fastest time in the world this year and the 50m free and fly are the 11th fastest times in the world this year.
2.) 1-2 American Sweep In Mens 200m Breast
With Italian superstar
​Nicolo Martinenghi
​ swimming above his range in the 200, Americans ​Daniel Roy​ and ​Reece Whitley​ pounced to claim a 1-2 finish. Roy (2:10.77) and Whitley (2:10.82) both split nearly identical races with Roy splitting 1:03/1:07 and Whitley also splitting 1:03/1:07. Australian ​Zac Stubblety-Cook

​ almost played spoiler, however. The Aussie sat in 7th at the 150 meter mark -- completely out of the picture -- but came home in a blistering fast 32.57 to get his hand on the wall for bronze in 2:10.90.
3.) Rikako Ikee Blasts Own 50m Fly WJR With 25.46
Japan's
​Rikako Ikee
​ is a star to watch for in the sprint butterfly and freestyle events heading into a home country Olympics in 2020. The teenage sensation dropped a swift 25.46 Saturday night in the 50m butterfly to lower her own World Junior Record by five one-hundredths of a second set earlier this year. Ikee did not have the best World Championships in Budapest but, along with Canadian ​Penny Oleksiak

​, will be making some serious noise in the fly and free events for years to come.
4.) Hungary & USA Battle To Wire In 4x200m Free Relay
Wow. WHAT. A. RACE. Check out these splits:

In what quickly became a three team battle between Hungary, the United States, and Russia, the mens 4x200m freestyle relay came down to one one-hundredth of a second as Hungary's hero
​Nandor Nemeth
​ (who dropped a 48.05 on their 4x100m freestyle relay) popped off a 1:46.52 to propel the Hungarians to victory in a new World Junior Record time of 7:10.95. The United States

​'

​Trey Freeman​ gave Nemeth everything he could handle coming home -- burying his head with 12.5 meters to go and sprinting to the finish, but in the end his 1:47.53 split was not enough. Impressively enough, Nemeth made up the majority of his ground on the first 50, so Freeman showed a tremendous amount of grit hanging with him the last 150. Russia, who finished in third, had great splits from ​Ivan Girev​ in 1:46.62 on the leadoff and ​Martin Malyutin

​ in 1:46.68 on the anchor.
5.) 15 Year-Old Ajna Kesely Impresses In 400m Free
The young Hungarian had an incredible meet at the 2017 FINA World Championships in Budapest, finishing 6th in the 400m freestyle with a time of 4:05.75. Well, Saturday night was no different as Kesely swam to gold with a blazing 4:06.72 -- leading from the 50 and never looking back. Kesely also made the championship finals at Worlds last month in the 1500m freestyle, finishing in 8th. At just 15 years-old, this Hungarian superstar is going to be a force to be reckoned with in distance and mid-distance freestyle for years to come.
---
The best swimming coverage. Straight to your inbox.
Don't miss breaking news, feature stories, event updates, and more. Sign up for the FloSwimming mailing list today.