Oleksiak & Ruck Lay Down 52's On Mixed 4x100m Free Relay
Oleksiak & Ruck Lay Down 52's On Mixed 4x100m Free Relay
Recap and highlights from day three finals Friday night at the 6th FINA World Junior Swimming Championships in Indianapolis, Indiana at the IUPUI Natatorium.
Aug 26, 2017
by Maclin Simpson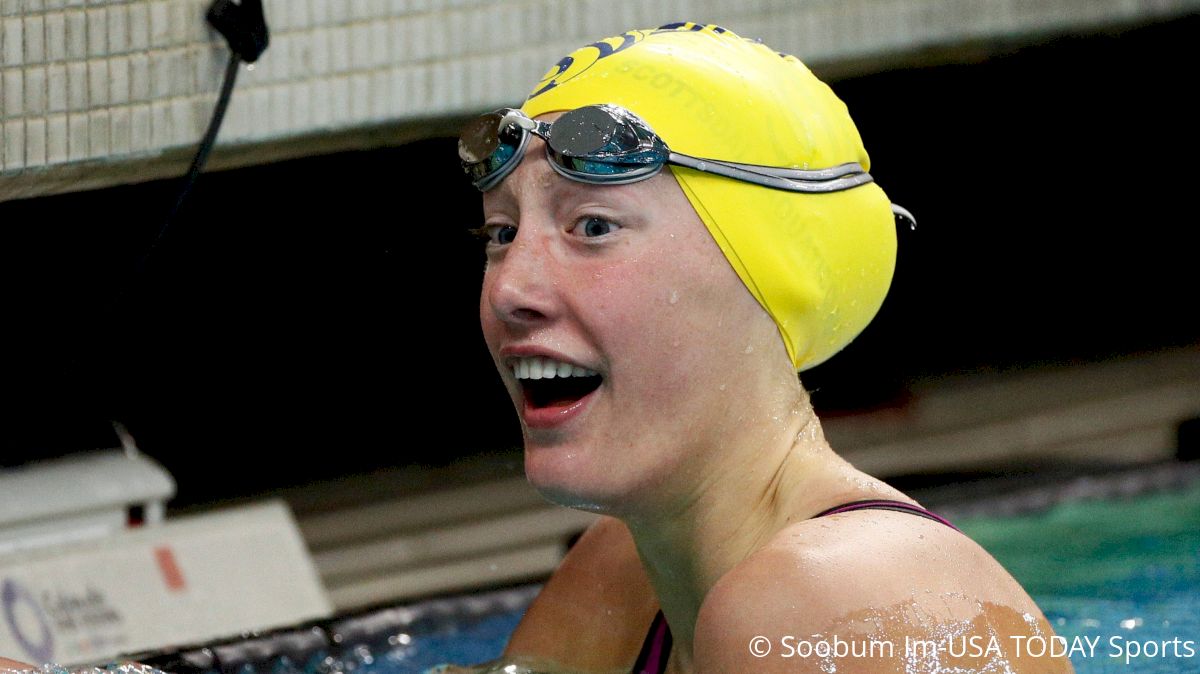 6th FINA World Junior Swimming Championships
August 23 - 28, 2017Indianapolis, IndianaIUPUI Natatorium
LIVE RESULTS
EVENT HUB
Day three finals of the 6th FINA World Junior Championships from the IUPUI Natatorium in Indianapolis are in the books. There were a lot of great races and moments Friday night, but here are our top five.
1.) Michael Andrew Takes Down Another Dirty Double
​Michael Andrew
​bounced back tremendously on Friday from a disappointing double on Thursday night. Andrew swam a 21.75 and 21.79 in prelims and finals, respectively, of the 50m freestyle -- the former being a World Junior Record and 11th fastest time in the world this year. He also swam a 24.63 and 24.67 in prelims and finals, respectively, of the 50m backstroke -- the former also being a WJR and 8th fastest time in the world this year. While the moment is all that counts, it's at least worth nothing both of those swims would have qualified Andrew for the 2017 FINA World Championships had he done them in June at U.S. Nationals.

2.) Regan Smith Pours It On In 200m Back
15 year-old
​Regan Smith
​ continues to impress on the international stage this summer. After making the championship final in the 200m backstroke at the 2017 FINA World Championships in Budapest last month, Smith threw down another 2:07.4 Friday night to claim gold in dominating fashion. Although it certainly was not a surprise as Smith dropped a 58.95 in the 100m backstroke Thursday night leading off the American 4x100m mixed medley relay.

3.) Kristoff Milak Drops 51.08 100m Fly
Remember this name:
​Kristoff Milak
​. The Hungarian teenage sensation has solidified himself as one of the best butterfliers in the world -- posting times of 50.62 and 1:53.79 in the 100m and 200m butterfly, respectively, this summer. The 50.62 was good enough to earn him a silver medal at the 2017 FINA World Championships last month in his own backyard. Not too shabby for an 17 year-old. Milak was just a hair off his best Friday night in Indianapolis, posting a 51.08 for the win. He did not go without any competition, however. Russia's ​Egor Kuimov

​ pushed Milak in the outside lane -- likely out of his peripheral vision -- to claim silver in 51.16.

4.) Andrew Abruzzo Negative Splits For 800m Free Gold
The United States'
​Andrew Abruzzo
​swam a nearly perfect 800m freestyle to claim the gold medal. His time of 7:54.58 -- a three second best time -- was impressive, but the way he swam it was even more impressive. Abruzzo negative split the race 3:58/3:56 with a flawlessly efficient technique. It is almost like he swims with a 3/4 catchup, minimizing wasted movement. With 50 meters to go, ​​Michael Brinegar​ looked to make it a 1-2 sweep for the Americans, but ​David Lakatos

​ of Hungary dropped a 26.87 coming home to overtake him and get his hand on the wall for silver in 7:56.81. Brinegar rounded out the podium for bronze in 7:57.22.

5.) Oleksiak & Ruck Lay Down 52's On Mixed Free Relay
​2016 Olympic medalists ​Penny Oleksiak​ and ​Taylor Ruck​ continue to lead the way for the Canadians as they won their third relay in as many days. In the mixed 4x100m freestyle relay, Ruck dropped a 52.72 on the third leg and Oleksiak dropped a 52.99 on the anchor -- touching in 3:26.65 for a new World Junior Record. Those are world class times regardless of the level of competition. Other impressive splits in the field were Russia's ​Ivan Girev​ in 48.64 on the leadoff and Hungary's ​Nandor Nemeth

​ in 48.05 on the second leg. The Hungarian relay would end up getting disqualified.
---
The best swimming coverage. Straight to your inbox.
Don't miss breaking news, feature stories, event updates, and more. Sign up for the FloSwimming mailing list today.