15 Year-Old Regan Smith Unloads 58.95 100m Backstroke
15 Year-Old Regan Smith Unloads 58.95 100m Backstroke
Recap and highlights from day two finals Thursday night at the 6th FINA World Junior Swimming Championships in Indianapolis, Indiana at the IUPUI Natatorium.
Aug 25, 2017
by Maclin Simpson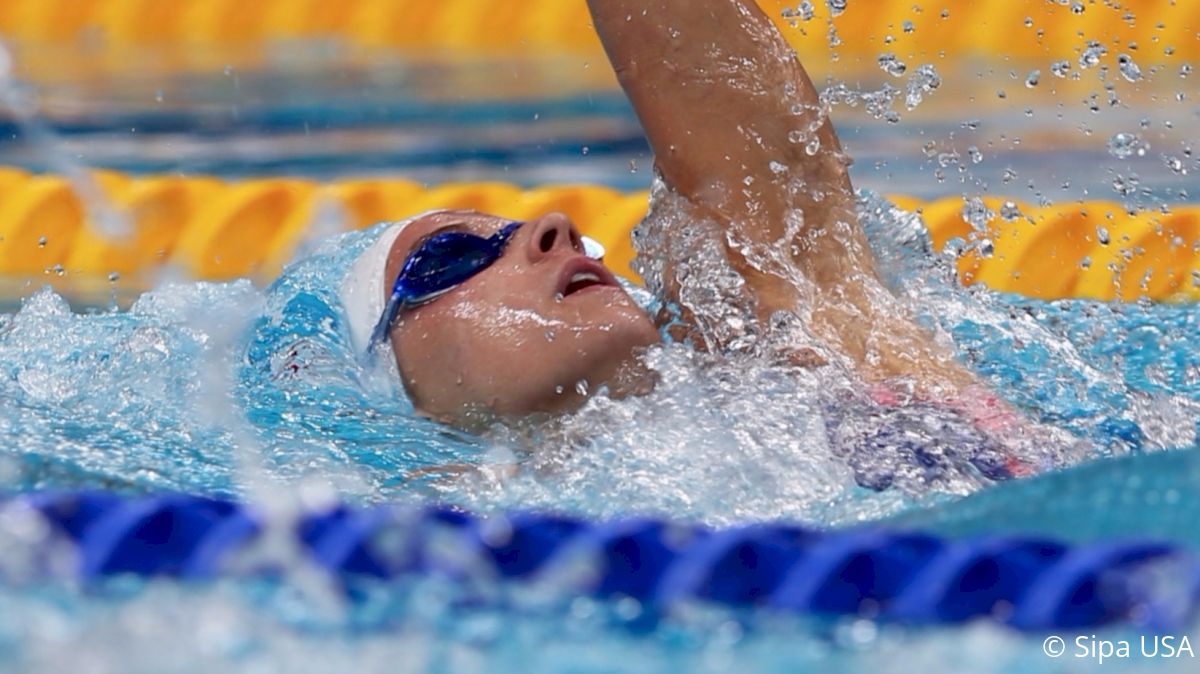 6th FINA World Junior Swimming Championships
August 23 - 28, 2017Indianapolis, IndianaIUPUI Natatorium
LIVE RESULTS
EVENT HUB
Day two finals of the 6th FINA World Junior Championships from the IUPUI Natatorium in Indianapolis are in the books. There were a lot of great races and moments Thursday night, but here are our top five.
1) Regan Smith Breaks 100m Back World Junior Record
15 year-old
​Regan Smith
​ of the United States has been on a roll this summer. After making the final in the 200m back at the 2017 FINA World Championships in Budapest last month, Smith has proved she can throw down a fast 100 as well. In the final Thursday night, Smith dropped a 59.11 -- a new World Junior Record -- to out touch Canada's ​Taylor Ruck

​in 59.23. To put that in perspective, Ruck earned two bronze medals last summer in Rio on Canada's freestyle relays. That's how good these ladies are. But wait there's more! Smith and Ruck battled again leading off in the mixed medley relay where Smith unloaded an astonishing 58.95, posting the sixth-fastest time in the world this year.

2) Men's 200m Free Saw THREE 1:46's
It took a 1:46.28 to make the championship final of the men's 200m freestyle at World Championships last month. Thursday night at Junior Worlds we saw THREE GUYS uncork 1:46's with Russia's
​ Ivan Girev
​in 1:46.40 (new WJR), Hungary's Nándor Németh​ in 1:46.79, and ​Australia's ​Elijah Winnington ​in 1:46.81. All of those swims dipped below ​Maxime Rooney's​ previous WJR of 1:47.10 set back in 2015. The two Americans -- ​Patrick Callan​ and ​Trey Freeman​ -- were fourth and fifth in 1:47.61 and 1:47.79, respectively. Both of those times were very close to the 1:47.51 ​Caeleb Dressel ​swam at U.S. Nationals in June to earn the sixth spot on the World Championship team (Dressel did not swim this relay in Budapest, passing his spot down to ​Jay Litherland

​).
3) Penny Oleksiak Leads Canada To Second Relay Gold
Canada continues to develop firepower competitive on the international stage. After her performances in Rio at the 2016 Olympics, we all knew the Canadian youngster
​Penny Oleksiak
​was a star. After fighting through some injuries in the fall that led to subpar performances at World Champs last month -- by her standards, at least -- Oleksiak continues to push forward. She threw down a 56.98 butterfly split on the 4x100m mixed medley relay to lead Canada to their second relay gold medal in as many days. Of note, Oleksiak opted out of the 100m freestyle at this meet -- the event she was the co-Olympic Champion in last summer.

4) Kristoff Milak Lurking In 100m Fly

Lost in the midst of the
​Caeleb Dressel
​ show in Budapest, Hungarian ​Kristoff Milak​ threw down a 50.62 in the final of the 100m butterfly to earn the silver medal -- outperforming names like ​Joseph Schooling, James Guy​​, ​and ​Laszlo Cseh​. Milak busted onto the scene in a big way in June thanks to a 1:53.79 in the 200m butterfly at the European Junior Championships. Unfortunately for him, he would not swim the race in Budapest as ​Tamas Kenderesi​ and Cseh had already locked up the spots for the Hungarians. Now, in Indianapolis, Milak seems to be toying with the competition going into Friday night's 100m fly final. Milak is the second seed behind Russia's ​Andrei Minakov

​ (52.23) with a 52.61 and you better believe he will demolish that time Friday night.
5) Martinenghi Dominates 100m Breast; Whitley Scares 59
Italy's
​Nicolò Martinenghi
​has solidified himself as the best 18&U sprint breaststroker in the world -- consistently going 59's all year and culminating in a 59.01 Wednesday night in the semifinals. Martinenghi was unable to take down his best Thursday night in the final, but his 59.58 was enough to take the win handily. ​Reece Whitley​ of the United States threw down a monster 31.68 on the back half -- the fastest in the field -- to get his hand on the wall for silver in 1:00.08. ​Michael Andrew​

​, who has a lifetime best of 59.8, rounded out the podium for bronze in 1:00.37.
---
The best swimming coverage. Straight to your inbox.
Don't miss breaking news, feature stories, event updates, and more. Sign up for the FloSwimming mailing list today.