The Six-Olympiad Journey Of Therese Alshammar
The Six-Olympiad Journey Of Therese Alshammar
Therese Alshammar from Sweden has competed in an unfathomable six Olympics from Atlanta in 1996 all the way to Rio in 2016. She walks through her journey.
Mar 15, 2017
by Maclin Simpson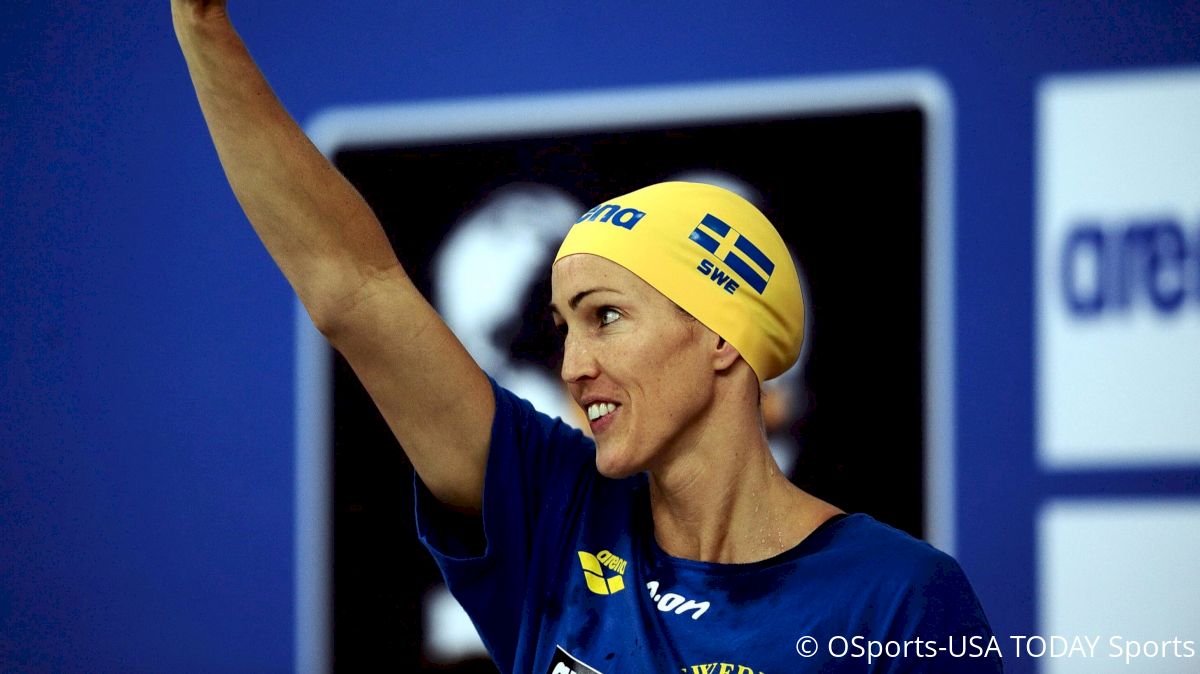 ​​By Christina Pfenning Craig
Atlanta. Sydney. Athens. Beijing. London. Rio. Six culturally and geographically different cities that have one thing in common: the first lady of Swedish swimming,
Therese Alshammar
, competed at a summer Olympic Games hosted by each. In fact, Alshammar is the first female swimmer to participate in six Olympic Games. But "participate" isn't really the right word; Alshammar reached at least the semifinals in each Olympics, and she won two silver medals -- one apiece in the 50 and 100 free -- and a bronze as part of the 400 free relay in Sydney. Now retired, the 39-year-old mom reflects on her two-decade elite swimming career.
"When I was a kid, success in swimming came quite easy to me," Alshammar admits on a chilly February day in downtown Stockholm. "That's not necessarily a good thing. I was quite lazy as a younger swimmer, and I could get away with it back then. But I came to appreciate my life as an elite swimmer as I got older."
Yes, Alshammar was one of those sprinters who could cruise through minimal yardage and still perform at a very high level. Fast swimming was in her genes, though -- her mom,
Britt-Marie Smedh
, competed in the 100 and 200 breaststroke at the 1972 Olympic Games in Munich, Germany. This pedigree wasn't a free ride to the Olympics for Alshammar. While Sweden, with a population of around 9 million people, simply doesn't have enough elite swimmers to populate a big Olympic trials meet, strict requirements are in place to ensure that the athletes who comprise the Swedish Olympic swim team are competitive on the world stage.
"To qualify for the Swedish Olympic team you must meet set time standards and you must place highly at the World Championships the previous year," says Alshammar. "Basically, you have to medal at World Championships in order to be invited to join the team, and we normally have about 15 swimmers go to the Olympics."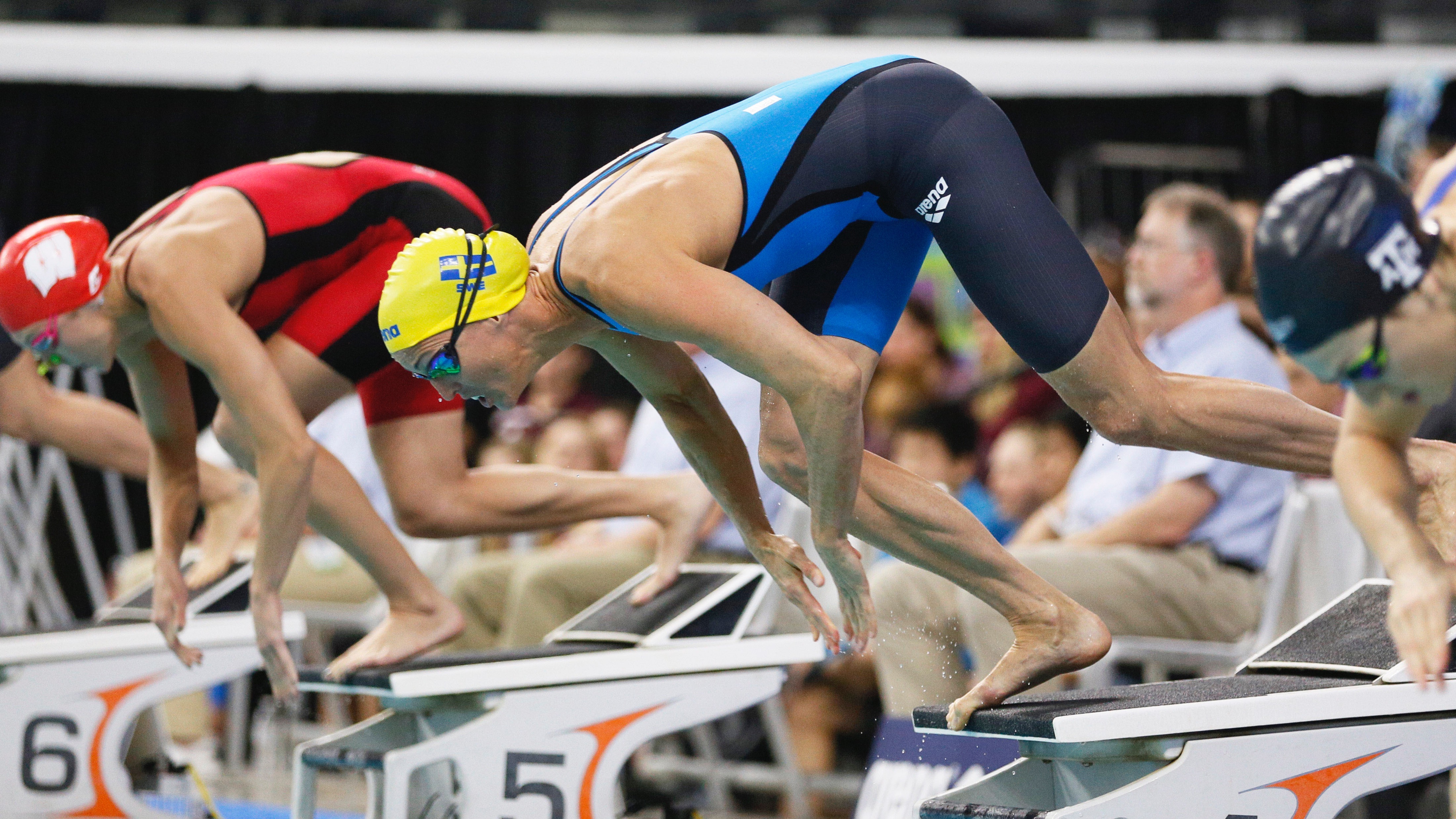 Therese Alshammar (center) dives in the women's 50 meter free final during the 2016 Arena Pro Swim Series at Lee and Joe Jamail Texas Swimming Center in Austin, Texas, on Jan. 16. Mandatory Credit: Soobum Im-USA TODAY Sports
Alshammar was only 18 years old at her first Olympics in Atlanta in 1996. She says that Atlanta was a learning experience, and that it was her favorite Olympic memory.
"The United States is such a great sports country," Alshammar said. "The Olympic Village was like a college campus. All of the people were so happy and friendly. That's the basis of what you want to experience at the Olympics."
After the Atlanta Games, Alshammar headed back to the U.S. to swim for the University of Nebraska, but the sprinter began to realize that her motivation must come from within.
"I needed to drive myself," she said. "I needed to own my own swimming, and I needed autonomy. So, I moved to Germany and found a team which allowed me to have that kind of independence. This led to my success at the 2000 Olympic Games in Sydney."
While she may have been all smiles collecting her silver medals, Alshammar was not satisfied.
"I got sick the week before the Sydney Olympics," she said. "I wasn't happy with my performances, because I knew I could have gone faster."
The wanderluster moved to London for two years, where she decided to coach herself, chasing the black line alone in various gym pools. (Yes, the Swedish sprinter is one of the few swimmers who can train alone and still love the sport and compete at the highest level.) Sweden called her back, though, and she began training with coach
Johan Wallberg
. The two became partners in Alshammar's swimming career and in life. Today, they're parents to 3-year-old son Fred.
Next came a fourth-place finish at the 2004 Olympics in Athens and then a super-suit debacle in 2008 in Beijing.
"My suit ripped right before the semifinals of the 50 free," she says. "
Dara Torres
tried to help me fix it, but I ended up swimming terribly. I think the super suits were a great invention, but they were introduced too quickly with no regulation."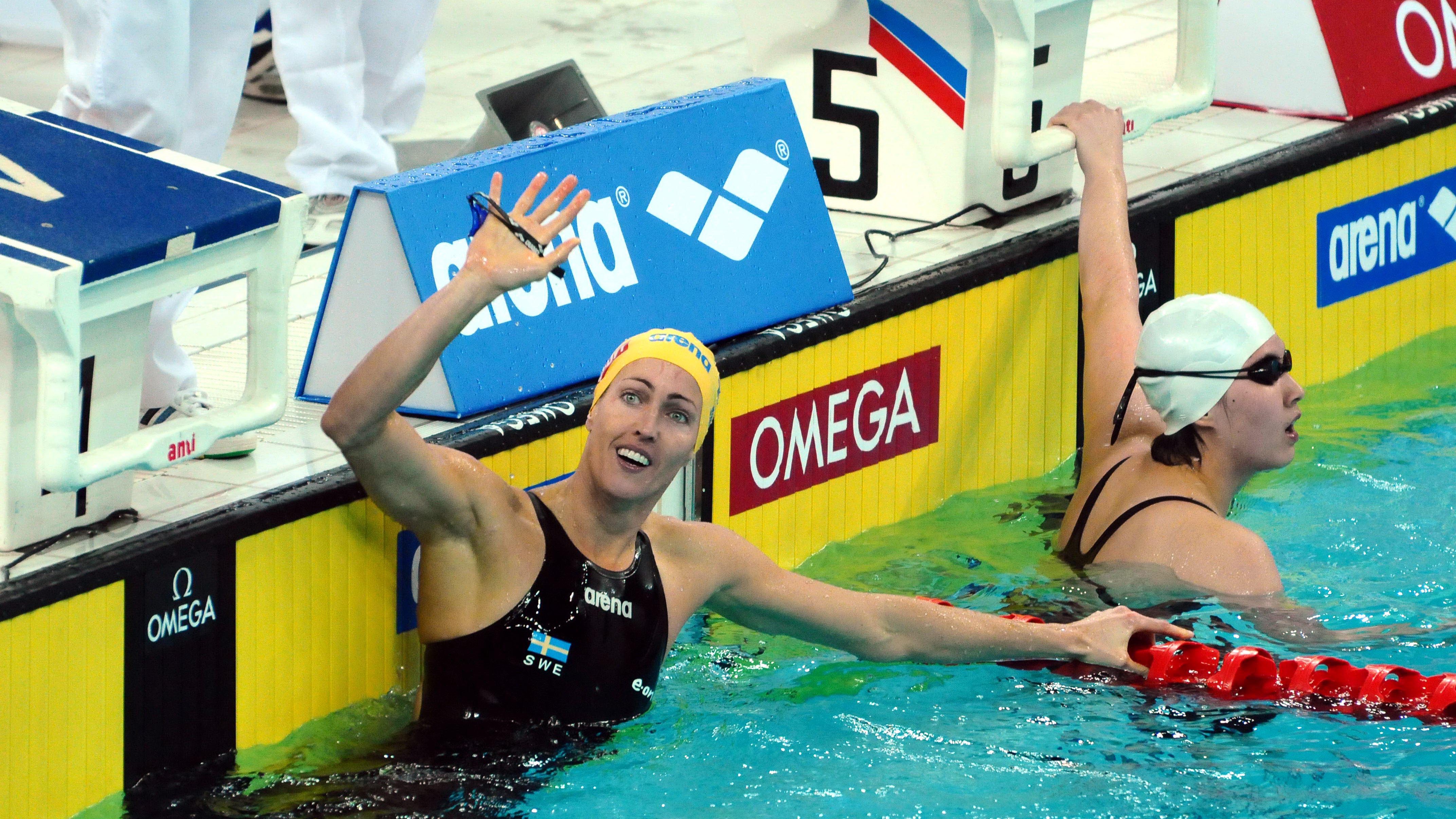 Therese Alshammar reacts after winning the women's 100m butterly at the 2011 FINA World Cup at the National Aquatics Center in Beijing on Nov. 8, 2011. Mandatory Credit: OSports via UA TODAY Sports
By 2008, Alshammar was in her 30s, and she wanted to train with other swimmers in her age group.
"I like to see new places, and I like to travel," she said. "After the 2008 Olympics, Johan and I based ourselves in Australia. I trained there for four years. The team had a great spirit. There were a lot of other mature athletes.
"As I have gotten older, I have enjoyed swimming more and more and learning about the physical training, learning about what makes me happy. I also realized I didn't have a lot in common with people in their 20s, so when we moved to Australia there were swimmers over the age of 30 like Eamon Sullivan. We had a good team of mature athletes who were motivated."
With a passport full of stamps from around the world, Alshammar was ready for a successful 2012 Olympics in London.
"My fastest year was 2011," she said. "Throughout 2012 I felt great in the water. I was so happy heading into that Olympics. Then, three weeks before the Games a disc in my neck popped out of place. It was the first injury I'd ever had in my career. I scratched every event except for the 50 free. I took painkillers before the finals of the 50, because my nerve was pinched. I had no feeling in my right arm, but I still swam.
"After the 2012 Olympics, I could handle more yardage than I ever could before. I had more stamina and endurance. I was also much more careful about nutrition and recovery, things that I didn't pay attention to as a young swimmer. What you eat and how you recover make a huge impact as you mature."
Alshammar learned that she was pregnant soon after the London Games.
"I always wanted kids and I was 36 years old by then," she said. "I had the intention to come back to swimming after having the baby. I tried to keep training while pregnant, following the examples of Dara Torres and Dutch Olympic gold medalist
Marleen Veldhuis
, who won a bronze medal in the 50 free after having a baby.
"I got really tired and depressed at the beginning of being pregnant, and I discovered I had other goals at that point. I would train once a day. The baby would start kicking as soon as I got into the water. It was very uncomfortable. People always say that swimming is so relaxing when you're pregnant, but for me it was the opposite. I also gained a lot of weight when I was pregnant. After I gained 20 kilograms I stopped weighing myself."
She began training again several months after her son was born, bringing him to practice with her, creating the cutest on-deck cheering section for the new mom.
"I turned into a real softy when I had him," Alshammar said. "I didn't want to be apart from him. I looked at being a mom as a new adventure with new goals. He came to every practice with me."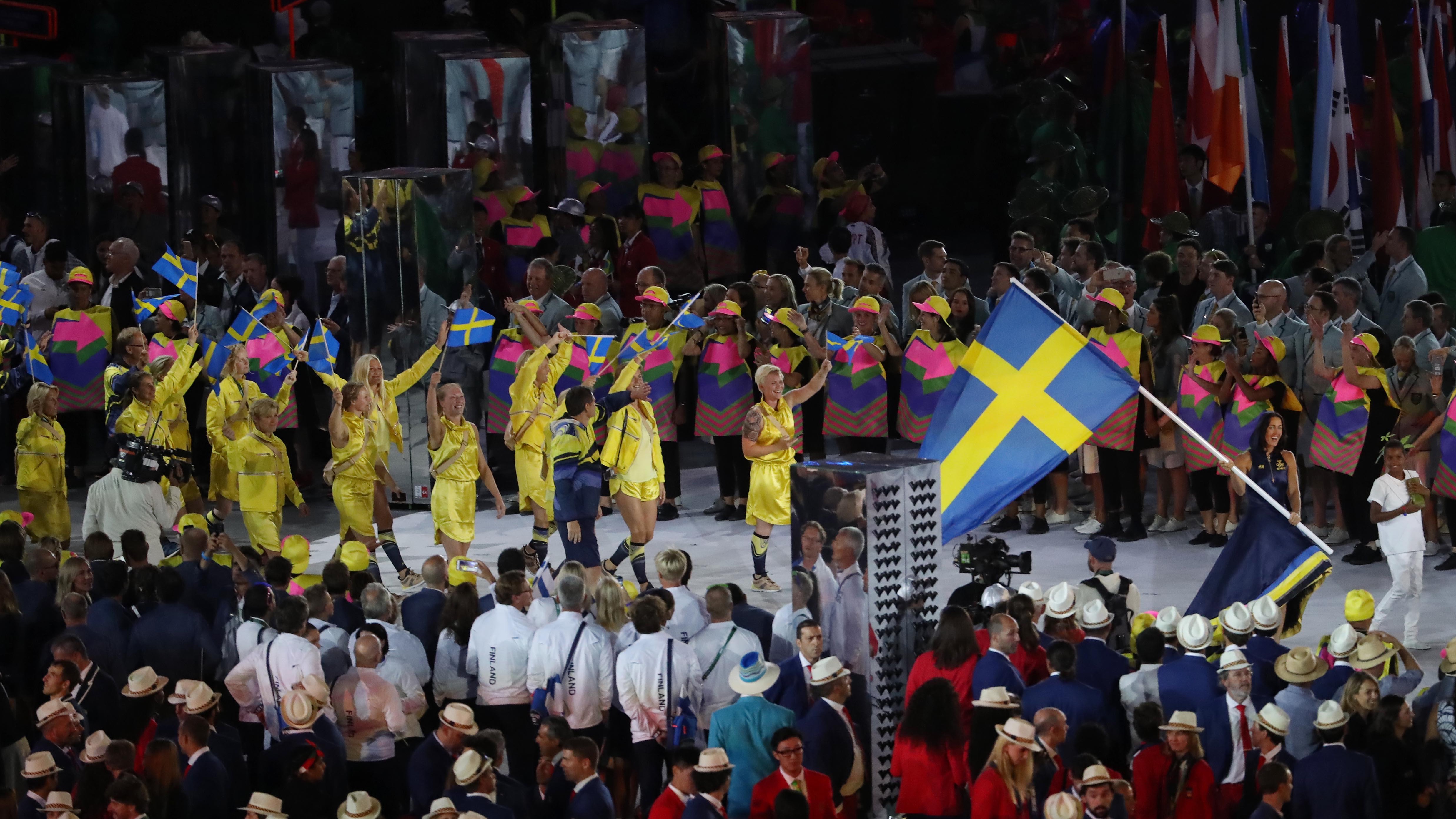 Therese Alshammar arrives with the Sweden flag during the opening ceremonies for the Rio 2016 Summer Olympic Games at Maracana on Aug. 5, 2016. Mandatory Credit: Kevin Jairaj-USA TODAY Sports
Of course, Alshammar was in Rio, making the semifinals of the 50 free. After the Olympics, she realized that if she wanted to continue training, she'd also be facing extensive rehabilitation for her back injury. She sped through one final 50 free at a meet in Stockholm in November of 2016 and then hung up her cap and goggles for good.
After 20 years of competing and training all over the world and at the highest level, Alshammar has a simple message for younger swimmers who admire her career and marvel at its longevity.
"No one's journey is the same, and you have to find and trust your own way," Alshammar says. "In my career, I changed my focus from outer motivation to inner motivation. I gave myself intrinsic goals and focused on what would make me happy each day instead of only fixating on the end goal. You have to enjoy the good and the bad. Don't compare yourself to other athletes and enjoy your journey."