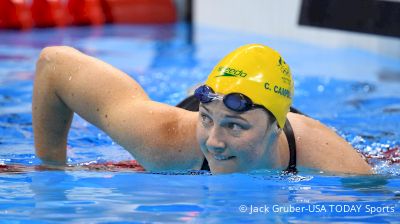 (RACE VIDEO) Cate Campbell Shatters C'Wealth, Aussie 50m Free Record
Oct 27, 2017
"This girl is on fiiiiiiiiirrreee..." Nope, not Alicia Keys. We are, of course, talking about Cate Campbell.
After shattering the World Record in the 100 SC (25m) freestyle Thursday at the Australian Short Course National Championships in Adelaide, Campbell followed up with a blazing 23.19 in the 50 Friday.
That time now makes Campbell the third-fastest performer of all-time and gives her the fourth-fastest performance of all-time in the short course meters pool.
Dutch Olympic Champion Ranomi Kromowidjojo holds the world mark of 22.93 set earlier this fall at the World Cup stop in Berlin.
Ranomi Kromowidjojo (Netherlands) -- 22.93, 2017
Sarah Sjöström (Sweden) -- 23.00, 2017
Sarah Sjöström (Sweden) -- 23.10, 2017
Cate Campbell (Australia) -- 23.19, 2017
Check out the full race video above.